7 Days of Autumn in the Margaret River Region
Inclusions
6 nights' accommodation in two stunning locations with Dunsborough Ridge Retreat and Redgate Forest Retreat
Didgeridoo performance deep inside the remarkable Ngilgi Cave
A fun and fascinating personalised tour with All About Margaret River
A visit to Eagles Heritage to witness these amazing creatures in flight
Shortening days. Soft light. Beach, bush and barrel rooms diminished of summer crowds. The hum of the Margaret River Region's autumn season is a brilliant time for late harvest holidaymakers.
If you're coming from Perth, your first stop is right at the gateway to the Margaret River Region, in Busselton. The Busselton Jetty is a striking way to begin your southwest adventure: the longest wooden piled jetty in the world, it shows the important connection the region has to the ocean via an underwater observatory. Descend eight metres to the ocean floor to view some of the 300 species of vividly coloured tropical and sub-tropical corals, sponges, fish and invertebrates. The jetty also demonstrates how much family is a Margaret River Region consideration: the surrounding foreshore is a playground of dining choice, public open space and, well, playgrounds. Plus, there's a recently open "deep sea pool"; a sectioned-off area for swimming in Geographe Bay's pristine (and very kid-friendly) waters. Want more here? Check out these two new must-do Busselton Jetty experiences.
While in Busselton, it would be remiss to not immerse yourself in the local arts scene, which is where nearby ArtGeo Cultural Complex comes in. A creative hub for the visual and performing arts in one of Busselton's oldest buildings, kids will love the bush food garden and outdoor sculpture park here. Adults, on the other hand, will love perusing the studios of the complex's artists in residence: ceramic artist Tracie Anderson and jewellery designer Nalda Hoskins.
Late afternoon brings you to Flametree Wines, conveniently located halfway between Busselton and Dunsborough. Settle in for a relaxed wine tasting in their beach house style cellar door. Browse the art exhibition or chill out on the deck with a glass of wine and a delicious platter using quality local produce.
From here, your first night's accommodation is just a short 10 minutes drive to Dunsborough Ridge Retreat. Choose from four self-contained villas nestled in the bush – perfect for hiding out, reading and soaking in the surrounds.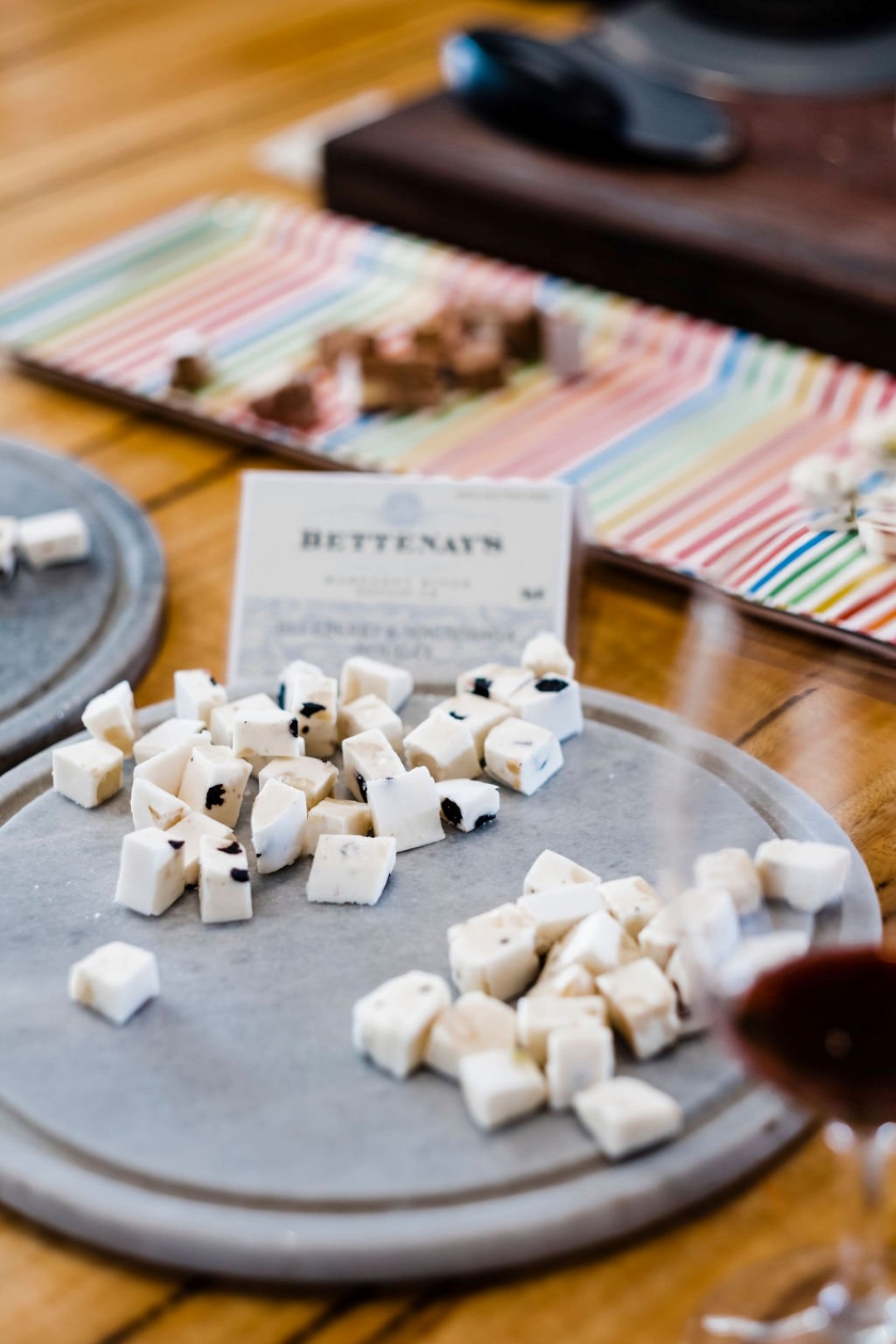 Time to head out to the world-class wineries in the Margaret River Region. Make your first stop Bettenay's on Tom Cullity Drive for the famed nougat alongside the company's wines and liqueurs for tasting. Opt for the Nougat and Wine Paring Brunch. Owner and winemaker Greg Bettenay will personally take you on a guided tour of the property followed by an indulgent wine and nougat tasting. Finish off with a grazing board style brunch to enjoy by the lake.
Tom Cullity Drive was named for the man who planted Margaret River's first commercial vines at nearby Vasse Felix. It's a story you can learn ore about on a self-drive wine tour up and down this stretch of gravel road on the Tom Cullity Food & Wine Trail. It's a great introduction to immediate surroundings. The road is just a few kilometres long, but on it you will meet everyone from local chocolate makers, to boutique food producers and some of the region's best-known winemakers via the vineyards' immersive cellar door experiences.
Your last stop is ideal for a late lunch: Vasse Felix is not only Margaret River's founding wine estate, it's also home to one of its most celebrated restaurants. If you prefer something lower key, stock up during your visit to Margaret River Providore and graze back at Dunsborough Ridge Retreat.
Late afternoon brings opportunity for greater cultural connection via a guided twilight tour of Ngilgi Cave with local Wadandi man Josh Whiteland. Through his tour company, Koomal Dreaming, Josh takes visitors through Cape Naturaliste bushland and deep into the cave for storytelling and a very special didgeridoo performance.
If dinner calls, the nearby towns of Dunsborough and Yallingup present a variety of night-time dining options. From upscale pub classics to Asian-inspired seafood, you should find something to suit all.
Part of what defines the Margaret River Region experience is the combination of outdoor activity and intimate culinary experience. So today is the day to make that happen. From Bettenay's, take Tom Cullity to Caves Road and then head north to Wilyabrup Road. This is your access point to the Cape to Cape Track and the dramatic Wilyabrup cliffs. The view is striking. This section of the track is a great walk for families – not too taxing, but highly rewarding – and with the salmon running during autumn, keep a look out for active dolphin pods.
Speaking of meals… A fifteen-minute drive further north on Caves Road, you'll come across Arimia. Make a booking for lunch. Chef Evan Hayter not only knows his stuff, his culinary nouse is matched by the winery restaurant's approach to sustainability. Everything on the plate here will be sourced either from the property or local producers. Marron from the Arimia dams. Pork from the farm. Local cheeses and oils and meats. Plus, the relaxed vibe means families can feel at ease.
Your afternoon is open, but it's your last at Dunsborough Ridge Retreat. Perhaps consider a refreshing dip at a secret swimming spot near Yallingup or Bunker Bay.
From vineyard to forest, the shift down south to Redgate Forest Retreat in Witchcliffe shows a different side of the region. It's a little quieter here. This is rural residential landscape framed by tall trees and defined by a quiet out-of-town vibe that attracts locals and visitors happy to slow the pace. The town of Witchcliffe possesses its own special appeal: the single main street is a collection of great eating and retail curios. The Flying Wardrobe is the best kind of country vintage store curated by a local with an incisive eye. Rob and Nicole at Yardbyrd are widely known to the region's coffee snobs as supplying one of the best brews in town, and the Margaret River Candle Company is the opportunity for a regional take home. Redgate Beach is just around the corner – the standard Margaret River Region "10-15 minute drive" – and well worth a look no matter the weather. It's relatively untouched and quintessentially rocky, but still provides refuge for families keen to swim.
If there is some afternoon to spare, make the move a little further south on Caves Road with a drive to the Boranup Karri Forest and a visit to the Boranup Gallery housed within. Coddled by the towering trees and serenity of the forest, the gallery showcases some arresting regional art and sculpture and serves a great afternoon tea.
For dinner, head into town. You've got numerous options for night-time dining in Margaret River. What'll it be: pizza, pub fare or modern Japanese?
It's almost the end of the week, which seems like the right time to let someone else make the decisions. All About Margaret River is a local owner-operated tour company offering both set and personalised tour itineraries, with a focus on showcasing the local, the boutique, and the family-owned. Group tours are kept small here with a maximum of eleven people, and private tours can be arranged on enquiry. It wouldn't be a regional tour if wineries and lunches weren't included, but the rest is negotiable and activity options are diverse. Maybe the kids need a day exploring remote beaches or scenic countryside. Perhaps the awe of whale watching followed by a lighthouse tour is just what the doctor ordered. Cave hiking and kangaroo spotting. Farmstay morning teas, and cheese, coffee and chocolate experiences. You get the picture. Whatever the decision, there's not a second on tour when guests won't feel indulged and stimulated.
If you're out all day, chances are you'll be looking to stay in for dinner. Be sure to stock up on local goods throughout the day so you have plenty to snack on in the evening.
Designated as one of the world's few remaining biodiversity hotspots, understanding a little more about the fauna of the Margaret River Region is a fun way to connect more deeply with the landscape. Just five minutes' drive from the centre of the Margaret River township, Eagles Heritage originated as a home for disabled and displaced birds of prey and owls. Since opening to the public, it's become a place to get up close and personal with these amazing creatures. Display times occur at 11am and 1.30pm daily, weather permitting. There are other opportunities to don a glove and personally experience the birds face to face.
For lunch, Xanadu Wines is almost literally just across the road, with world-class food and opportunity for tastings. The winery has a small playground and lawn area for the kids. Or, a little further south down Boodjidup Road and along Stevens Road, Leeuwin Estate and Voyager Estate wineries sit almost side by side. Both offer lunch, cellar door tastings, and large grounds to explore, plus a big slice of the region's winemaking history.
Your last morning in the region might entail a beach visit and breakfast, but one last visit to Margaret River town itself is necessary before heading home or moving on. Your last stop is the Margaret River Organic Garden, a community space that sits between the local TAFE and high school on Bussell Highway. The Organic Garden is a beautifully designed and intimate series of seven organic, biodynamic and permaculture garden "rooms" featuring whimsical artworks and plenty of green-thumb inspiration, with a trail running through that shares the story with visitors. The story is one of a community who cares for its environment and for each other. A café on site is a lovely idle for coffee and cake when open. It's a tranquil space that's sure to put you in good, peaceful stead for the drive onward.