7 Days of Summer in the Margaret River Region
Inclusions
6 nights' accommodation
1 x half-day tour Cape Cultural Tours & Koomal Dreaming
1 x half-day tour with Bike Swim Hike Dunsborough
1x 3 hour sail with Willie Pearl Lugger Cruises
1 x half-day tour with Augusta River Tours
Highlights
3 nights' accommodation in 4-star beachfront resort
3 nights' accommodation in a beachside apartment
Explore the highlights of two quintessential Margaret River beach holiday towns
Experience the region with a Wadandi Cultural Custodian
Visit one of the region's newest honey producers
Sample Margaret River wine from smaller, boutique producers
Discover otherworldly phenomena at Lake Cave
Tour Augusta's Blackwood River with a third-generation local
Seven days in the Margaret River Region allows for creation of the kind of summer experiences that'll linger longer than last light at Surfer's Point. Packed full of some of the best the region has to offer for summertime fun, this seven day itinerary is the basis for a family-friendly holiday well worth having.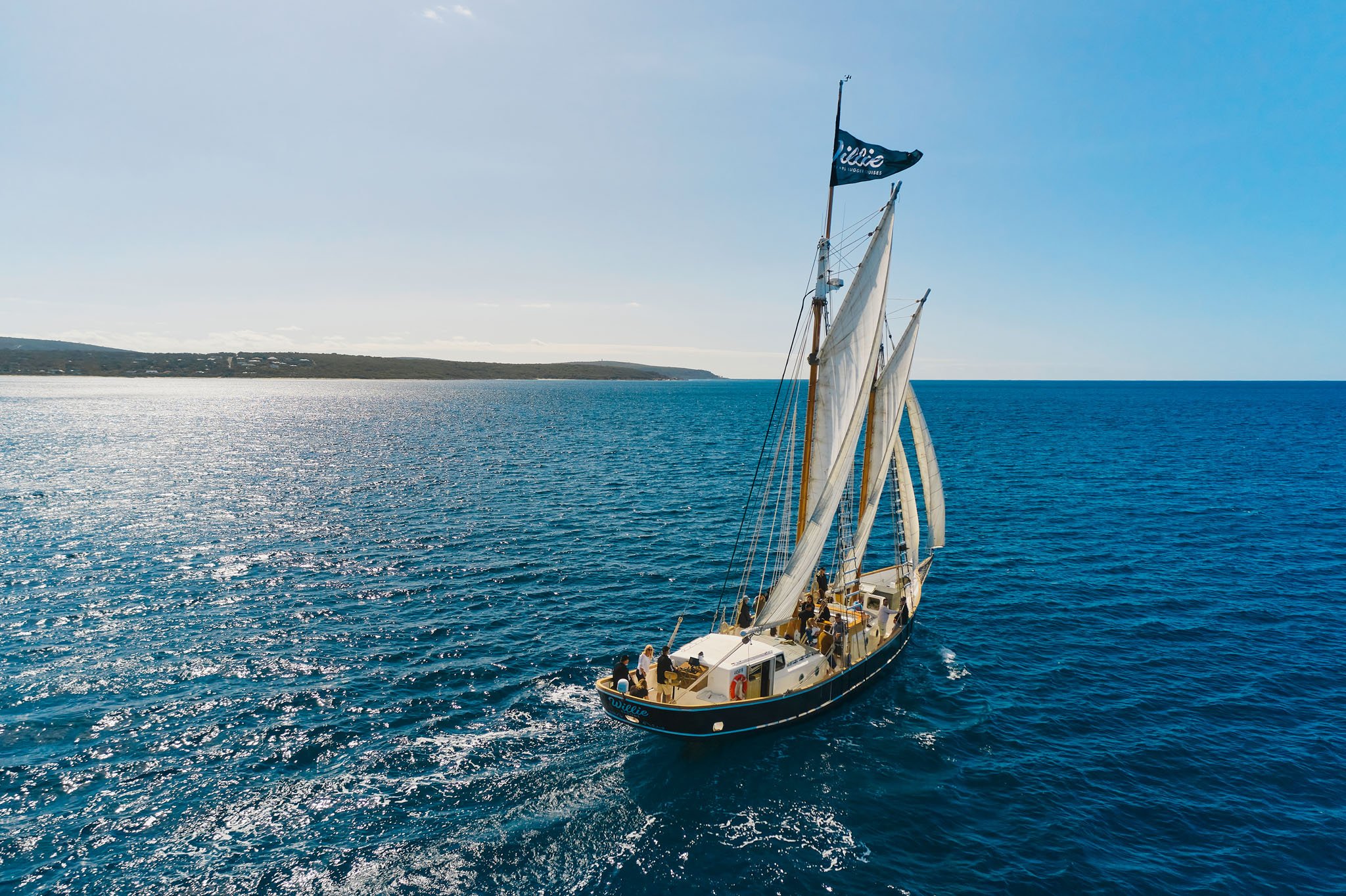 As gateway towns go, Busselton is the complete package. The pace is slower. Its orientation, Indian Ocean facing. And its combination of articulated history, textured environmental engagement, and food and wine presentation just the lead-in this unique region deserves. Hit the foreshore first. It'll draw you like a beacon, especially with all the fun and games of Aquatastic on display to lure water lovers. Water slides, pontoons and life vests provided to keep it all safe. If you prefer your ocean fun to be above the water line, hop on a charter with Willie Pearl Lugger Cruises and explore Dunsborough under sail.
There's the appeal of the famed Busselton Jetty – the longest timber-piled jetty in the southern hemisphere cared for by a community group that understands the history of a place belongs to its people, along with mermaid experiences, an underwater observatory, even a train to take you the almost two-kilometres from beginning to jetty's tip for those who find the walk too much. It's a big Day One that finds its ideal end at The Sebel, where apartments and bungalows allow visitors to experience a home-away-from-home – if you're home also had squash courts, indoor and outdoor swimming pools, and a weekly cleaning service.
Night time dining options here are endless: choose between anything from Indian spices to pub classics, or spend the sunset somewhere along the spectacular Geographe Bay with a glass of wine and ocean views.
To be led into the heart of Country by Wadandi custodian, Josh Whiteland, is to lay groundwork for an intimate relationship with the region that'll take you deeper than the bottom of a wine glass.
Start your week's stay right, and let his Koomal Dreaming & Cape Cultural Tours inform your appreciation of the landscape and the people connected to it. Josh's role as a father and caretaker allows broad spectrum engagement through the channels of art, music, and food – kids will love him, everyone will learn from him. Working around the Eagle Bay, Dunsborough and Yallingup areas, a day with Josh is just a 15-minute drive from your Busso-based Sebel accommodation.
Proximity means a sunset stop and swim at Meelup Beach can also form part of the day's program. Or get a bit more adventure into your day and join a tour with Bike Swim Hike Dunsborough and learn more about your surrounding environment than you could on your own while building an appetite for dinner.
Speaking of dinner… right next door to each other beneath the peppermint trees sits Yarri and Blue Manna restaurants. The former, the pet project of renowned local chef Aaron Carr highlighting a six seasons culinary experience. At Blue Manna, Coby Cockburn has a tight handle on spice and incredible local seafood.
Taking the time to create a sense of context means free time exploring is an opportunity to construct your own unique relationship to the region, now that you know a little of the history of the place. The Colony Concept is another angle in. The newly created outpost for Southern Forests Honey is home, not just to Western Australia's largest viewing bee hives, but to the experience of connection between food, culture and place: honey was used by Indigenous custodians as medicine and nourishment, is exported overseas to tell the story of our region's geographic purity, and speaking directly to the importance of preserving the delicate balance of nature. Honey's story has taken on extra resonance in a world attempting to come to terms with the marriage between progress and preservation. The drive from Busselton along the tree-lined Caves Road to Colony Concept's Harman Mill Road outpost is the ideal way to slow down and get the feels.
A visit to the Woodlands Winery cellar door is next on the agenda. Just a ten minute drove on Caves Road to Wilyabrup, Woodlands is a taste of classic Margaret River Region terroir. One of the region's first five wineries established, its famed for its Cabernet Sauvignon. Cheeses are on offer and bookings for cellar door visits are a must.
A shift from Sebel to the Margaret River Beach Resort is a change in tone that showcases the diversity of experience packed into this little region: a small clutch of apartments just a coo-ee from Gnarabup Beach for bathers, Gas Bay for surfers, and The Common – the local pub – for easy meals and a taste of the regions beers and wines.
Speaking of beer, Brewhouse Margaret River is a 12 minute drive into town, with local beers on tap, a great playground for kids and heaps of grassy green space under tall-tree shade. Live music on the deck is a summer mainstay and food with a strong local following. The Rotary Park loop can be tacked on at the end of lunch – a tracked bush walk along the Margaret River's edge that begins its footing a scant 50 metres from the Brewhouse deck. Kate the train is a piece of history the kids can clamber over and the flocking rare black cockatoos occupying the forest canopy each sunset and sunrise is an experience in itself.
Divert on the way back to the coast past Payet Gallery, where local jeweller Francois Payet exhibits his stunning gold and silver ear rings, bracelets and necklaces amid a curated selection of regional sculpture, painting and pottery in a quiet bush setting. An art experience for the whole family.
Wine and beach. Beach and forest. Forest and wine. Explore the regional trinity on day five of your summer adventure with a triplicate of experiences. Head south from your accommodation on Caves Road toward a morning of outdoor adventure. Start at Contos, a remote beach whose long crescent of sand is barely occupied, even in the height of summer. There can be surf, here, a little rock pool scrambling and – for the trampers – a stunning cliff walk with its unencumbered view uninterrupted all the way to Antarctica.
Just back three minutes drive toward Caves Road is Lake Cave, a subterranean expanse that holds an entirely contrary perspective to clear skies and endless blues. Jump on a tour and be guided deep into the innards of Wadandi country. Beneath ground and eyes opened wide to a whole new world.
Feeling thirsty? Head inland a few kilometres to Forest Grove where Arlewood Estate offers cellar door tastings, including a bookable wine and chocolate experience..
South awaits. Another frontier. Another bite from the apple. The Margaret River region is diverse, and each township is possessed of its own character. Augusta is raw beauty, quiet contemplation and a true paradise for water junkies: where the Blackwood River meets the Southern Ocean, whales stop past on their annual traverse, and dolphins congregate to scoop up any whiting local fishing enthusiasts have missed. Organise a pick-up by Augusta River Tours skipper, Graeme Challis, from Augusta's Ellis Street jetty and let the third-generation Augusta local fill you in on the area's ecology while spotting some 60 species of bird alongside the local pod of bottle-nose dolphins. Snappers won't want to be without their camera here. Take a picnic from the newly-opened Colour Patch Cafe – they specialise in seafood and pasta, and takeaway options include everything from fish and chips and tasty burgers to vegetarian delights.
While in Augusta, a visit to Cape Leeuwin Lighthouse is a must. It's the tallest lighthouse on mainland Australia and the views are impeccable – situated right where the Indian and Southern oceans meet. This summer the lighthouse will open its brand new Interpretative Centre, allowing visitors to get immersed in the history and legend of this iconic place.
Finish off the day with dinner at the iconic Augusta Hotel, famed for its long grassy hill that's a kid's roly-poly paradise. The beers are cold, the wines local, and the chicken schnitzels legendary.
It might be the last time you wake to kookaburra song for a little while. The week's over, but not before one last insight. Breakfast at White Elephant Café right on the sand at Gnarabup is a summertime rite of passage. Get packed, and take the kids for one last lash. Dip in the Indian Ocean after scrambled eggs and mushrooms. If it's peak summer, the pontoon will be out – an easy swim from the jetty or the shore. Just don't use the outdoor showers to wash the sand off your feet – you'll be wanting to keep a little bit of your week in the Margaret River region with you
Image credits: Russel Ord, Aquabumps, From Miles Away & Tim Campbell.