The Ultimate 3-Day Self-Drive Art Trail
Highlights
Check out amazing public art
See original works by John Olsen
Pose for a pic in front of giant Cowara wings
Learn a new skill – pottery, painting, print making or collage
The Margaret River Region is a beating heart of artistic endeavour. Creatives have long been attracted by the surf, natural wonders and laid-back lifestyle. Be inspired and fill your walls on this three-day self-drive art trail.

We start in the north, caking our hands with clay and meeting artists. Day two has us admiring super-sized bird murals and tasting wine amongst priceless art collections. Day three we venture further south for workshops and a sculpture walk.
Where to Stay
Private Properties' Maranel is like a boutique art hotel with an impressive collection of Aboriginal art and artefacts, set on the beachfront at Eagle Bay. Just as lovely is its water views and watching boats and whales pass by.
Margaret River Heartland is a fourth-generation farm near Cowaramup owned by artist Anita Revel. It has two accommodation options: a rustic off-grid cottage and the pimped-up Glampavan. Both have fireplaces and give an immersive art experience; colourful spaces filled with original art.
Constellation Apartments in the heart of Margaret River, provides the ideal central base to explore the region. The apartments feature stunning, original works of Aboriginal art sourced from around Australia.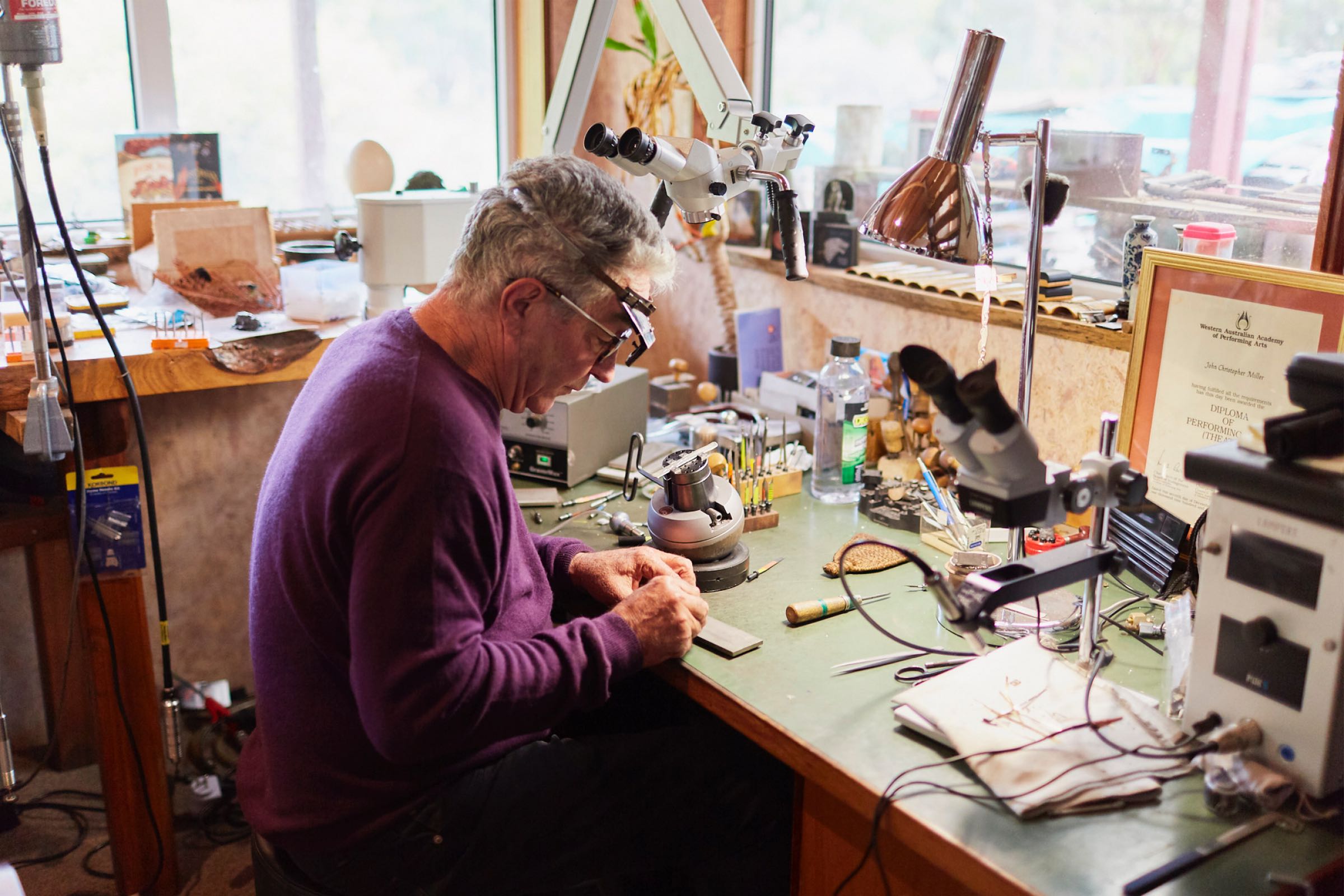 Morning
Start with brekkie at Goanna Gallery & Bush Café where you can browse local giftware or stroll the small but lovely sculpture walk.
Head to Yallingup's golden triangle of galleries and witness John Miller [Design] at work. Working with Australian-sourced materials,  John creates unique handmade jewellery stamped with his signature flora and fauna.
Afternoon
Feast on fresh pasta at Barnyard 1978 looking out over vineyards and Russell Sheridan's fabulous sculptures. We love the huge dog and camel sculptures, free ranging chooks and the new pod-style accommodation.
Meet potter Myles Happ at Happs Pottery and Icon Honey – you may have seen the good news piece about Ramsay Health's order for 7,000 staff Christmas gifts? It saw Myles employing extra staff during WA's first COVID-19 lockdown. Explore the studio where the magic – and pottery workshops – happens.
There's no experience needed for one of Heidi Emma's painting workshops. Based at Flametree Wines, Heidi shares tips and techniques in two specialty classes: still life or landscape painting.
Drive into Vasse to see a towering statue of Timothée Vasse, a young Frenchman who fell overboard near Busselton in 1801, presumed drowned. It was rumoured that he survived, and a statue by Russell Sheridan commemorates him.
Admire the Busselton Settlement Art Project Sculptures depicting traditional owners and pioneers, as you stroll down Queen Street. There's a Jack Brommell mural outside Equinox Cafe expertly illustrating Busselton's history. Walk the length of Busselton Jetty to see Ian Mutch's life-size paintings of a Southern Right, Humpback and Blue Whale.
Morning
Cowaramup is named after 'Cowara' purple crowned lorikeets, and you'll find plenty of public art dedicated to this brightly coloured parrot. Perth artist Brenton See painted a magnificent mural on the shed in Pioneer Park, and Anita Revel painted 'Cowara Dreaming' – giant wings inviting you to pose for a photo, on the Cowaramup Agencies building. Brenton also painted the scene on the Moon Haven shopfront, which sells handmade soaps and skincare. Pop into Mukau Gallery for a selection of local art and occasional demos by artist Fi Wilkie.
You'll find exhibitions at many wineries, and one of our favourites is Thompson Estate. They're in the process of acquiring enough sculptures to create a sculpture trail through the vineyard, some which you might recognise from Sculpture by the Sea.
John Streater Furniture showcases his signature cone tables and other marri, sheoak and blackbutt furniture alongside art, sculpture and blown glass by a selection of artisans.
Two surfing mates started JahRoc Gallery 30 years ago and have taken it from fine furniture roots to one of WA's most respected galleries. We're looking forward to exhibitions by Lauren Wilhelm and Helen Norton
Afternoon
Vasse Felix and Leeuwin Estate have art collections which are a must-visit for any art lover.
Vasse Felix has seasonal exhibitions, and the gallery extends outdoors with a sculpture walk through the garden. Treat yourself to a guided wine tasting, a memorable lunch in the restaurant upstairs, or charcuterie and wine by the fireplace.
Venture south to Leeuwin Estate, where works by John Olsen, Sir Sidney Nolan and Fred Williams grace the Art Series wine labels. Browse a portion of the Estate's collection in the gallery and buy some Art Series wine – this is one time you're encouraged to buy wine for its beautiful label, knowing it's some of the region's finest.
Watch Tova Hoffman at her pottery wheel at Dilkes-Hoffman Studio Ceramics and pick gifts to take home.
If you're one to commemorate holidays with tattoos, check out Artful Ink Margs. Their talented team will turn your ideas into creative – and permanent – tattoo art.
Evening
There's art at every turn on Margaret River's recently reopened main street. Grab dinner at Burger Baby with a giant goddess mural by Chloe Wilder keeping watch. Stroll to Yonder Bar for an after-dinner drink and check out Jack Brommell's vivid blue mural nearby. Look for the Kyle Hughes-Odgers and Ian Mutch collab in front of the Visitor Centre.
Morning
Book a hands-on workshop. Francesco Geronazzo of Margaret River Printmaking learnt traditional techniques in his homeland Italy, which he shares in a range of workshops. Take inspiration from nature as Francesco covers foundation skills of printing and micro publishing.
Fi Wilkie's Toot Studio is a converted cowshed, adjacent to the native bushland and animals which inspire her work. Book a lino printing, collage or Plein Air workshop. Fi also sells collage kits – the perfect gift for friends in lockdown.
Afternoon
Have another decadent dining experience at Xanadu, where Emily Jackson has her bright collage-style art on display.
Head to Witchcliffe to see what's happening at Hardware Creative, a photographic and design studio where there's always live art, photoshoots or workshops taking place. Grab a wedge of cake and coffee at Yardbyrd Café; there's no art, but the food is delicious.
Cut across to Caves Road for a spectacular drive through karri forest, arriving at Boranup Gallery and their awesome array of designer hardwood furniture, paintings, sculptures, jewellery and ceramics.
Venture further south and explore Margaret River Sculpture Park and its 10 acres of large-scale sculptures. Chainsaw artist Brendan Booth offers sunrise and sunset tours of the park, which sprawls over limestone terrain just near Hamelin Bay