Latest News
Bina Maya Yallingup Escape is open for business and continuing their extremely high standards in hygiene in addition to COVID safe practices.
Bina Maya Yallingup Escape
Monday - Friday: 9:00 AM until 5:00 PM
Saturday - Sunday: Closed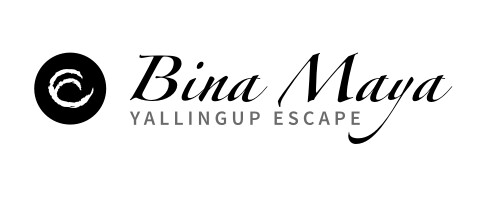 51 Bina Pl, Quedjinup WA 6281
Bina Maya is ideally located centrally (7 mins) to Dunsborough and (7 mins) to Yallingup. Coming from Dunsborough town, drive along Caves road towards Yallingup, turning left on to Biddle Road, then turning left on to Quedjinup Drive. Turn right on to Bina Place and find Bina Maya at the end of the road on the left, where you see the sign.
AAA Star Ratings
BBQ area
Babysitting service
Fireplace (wood or gas)
Free WiFi
Linen included
Non-smoking rooms
Parking
Rainwater Harvesting - Fully
Room Service
Self-contained
Solar Powered - Partial
Bina Maya Yallingup Escape is the Margaret River Region's 5-star self-contained retreat. Award-winning, set amongst 7.5 acres of beautiful native Australian bushland, the architecturally-designed Villas (1 to 2-bed and 4-bed) are modern with a Scandinavian influence.

Ideally located minutes from Yallingup and Dunsborough, Bina Maya was designed for couples, families and friends. Both luxury villas feature gourmet kitchens, bespoke furnishings; wood fires, spacious bedrooms and lavish bathrooms. Private, peaceful with a hotel-service feel. With in-house services such as a meal on arrival, breakfast delivered, private chef dining, massage and yoga, guests leave feeling relaxed, restored and rejuvenated.
Bina Maya Yallingup Escape offers a beautifully designed self-contained Luxury Villa which sleeps 2-4 guests; for couples, friends, small families. The self-contained Residence sleeps 8 guests and is ideal for families, friends and groups travelling together. We also offer an upgrade option to the Residence as a 1 -2 bedroom when the luxury Villa is fully booked. See website for details

Google Reviews
Spent 3 beautifully relaxing nights at Bina Maya Escape. We had an in home dining experience the first night booked with Tiller Dining. The next day was a quiet relaxing day at the residence with a trip to Empire Spa Retreat for the ladies. Bush walking around the area. Warm fires in the evenings. Sara was so lovely and accommodating. She organised delicious breakfast platters for the one morning for breakfast and a grazing board for another evening. Will definitely be visiting again. Danielle Williams
This house is just great, I have stayed here a few times now and they have thought of everything. From the pre-chopped firewood to the luxurious bedding, they have it all covered. I would highly recommend staying here for a relaxing escape. Harriet Kilshaw
Magic Accommodation & location, especially if you love nature. Far enough from the hustle & bustle though short enough distance to restaurants, Dunsborough etc Wish were there longer Ninja
The residence at Bina Maya is heavenly. An absolutely beautiful home set in the serenity of the wilderness... and even a sea view peaking through the tall tree on the horizon. The location is ideal; peaceful and tranquil but close enough to explore gorgeous wine farms in the region and pop to Dunsborough (although, you won't want to leave The Bina Maya Residence much) We loved having a glass of wine by the indoor fire, chatting and laughing, and making a delicious home brewed coffee in the mornings. All the rooms are so stylishly and thoughtfully done making it a luxurious yet comfortable and relaxing space. Sara is fantastic and made our booking and stay effortless. If there is one place you must go, it is Bina Maya. We will definitely be back. Cheri Beamish
We had a relaxing and comfortable stay at Bina Maya. The Villa was clean, modern and catered to our needs. The owners/managers were also very attentive. They pre-warned us of noise from works near our Villa but we didn't hear anything during our stay. Despite this, they contributed to one of our lunches as an apology for any noise caused. This was such a thoughtful gesture even though we were not disturbed at all. Would highly recommend staying here. Xian Davies