Dunsborough Jetski Tours
Monday - Sunday: 8:00 AM until 5:00 PM

371 Geographe Bay Rd, Quindalup WA 6281
Quindalup Boat Ramp 371 Geographe Bay Road Dunsborough WA 6281
Nature & Wildlife Spotting
The only jet ski tour in the Southwest! Explore the beautiful coastline of Dunsborough on their informative and scenic guided tours.

An opportunity to see sea lions, dolphins and whales, this incredible adventure is suitable for all water lovers.
From the moment you sit on their Yamaha 2015 WaveRunner VX luxury jet skis you feel a sense of comfort. Their craft were chosen for their excellent build quality, reliability, safety, luxury, and performance. The 1054cc fuel injected four stroke jet skis offer a superior ride and handle sea conditions extremely well, ideal for cruising the Meelup Regional Park Coastline.

No licence is required and guests can enjoy the tours with limited, or years, of experience. The Yamaha WaveRunner VX jet skis have three seats, however they choose to limit each jet ski to two people for additional guest comfort.
Many guests who travel with Dunsborough Jetski Tours have never been on a jet ski before. Even though it is an adventure activity, the tours were specifically designed with a broad target market in mind and full safety briefings and lessons for riding the jet skis are conducted prior to the tour.

Join them for a 1 or 2 hour exhilarating jet ski experience!
Featured stories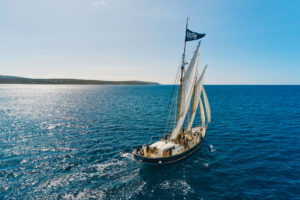 What's New14 Incredible New Experiences in the Margaret River Region Hasn't 2020 just been a ride? Are you feeling like it's time to shake things up a bit? Luckily the Margaret River Region hasn't been sleeping on the job. With cold bevvies, luxury vinous indulgences, tantalizing venue openings & some super adven...
Google Reviews
Our tour guide Ian was very helpful and made sure everyone had a great time. Throughout the tour he would stop and enlighten us on the various stories and histories attached to the beautiful locations. For someone who is not very confident on the water let alone never ridden a Jetski before, he showed incredible understanding and made sure I was safe and comfortable at all times. A big thanks to Ian and his team - I highly recommend Dunsborough Jetski Tours to anyone looking for a truly unforgettable experience! Pred Zdravkovic
I like the information from the tour guide, and driving them is fun Bec May
Absolutely great tour and relaxed and fun environment. Highly recommend! We even got to see seal and a beautiful cave. Brilliant way to send the day Guydon & Jo Boyle
Nice small group size, great for families. Go for one or two hours and suitable for beginners or experienced jet ski operators. We had a great time. Water is beautiful blue and lovely coast line. Sarah Smith
Great tour guide and equipment. But the perfect scenery for a jet ski ride tops it all. Would do again!! Max K.