Dunsborough Visitor Centre
Monday - Sunday: 10:00 AM until 4:00 PM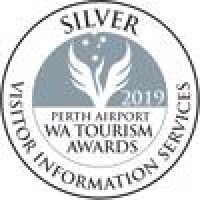 31 Dunn Bay Rd, Dunsborough WA 6281
The Dunsborough Visitor Centre is located in the centre of Dunsborough on the corner of Dunn Bay Road and Hannay Lane (opposite the Post Office).
Free WiFi
GIft Vouchers Available
Local Produce
Dunsborough Visitor Centre is located a stone's throw away from some of the region's most glorious beaches. Drop in and ask our local experts about the best spots! Get inside tips on where to stay, as well as all the great things to see and do.

Staff can assist you with bookings for anything from winery tours, eco-adventures to wonderful accommodation places throughout the region. Make sure you pick up your free regional touring map. Whether you are a regular to the region or a first time visitor, no trip is complete without a stop at the Dunsborough Visitor Centre.
The Visitor Centre offers a free, real-time, comprehensive accommodation, tour and transport booking service, as well as friendly local advice on the best things to see and do in the region. Drop in to pick up your free regional touring map - and if you are travelling further afield, the staff can book your accommodation anywhere in Australia, specialising in the South West Corner!
The Centre stocks a comprehensive selection of specialty guidebooks around flora, fauna and local trails, and a great range of locally made souvenirs and gifts to take home at the end of your visit, from jams, fudge, chocolate, olive oil, pottery, relish, soaps and much more.
The expert staff at the Margaret River Busselton Tourism Association have a detailed knowledge of more than 260 accommodation properties with a diverse range of conference and function facilities and can secure great rates for groups of 10 or more. Tailored touring options are also available to suit your needs and budget. For group, wedding or corporate travel arrangements, take advantage of the free booking service and contact the dedicated group bookings expert today.
Google Reviews
We were wanting to try and find whales along the coast and stopped by here to get some information. Very friendly and helpful, giving us best locations to look based on sighting on the day. They had an interactive map which was interesting to play with. They also recommended a few other stops as we were on the way to Margaret River. They also had a few items for sale in the small shop. Benedict Uy
The lady at the counter was very helpful Folashade Alegbe
Across from the visitor centre is this amazing artwork which is well worth a look at as is the visitors centre! Be sure to have a look around at it as you make your way from the township to the coast to look at some pretty ocean views N Kilcullen
SSHE WAS SO HELPFUL Christine Lennon
Thank you Katie for your help and advice regarding our wine tour. Helen Wolfe