Latest News
Check-in at Reception will be 1 room at a time, any other guests will wait outside in the Atrium. Staff and patrons will be separated by Reception Desk. Reception Door Handle, Desk, room keys and pens will be wiped down after use with Chemform 2-in-1 Quat Based Cleaner. Hand Sanitiser is available on the Reception Desk. Guests will be encouraged to pay accommodation with credit card. All rooms and Cottage will be cleaned with Chemform 2-in-1 Quat Based Cleaner. Cleaning cloths and mops will be washed after each use.
Edge of The Forest Motel
Monday - Sunday: 8:00 AM until 7:00 PM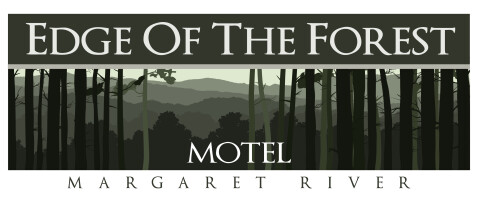 25 Bussell Hwy, Margaret River WA 6285
AAA Star Ratings
BBQ area
Free WiFi
Linen included
Non-smoking rooms
Parking
Water
This ideally located accommodation is just a short stroll to Margaret River town centre restaurants, cafes and shops and is central to the South West Wine Region's many fabulous wineries, breweries, farm gates and natural attractions.

The property borders the state forest walk & cycle trails and is close to the Margaret River. The hugely popular Brewhouse Brewery is just 80 meters away.
Edge of the Forest is more than just your average motel and is a 4 Star Quality Tourism Accredited Rated Business.
The six rooms of the Motel are comfortable, clean and stylish with ensuites with all the amenities required to ensure you have a comfortable stay.
Decked patios with outdoor settings overlook various gardens throughout the property and the Motel's garden & barbeque area overlooks the state forest.
All rooms are non-smoking, bikes are not permitted in the rooms however there is a lock up shed for bike storage.
Located next door to the Motel is the Cottage, oozing character & charm. Self-contained with a well-equipped kitchen, dining, lounge, bath, & separate laundry. The cottage has 4 bedrooms: 2 queen rooms & 1 bunk room with 2 bunks in the main house. The 4th Bedroom is in the garden with a double bed & ensuite. The undercover patio has a gas barbeque & outdoor setting with stunning views of the Forest. No smoking or bikes permitted in the Cottage however there is a lock-up shed for bikes.

Featured stories
Affordable Accommodation to Book Before ChristmasSpring time offers a great window to visit the region between the rushes of the school holidays. With West Aussies currently flocking to the regions, it's wise to pick the right windows for travel. Between October and December you can get the most out of the Margaret River ...
Google Reviews
. I do not often review hotels. Most of them, are not worth commenting on. So, I only write if there are lots of positives. So, if I write a positive appraisal then when I want to go again because they will be fully booked. Book well in advance if you can, even though I got a room at 2pm on the same day. This is an excellent hotel; the owners are friendly and helpful. There is ample parking, you can park right next to your room. The rooms are very good and quiet. The place is next to the forest, beautiful setting. It is near the main road but inside and even outside you cannot hear it. John Gowland Skyview The
Great value for money. The king bed was really comfortable. Our room had a small refrigerator, microwave, toaster, and kettle. The garden area is a lovely relaxing area to sit with a book and a cup of coffee. The location means it is an easy walk into town. We arrived well before check in, but our room was ready so the hosts allowed us immediate access. Sherryl Spencer
Denise and Alan the owners are the most pleasant couple. Accomadation perfect. Rooms very clean Bed perfect Shower and water pressure perfect barry sinclair
We stayed for 6 nights. Fantastic place to stay. Clean and tidy, the extras like heater blankets, milk in the fridge continuesly restocked tea and coffee was amazing. Fantastic customer service the owners are gems you can tell they care about your stay. Very helpful and lovely people. Fantastic location on the edge of town. Food and shops in walking distance. Also i was super impressed with the room service! not needing to wash dishes! What a fantastic experience. Highly recommend oh and I can't forget the garden it's absolutely beautiful. Tegan Moore
Beautiful facilities. Lovely hosts. Spotlessly clean. Will stay again. Julie M