Great Southern Outback Tours & Accommodation
Monday to Sunday 9.00 am to 5.00 pm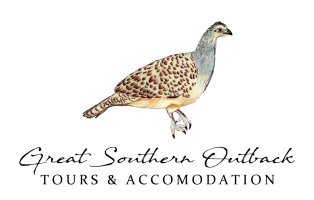 113 Riverside Rd, Kalgan WA 6330
Nature & Wildlife Spotting
Escape to the country and experience the Great Southern Outback in intimate, boutique small group safari-style tours to a range of outback locations. Visit outstanding destinations as part of short one day tours or join one of the great WA road trips, the 9 day Holland Track and Holland Way tour, to the Eastern Goldfields to experience the life of the miners!
Great Southern Outback Tours & Accommodation are a privately owned, bespoke outback touring company, located in the beautiful Kalgan River valley, near the port city of Albany.
They offer off-the-beaten-track 4WD adventures, discovering the glorious rural landscapes of WA's south east, from the rugged coastal cliffs of the Southern Ocean to the pioneering Goldfields and all points in-between. Great Southern Tours like to think that they do things a little differently. It's extraordinary country out there in WA's outback, with wide open spaces and clear nights offering an outstanding view of the stars. They've created tours that combine a little of everything, from meeting local farmers and seeing amazing wildlife to contemplating both colonial and Aboriginal history and culture.
None of the well-trod tourist trail! These tours go off-road and into the heart of rural communities, as that's where the REAL stories are found.
With a range of tours to choose from the "flagship" tour is the magnificent 4WD fully escorted private
9 Day Holland Track Woodlands, Rocks & Trails Outback Wilderness Tour
which runs monthly departing Albany.
$2,990 per person.
All prices are via direct bookings.
The Grange on Kalgan is a unique family-run farm set in a fresh country setting located 22kms from the City of Albany where you can enjoy the stunning vistas, farm animals and landscaped gardens set in a delightful location overlooking the Kalgan River Valley. Relax, explore, discover and experience the Great Southern Outback – like never before.

The property is a hub for visitors providing opportunities for a range of experiences. Sustainable practices are a focus as well as the conservation of fauna and flora. A mix of accommodation is offered either farmstay or B&B. You can also partake in a short day or all-inclusive long tours including tours of the property. A function centre for events is available.
A stay at the property has so much to offer at every turn and the unique private tours provide an adventure off the beaten track that you'll remember forever!
Google Reviews
Met Wayne at The Grange on Kalgan accommodation experience during a vacation with a couple of friends. We had the best stay at the beautiful accommodation, getting to know Wayne and learning more about WA's Great Southern Outback! We can't wait for our next visit! Robin Domondon
Enjoyed a beautiful stay with Wayne at the heritage farmstay. Was incredible to see all the animals and relax on the verandah and in the beautiful gardens. Loved the accommodation was pet friendly. Looking forward to going back and staying and going on some of his tours next time too. Laura Dew