Karridale Cottages & Hop Farm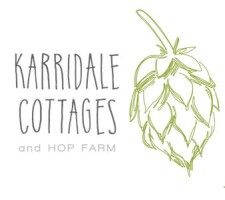 300 Brockman Hwy, Karridale WA 6288
Fireplace (wood or gas)
Linen included
Pets allowed
Rainwater Harvesting - Fully
Self-contained
Solar Powered - Partial
Nature & Wildlife Spotting
Be rejuvenated in a peaceful and relaxing bush setting. Take a wander through the forest or enjoy the native wildlife that visit the property.

The stone and rammed earth cottages set amongst the beautiful Karri forest are the perfect way to get back to nature, relax and unwind while still being close to all that Margaret River and the South West have to offer.
Karridale Cottages and Hop Farm specialises in cottage style accommodation situated in a relaxing bush setting within the Margaret River Wine Region.
All of the Cottages are fully self-contained to ensure you will have a relaxing and hassle free holiday without having to remember to bring everything from home. The property is dog friendly so you can enjoy a holiday away with the whole family. Most importantly, they're only a short drive from the Margaret River township so you can enjoy everything the region has to offer. ​
Karridale Cottages also offer a unique venue for a Margaret River wedding ceremony and reception, s
et on 25 hectares, the venue provides a rustic country setting within tranquil bush surroundings. By day, the property is a working Hop Farm which is sure to be a unique setting for your photographer to create lasting memories.
Featured stories
10 Incredible Farm StaysGet back to nature and embrace the farm life. 10 Incredible Farm StaysGet back to nature and embrace the farm life. 1 1 A trip to the Margaret River Region is all about getting back to nature.  Spending time on the beach, the coast, the caves,...
Affordable Accommodation to Book Before ChristmasSpring time offers a great window to visit the region between the rushes of the school holidays. With West Aussies currently flocking to the regions, it's wise to pick the right windows for travel. Between October and December you can get the most out of the Margaret River ...
Google Reviews
The family stayed in 4 of the cottages for mum's 91st birthday. It is a wonderful spot and the cabins are lovely, clean and comfortable. Thank you so much for a special weekend - we will definitely be back! Penny Cookson
My Husband and I stayed for 2 nights, we booked out all 5 cottages for our wedding. The rooms were lovely and had awesome interior decor especially the Cascade room where we stayed! So peaceful and very relaxing in all the nature and was awesome that we could have our fur babies with us we felt right at home. The owners Olivia and Trey were lovely and easy to deal. We will definitely we back here to stay, we wished we stayed longer. Taegan Gray
So relaxing, quiet and beautiful. I work in retail and it has been so stressful this month it was nice to just get away for a night with the husband and chill. Thankyou so much, we will definitely be back Tiff Douglas
Enjoyed a relaxing 3 night stay. Great to get away from it all. Lack of WiFi was a real blessing!? Our little pup loved it too. Lee Smales
Great place end our trip. Sam Moseley