Latest News
The Corner Bar, Drive Through Bottleshop and Hotel/Motel accommodation are OPEN! Our kitchen and bistro remain closed at this stage; please ask at the Corner Bar for food options.
Margaret River Hotel
CORNER BAR: Mon/Tue 11.00 - 7.00 Wed 11.00 - 8.00 Thu/Fri 11.00 - 9.00 Sat 10.00 - 9.00 Sun 12.00 - 6.00 BOTTLESHOP: Sun-Wed 10.00 - 8.00 Thu/Fri/Sat 10.00 - 9.00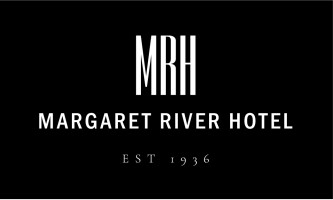 125 Bussell Hwy, Margaret River WA 6285
Bar
Buses Welcome
Coffee/Tea
Dinner
Free WiFi
Gluten Free
Group Bookings
Highchair
Licensed
Live Music
Lunch
Outdoor seating (beer garden, alfresco)
Private function or dining room(s)
Restaurant
Table service
vegetarian
Children's Menu
The Margaret River Hotel is a local landmark … a meeting point for friends, a comfortable place to rest your head for the night and a popular drinking hole. Our Liquor Barons bottleshop offers drive through convenience, with an extensive selection of local wines, craft beers and spirits at great prices.


A true local pub right in the heart of town. Step outside the front door and you will find Margaret River's vibrant selection of cafés, restaurants, bars, shops and galleries.

A short stroll may take you to the weekend farmer's markets or down to the peaceful walking trails along the river. Jump in your car and within 10 minutes you will find a vast selection of world-famous vineyards, stunning caves and untouched beaches to explore.

Google Reviews
Stayed in the family room for 3 nights which fitted us comfortably. Staff were really nice and really liked the fact that you check yourself in and out. Close to all the shops which was convenient considering I had 3 kids. Would stay there again. Dorothy Seala
Middle of main street. Easy access, large clean room, parking near room, great value pricing & value for money. Recommended Alan Elms
Great place very welcoming Michael Williams
Friendly feel. Good range of beers. Suffering from huge roadworks in the main street at the hotel's front door, but there's good access from the back. Arthur Hanlon
The service is great, it's finals so we went to watch the footy and were able to bring our own food in. Decent range of beers on tap too. Adam Johnson