Margaret River Hotel
As part of Government guidelines to halt the spread of COVID-19, there is limited business activity taking place in the region at this time. Please see our Essential Services page for details of businesses which are continuing to operate. You can also contact the business directly or get in touch with a local expert via

[email protected]

/ (08) 9780 5911.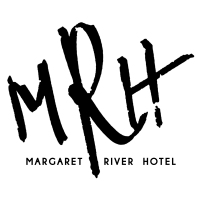 125 Bussell Hwy, Margaret River WA 6285
Bar
Buses Welcome
Coffee/Tea
Dinner
Free WiFi
Gluten Free
Group Bookings
Highchair
Licensed
Live Music
Lunch
Outdoor seating (beer garden, alfresco)
Private function or dining room(s)
Restaurant
Table service
vegetarian
Children's Menu
The Margaret River Hotel is a local landmark… a meeting point for friends, a comfortable place to rest your head for the night, a busy restaurant and a popular drinking hole.


A true local pub right in the heart of town. Step outside the front door and you will find Margaret River's vibrant selection of cafés, restaurants, bars, shops and galleries.

A short stroll may take you to the weekend farmer's markets or down to the peaceful walking trails along the river. Jump in your car and within 10 minutes you will find a vast selection of world-famous vineyards, stunning caves and untouched beaches to explore.

Wine, Dine & Stay at the Margaret River Hotel.
Google Reviews
It was nice to sit outside in the afternoon and watch people stroll by. The food was okay, I had a steak, the chips where a little hard and crunchy. The steak was cooked beautifully but something tasted a little burnt. Salad was nice but a little too much dressing, it seemed to be swimming in it. Overall okay meal. Service was fantastic. Georgie Harris
Had a lovely meal in the restaurant. Quality steaks cooked well and tasty sauces. Service was lovely but could be slightly more attentive as there were few people in the restaurant and our empty plates sat on the table longer than necessary. Otherwise, an excellent venue for a upscale bistro meal. Ben Del Borrello
Good food, quite popular by the looks of it. The food was quite good and the prices were decent. Definitely worth a stop if you need a feed. Adrian Zadow
Beautiful historical building, with furnishings that are in keeping. Motel rooms are also modern, clean and tidy. Friendly staff with excellent facilities available. Bottle store available in carpark. Breakfast cafe across the road. Bar and dining available. Fiona Samuels
We enjoyed a really well prepared lunch in this well renovated hotel. The hotel outlook is stunning & it looks majestic as you see it from the main street. The bistro area is neat & well laid out. The staff are friendly and ensured we had sufficient time before taking our orders. The menu choices were excellent & the prices competitive. The menus included a great range of alcohol & non alcohol drinks which were also at very competitive pricing. Trev Farmer