Latest News
Margaret River Retreat is a proud Tourism WA Quality Sustainable and Ecotourism Australia accredited accommodation destination. The cafe coffee window and pre-ordered catering services are available to guests. Online gift vouchers are now available to purchase and download from their website. Enjoy your stay at Margaret River Retreat.
Margaret River Retreat
Monday - Saturday: 9:00 AM until 5:00 PM
Sunday: 9:00 AM until 1:00 PM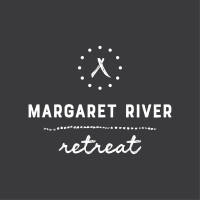 11117 Bussell Hwy, Forest Grove WA 6286
Traveling south on Bussell Highway for approximately 16 kms, turn left into Margaret River Retreat before the Sebbes Road intersection.
BBQ area
Breakfast provisions supplied or breakfast hamper
Cafe
Camp kitchen
Laundry facilities
Linen included
Non-smoking rooms
Parking
Rainwater Harvesting - Partial
Self-contained
Solar Powered - Partial
Washing machine
Water
Margaret River Retreat offers a unique destination for holiday makers, adventure seekers, comfort campers and extraordinary events. Offering a mix of luxury Glamping accommodation in proximity to the Boranup Forest National Park.


Featuring luxury glamping and safari-style cabins, self-contained and contemporary studio rooms, cafe, store and event venue facilities. Margaret River Retreat aims to provide you with everything you need for a sustainable stay.
The perfect base from which to explore the surrounding Margaret River Wine Region. Margaret River Retreat is located within reach of some of the regions most pristine forests, beaches, wineries, galleries and natural attractions. Visit mazes, caves and bike or hike the nearby trails. The Retreat team are happy to recommend adventure tour operator partners who work within these majestic forests. The farm offers a natural setting with forest National Park views and native wildlife.
Visit the Fireside Store & Kitchen, open to guests only, for simple country cafe fare and catering. The offering of
eco-minded and diverse mix of accommodation, catering for organised adventure groups, rustic style weddings and wellness retreats are perfect for individual adventure seekers and glamping families.
Photo Credit: Greta Wolzak & The Photography Project
Featured stories
Your Ultimate Margaret River Wedding Venue GuideBeachfront altars, secluded forest ceremonies and lavish winery weddings. The Margaret River Region is one of Western Australia's most popular options for a destination wedding. It's easy to see why: whether you're after sweeping views, a cosy and quaint farmhouse or ...
Your Guide To GlampingPlush doonas, bell tents, starry domes and surf retreats. Who doesn't love getting out into the great outdoors? Now is the perfect time to plan that long awaited camping trip: spring is here, the weather is warming up and the hiking trails are filled with wildflowers. But wait a minute, what about ...
Google Reviews
We absolutely loved our stay at the Margaret River Retreat. My partner and I stayed in the stables barn, and we loved sitting on the back porch looking at the animals close by. The bedroom was spacious, and there was also a convenient kitchen area. Sonia and Nick welcomed us warmly, and made us feel at home. We will definitely be coming back here! Montel Millar
We had the best experience down at Margaret River Retreat. The owners were lovely, the studio was beautiful and clean, the kitchen had all the necessities (including marshmallows!) and the view from the room was just of an open field. I feel so recharged from such a wonderful getaway to paradise. Stephanie Brindal
Really enjoyed our stay at the Margaret River Retreat we stayed for 3 nights, 2 in the Shed Studio and 1 in a Belle tent. We had the best time relaxing here, the highlight each night was watching the stars with a nice cheese board and a glass of red wine. The studio and tent we stayed in were very clean and well equipped. The retreat itself has lots of nice touches to help make your stay even better. If you are looking for a nice place to stay to get away from it all and connect with nature then stay here. Also wanted to say a big thank you to Belle and Sally who made our stay even better, thanks guys! leigh Barlow
Wonderful hosts, lovely little Cafe on-site for breakfast, quiet calm location perfectly suited for exploring Margaret River and Augusta. The camp kitchen and facilities where immaculately clean. Will definitely return James F
Great place. We went for a wedding. They were super helpful and had everything you would need for a great wedding. Beau Torrance