Latest News
STAY 4 PAY 3 SITE DEAL Quote 4PAY3WINTER when booking over the phone or when booking via the Summerstar webpage.
Margaret River Tourist Park
Monday - Sunday: 8:00 AM until 6:00 PM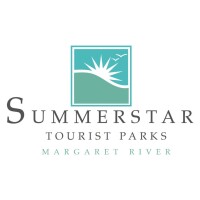 44 Station Rd, Margaret River WA 6285
BBQ area
Camp kitchen
Laundry facilities
Dump Point
Game room
Free WiFi
Pets allowed
Playground
Pool - outdoor
Public showers
EV Charge Points
Water
Margaret River Tourist Park is in the centre of Margaret River, Western Australia. Perfectly situated for Australian and international tourists looking to explore the stunning countryside and local attractions. The Park has a range of accommodation options to suit all travellers.
Part of the Summerstar Tourist Park family, Margaret River Tourist Park strives to have accommodation options available year-round to suit all travel styles and budgets. With well-maintained cottages and deluxe cabins perfect for small families and couples, and a range of ensuite, powered and unpowered caravan and camping sites perfect for adventure travellers, you'll feel right at home at Margaret River Tourist Park.

Travelling with the family pet? Margaret River Tourist Park welcomes pets on sites only.

Google Reviews
** Edit ** We stayed here again the staff were lovely, the park is improving. Unfortunately the only thing to let it down was the en-suite (en-suite powered site) was really dirty and needs a good scrub from top to bottom. But have given an extra star from last review as it has improved! Monica Allan
The place was clean, quiet and not far from the Town Centre. This is the second time I've stayed here and been very happy with the service and accomadation both times. Good value for money Glynis Best
Nice cozy small caravan park. Good location. Pool, bouncy pillow, and kids playground. Some of its caravan locations have a private toilet. Juan Pablo León Salmón
Great double brick cabins, spacious and clean. Only one dissapointing thing. A huge tear in a seat that made it impossible for us to use without catching our clothes on. Overall I would come again. It's a good solid walk into town Pamela Hawes
Lovely place to stay and very clean l would recommend it to anyone Jill Impson