Latest News
Our management team have completed the AHA Supervisor online training course. Daily cleaning and sanitising of buses is undertaken. Our onboard platter is now served in individual portions.
Margaret River Tours
Monday - Sunday: 8:00am until 7:30pm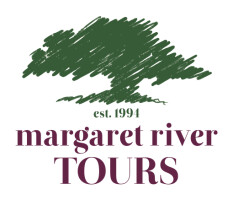 5 Carignane Ct, Margaret River WA 6285
Door to door pick up
Private or custom tours
Featuring a regular itinerary that visits outstanding boutique and larger scale cellar doors, Margaret River Tours offers iconic Margaret River winery tours to their customers daily. The Original and Best Wine Tour in Margaret River, this company has more than 24 years experience and partners with some of the region's most reputable wineries to offer memorable Margaret River wine tours.

The tour has a limited pickup and drop off range which means you won't be stuck on the bus for hours before and after the tour.
The team at Margaret River Tours pride themselves on offering informative, timely and professional wine tours of distinction, every time. Each cellar door visited is ready to offer a choice selection of wines on arrival and sit down tastings at Vasse Felix and Voyager Estate are just some of the ways that patrons get VIP Margaret River Tours service throughout the day.

The Full Day Gourmet Wine & Dine Tour visits six wineries (Brown Hill, Leeuwin Estate, Xanadu, Voyager Estate, McHenry Hohnen and Vasse Felix) and includes lunch with a glass of wine at Xanadu and the Half Day Gourmet Wine Tour visits four exceptional cellar doors and more. All regular tours include tastings of small goods at The Farm House, chocolate at either Margaret River Chocolate Co or Temper Temper and cheese at Margaret River Dairy Co as well as a vineyard platter served onboard the bus in between destinations. (Please note that unavoidable variations due to Covid 19 may influence our itinerary in the short term.)

Let your friendly local guide take care of the driving while you sit back and relax into a luxurious Margaret River food and wine discovery experience.
Google Reviews
Excellent full day tour 10am - 5pm. Lots of wine tasting...., excellent wines. Chose this one over others offered, as wine tasting sounded better. The highlight was the very tasty lunch at Xanadu winery. We had the lamb which was cooked to perfection. Wine good too. Sharon Merrikin
This is a top tour and an excellent day out discovering some of the best of Margaret River wineries. Our guide and driver Glen was knowledgeable of the area and wines and an all round top guy to guide the tour. Our day included a beautiful lunch and Xanadu after the wine tasting. Quick visit on way home to cheese and chocolate factory. Pick up around 10am and returned to by 4pm. Megan Bennett
What an awesome day. We had a great time checking out what Margaret River had to offer. Our guide was very attentive and went out of his way to answer our questions. We had a max of 13 on the tour which was a good as the tour did not lose its personal touch. The cheese and meats board hit the spot. Thank you Adam for making it such a great trip. Caren Zh
We absolutely loved this wine tour, the driver was great, he spoke clearly and explained everything in depth along with answering all of the questions we threw at him, his knowledge of the area was great. The van we traveled in was clean, tidy and safe. I'd suggest to pay the extra cash to do the full day tour as it includes a tasty lunch and a few more winerys. Mr_G
Thanks for a fun afternoon. Tour guide Peter was informative and a great host. Disappointing there was no actual wine making experience especially given that we were in the middle of harvest time. I understand the full day tour does this but not the half day so just be aware if that is on you list. James B