Latest News
Sorry, we are temporarily closed. We will update as soon as we re-open the doors. Thanks for your patience.
McLeod Creek Wines
Temporarily Closed for Business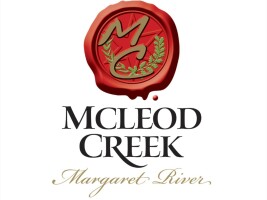 10 McLeod Creek Rd, Karridale WA 6288
The property is located 24kms from Margaret River on the corner of Bussell Highway and McLeod Creek Road, Karridale, W.A 6288
Leaving Margaret River drive south on the Bussell Hwy for 24kms, turn left on McLeod Creek Road, drive down McLeod Creek Road for approximately 50 metres then turn right into the property.
A small family owned and operated farm and winery, offering quality handcrafted wines as well as seasonal organic fruit and vegtables. A must do during your visit to the Margaret River region!
As well as the flourishing dry-farmed vineyard, there are chickens, dogs, sheep and geese, long raised beds of organically grown vegetables, flowers and herbs.
In the blossoming fruit orchard, there are the usual apples, pears, plums, apricots, oranges, but also a few surprises: an Irish strawberry tree, a persimmon, a guava, a bay tree and two sorts of limes. But Mario's favourites are two rows of various varieties of fig trees leading to the creation of his own fig chutney.
Google Reviews
Family Run business. Fresh vegetable produce. Wine.👍 Mark Robson
We made a spontaneous stop at McLeod creek as we were driving through and what a good decision. Greeted by Mario (and the lovely Kira) we were welcomed in and felt immediately at home. Mario talked us through some of the fantastic wines his family produce and explained the wonderful history of the place. Would definitely recommend you pay a visit if you are in Margaret river. Especially as you cannot get the wines in the shops. John Gemmell
Loved the merlot and vincotto they had on hand Andre Yong
Lovely selection of wines and enjoyed the tasting with Mario. He was so welcoming and greeting by the lovely white lady who was so tame and gentle. Bought a couple as good wines and rather support local wineries that you are not able to find their collection anywhere else apart from their own vinery. Don't miss the opportunity to visit! Jazvina Lahre
Excellent. Smaller, Friendlier than your usual cellar doors in the area. Glad we stopped in here - a pleasant surprise. No flashy showroom. No snobby staff. Just the owner / manager in the shed giving us a tasting & telling us about his winery. H Strugnell