Rose O'Neill Massage Practitioner
Monday: 9:00 AM until 4:00 PM
Tuesday - Wednesday: 9:00 AM until 5:00 PM
Thursday: 10:00 AM until 4:00 PM
Friday - Sunday: Closed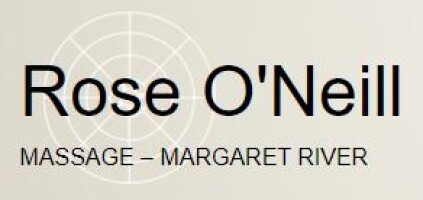 5 Elizabeth St, Margaret River WA 6285
A tranquil studio located in the heart of Margaret River. They offer a combination of many modalities including Hawaiian (Huna) massage, Volcanic Hot Stone massage and Remedial massage to suit the needs of each individual. The highest quality essential oils and pure cold pressed base oils are used.

Experience the balancing harmony of massage for total wellbeing of Body, Mind and Spirit.
Allow yourself to experience a nourishing massage treatment.
Massage – Hawaiian Style (Huna)
Be nurtured by the flowing energy of Huna Massage. "Huna" is the holistic belief system of the Hawaiian/Polynesian people, dating back thousands of years. "Huna Massage" is just one aspect of this system. It was originally reserved for royalty and rites of passage rituals. It is characterised as a massage style by the graceful, rythmic, flowing forearm strokes. The body acts as a choregrapher while the masseur is the dancer who answers the needs of the body by movements which stretch and squeeze the muscles. The hands balance and harmonise the subtle energies of the body, thus the whole process results in a truly holistic form of bodywork. Whether you are physically tired with aching muscles and/or you are in need of nurturing, allow yourself to experience the balancing harmony of Huna Massage for total wellbeing of body, mind and spirit.
Hot Volcanic Stone Massage
Using ancient tools of the earth, smooth warmed volcanic stones are integrated with nurturing touch, as the stones perform their magic gliding across the body. Essential oils are used to awaken and delight your senses. The heat encourages tense muscles to soften and release, restoring your body to harmony and balance. Allow yourself to experience this nourishing massage treatment.
Remedial Massage
Using a combination of techniques including deep tissue and trigger point for treatment of muscle tension and injury. Traditional chinese cupping available with massage treatments.
Reflexology
Whole body treatment through the reflex points of the feet.
Mini Facial
Cleanse, tone, exfoliate, mask, hydrate. Using "xquisitorganics" organic macadamia skincare.
Also offering:

Remedial massage
Trigger point
Myofascial release
Pregnancy massage
Traditional Chinese cupping
Minifacial "Xquisitorganic" products
Ear candling
Reflexology
Gift vouchers