Latest News
There is a maximum of 20 people at our venue at any one time. We will be following social distancing government regulations. Open for takeaway wine everyday 10am-5pm. We can't wait to see everyone!
Windance Estate
Monday - Sunday: 10:00 AM until 5:00 PM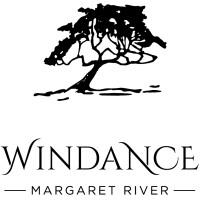 2764 Caves Rd, Yallingup WA 6282
Group Bookings
Outdoor seating (beer garden, alfresco)
Seated Tastings
Paid Tastings
Local Produce
Grazing Platters & Hampers
Windance Estate is a family owned and operated, boutique winery in Yallingup; located in the Northern part of the Margaret River wine region. Their focus is on producing small batch wine of exceptional quality while incorporating sustainable land management. With a history boasting several accolades, they are one of the most successful small producers in the region.
Windance Estate was established by Drew and Rosemary Brent-White in 1998. It is located 5 kilometres south of the beautiful Yallingup beach, on Caves Road and situated in the northern part of the famous Margaret River wine region; an area which is highly regarded and well known for having some of the best fruit in the region.
The focus is on producing quality wines, whilst incorporating sustainable land management and environmentally friendly viticultural practices, with the estate vineyard being Certified Organic.
The family estate is in its third generation of farming and second generation of viticulture, with their daughter Billie and husband Michael operating the estate.
Google Reviews
Billie was awesome. She made the afternoon. Cape Discovery Wine Tours John Hughes
Amazing experience at Windance! Ailsa was phenomenal and treated us to our wine tasting. So knowledgeable and lovely. Great outlook and the wines were world class. Definitely will be back 😃 thank you for having us. Matt McLean
Great service. Fantastic wines. Beautiful cellar door. Our favourite winery of Margaret river so far. Jace GB
Amazing experience! We had the best time with Erika and learnt so much about wine... Can't wait to go back!! Delphine Gargula
The owner Drew was very informative and VERY generous. His relaxed and humerous manner made our experience fun as well as interesting. But on top of that, the wines and port were awesome. Thank you for a great experience. Kim Black