The Margaret River region's undulating bushland, rugged coastline and incredible natural landscapes make for some pretty top-notch touring at the best of times. But sometimes driving around the region or visiting the same ol' places can start to leave you wondering: how can I see more? Where there's a will, there's a way – and here, there's no shortage of either. The answer: alternative tours.

Whether you like to do things differently, or want to see the region in a new light, one of these alternative tours of the Margaret River region might be the way to explore it!
Share a fishing trip with local cultural custodian Josh Whiteland.
Get a Wadandi Perspective
Koomal Dreaming
For over 50,000 years, the Wadandi people of the Busselton, Dunsborough and Margaret River areas have walked this ancient land. Koomal Dreaming is your opportunity to follow in their footsteps and experience Wadandi country through their eyes. Wadandi custodian Josh "Koomal" Whiteland will introduce you to the world's oldest living culture with his authentic, personal interpretation of the region's native flora fauna and traditional stories. Choose from tours where you'll taste native bush foods and experience traditional fire lighting, go fishing in the region's turquoise waters and cook your catch, or head down into Ngilgi Cave for a memorable Didgeridoo performance.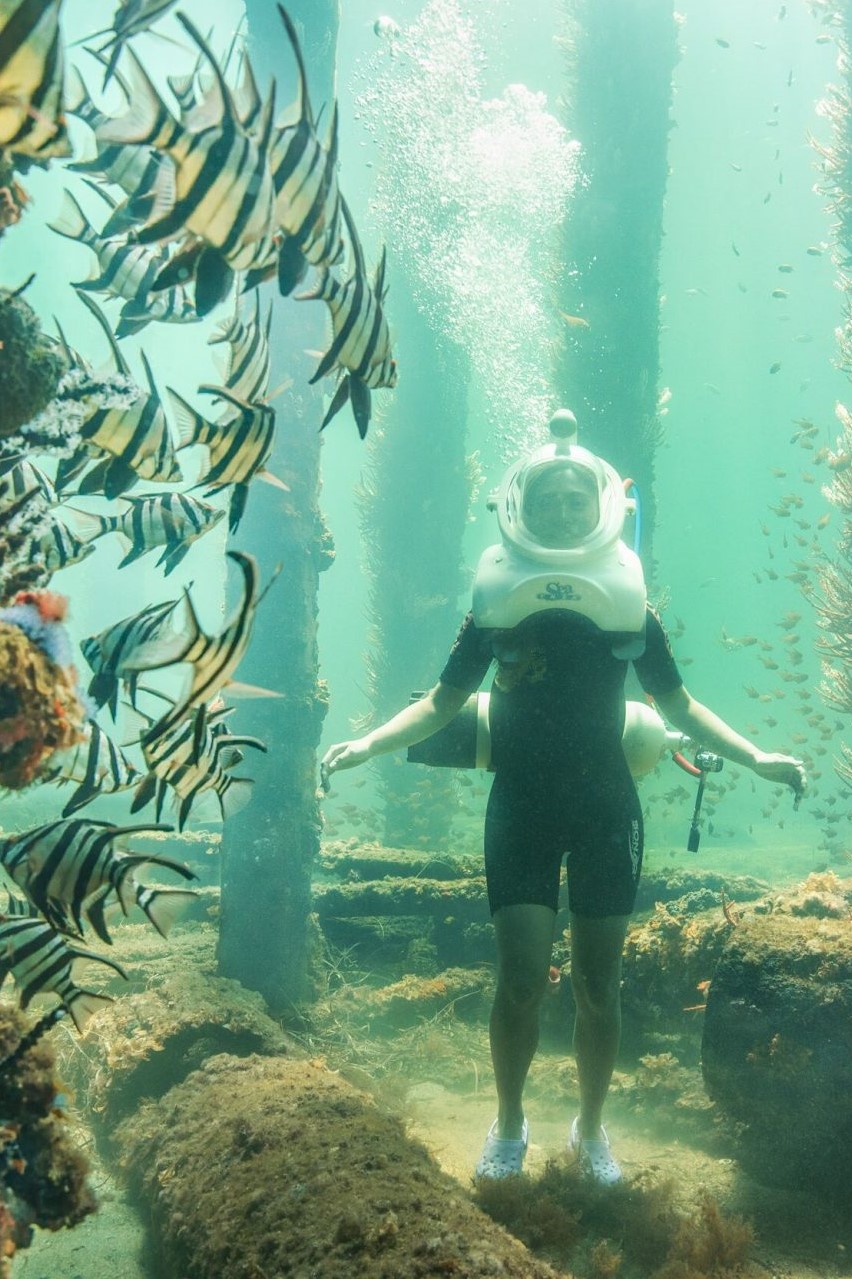 Descend under the iconic Busselton Jetty and experience one of Australia's greatest artificial reefs.
Sea Life
Dive Busselton Jetty
If you have the taste for deep sea adventure but lack the know-how and qualifications, then Dive Busselton Jetty offer the tour for you. Try out one of their unique SeaTREK underwater walks. Yes, that's right. It's an underwater walk. You'll be kitted out with a super stylish helmet to ensure you'll be able to breath on your underwater stroll. The underwater world of the Busselton Jetty is packed full of sea life to view. After all, it's been here for 150 years; enough time for critters and coral to call its deep sea nooks and crannies home.
Margaret River Adventure Company
Ever heard of coasteering? Nope? Well, that's because it's a pretty off-piste adventure and there aren't many places in the world you'll find that offer it. But here in Margaret River, you'll have the chance to give it a go with The Margaret River Adventure Company. Fully equipped with a wetsuit, lifejacket and helmet, get ready for a day of scrambling over rocks, jumping off cliffs and seeing the wet and wild Indian Ocean up close. If you'd prefer something slightly more subdued but still submerged, they also offer snorkelling day trips.
Margaret River Kitesurfing
Travel further down the coast to Augusta and stay out at sea with Margaret River Kitesurfing & Windsurfing. This is one of Australia's best destinations for these high-adrenaline sports; do a lesson or head out as a pro in some of the safest water in the region and see the coast from a totally different point of view.
Sailing Charters WA
There's nothing like having your own little slice of paradise when on holiday. Jump out on the water with Sailing Charters WA and you won't be able to wipe the smile off your face for the whole day. Whether you go for a sunset cruise, a swim and lunch cruise or a private day long charter, you'll be sailing, swimming and sipping on the Indian Ocean right beside the region's gorgeous coastline.
Augusta River Tours
Enjoy a cruise of Augusta's beautiful Blackwood River with local tour guide and skipper Graeme Challis, who's grandparents first settled along the river in 1923. A totally unspoilt wetland, this area is a hotbed for wildlife and Graeme will be able to tell you all about it on one of his Augusta River Tours. For total serenity and true immersion in nature, this alternative tour is the go.
Explore the Margaret River region's pristine waters with Sailing Charters WA.
Sky High
Scenic Helicopters
Scenic Helicopters offer a once-in-a-lifetime opportunity to tour the entire stretch of cape to cape coast by air. For those looking for the ideal romantic treat, book a flight to your very own secluded beach and treat your loved one to a gourmet picnic hamper and champagne on ice. There are plenty of options to pick from!
Tiger Moth Adventure Flights
Step back in time and launch into the sky in a vintage Tiger Moth aircraft, complete with leather helmet and goggles. Tiger Moth Adventure Flights are one of the only tour operators offering flights in these planes in the state, and it's a total throwback to the experience of RAAF aviator's in the 1940s. Low level flying in an open cockpit plane? Exhilarating. They even offer aerobatic adventures, for the real adrenaline seekers.
Go Beyond
Nullarbor Traveller
Combine your experience of the Margaret River region with a unique tour of the broader south west pocket of WA with Nullarbor Traveller. Offering six to ten day journeys from Perth to Adelaide, encompassing the Margaret River region, Albany, Denmark, Esperance and even South Australia's Nullarbor and Eyre Peninsula, these guys really are the go-to for a full blown Australian adventure. In Margaret River, enjoy wine tasting, surf, and pristine beaches, all wrapped up in their 100% carbon neutral tour packages. You'll finish the journey with a more complete perspective of what makes this part of the world so incredible.
Bike Swim Hike combines three of the best ways to see and enjoy the region, touring Dunsborough's pristine coastline.
Pedal Power
Bike Swim Hike
Bike Swim Hike isn't strictly pedal power only, but instead – as the name suggests – combines a bike ride (or two) with hiking through and swimming in the pristine, rocky pools of Geographe Bay. It's all led by local guide Paul "Richo" Richardson, who prior to starting Bike Swim Hike, spent six years travelling all over the world completing rather unusual and astounding physical feats –  cycling through Southern Africa, New Zealand and Western Europe, running the London marathon, riding from Perth to Sydney and hiking the Kokoda Track among them. His stories might be enough reason to join the tour alone. With an easygoing, adventurous feel, Bike Swim Hike is the ideal way to explore Dunsborough's incredible coastline, and it starts and finishes in the same place – how's that for convenience?
Surf 'n Dirt
Surf 'n Dirt Adventure Tours also provide a chance to jump on a bike and see the Boranup Forest's natural beauty, along with learning to surf under expert tuition and kayaking through the peaceful silence of the untouched south west for a full day of outdoor activity.
Margaret River Mountain Bike Tours
If you've always wanted to give mountain biking a go but don't know where to start, Margaret River Mountain Bike Tours is the answer. Join Michael 'Brooksey' Brookes for a guided ride through the magic of the Boranup Forest, through the rolling pastures and wineries of Margaret River, take in views of secluded beaches and even enjoy a private wine flight and decadent lunch at one of the region's most renowned wineries, Leeuwin Estate. You'll be looked after whether it's a half day tour, a sunset and night ride by headlight, or with the latest Ride to Wine and Dine experience taking in the best of both worlds in Margaret River. Not keen on getting too sweaty? Hop on an E-bike instead. Sorted.
Soak up incredible Indian Ocean views while hiking the Cape to Cape track.
Saddle Up
Jester's Flat
Experienced ride or not, you'll want to get out on a Jester's Flat horse. It's a completely surreal way to experience an alternative tour in the region, whether it's through the bush, along the coast, or across the countryside at twilight.
Lace up your boots
Edgewalkers
Now is the time to walk the Cape to Cape Track. Edgewalkers offer everything from half day guided walks through to a full multiday adventure, and you'll be sure to leave with much more than just happy snaps. Dr Erika Jacobson is your guide and alongside running walking tours, she also lectures in creativity and transformation. While walking, you'll be privy to some pretty special conversation and creative thinking.
Margaret River Discovery Co.
The tour for people who don't do tours! That is, if you can manage to nab a spot on one of Sean Blocksidge's blockbuster adventures with the Margaret River Discover Co. One of the region's most in-demand experiences, Sean's tours have you paddling down the river, walking the cape to cape, tasting wine, dining in a barrel hall – all with one of Margaret River's most recognisable and lively personalities in your ear. You'll be guaranteed some photos for the mantlepiece too.
Walk Talk Taste
The only walking food tour in town, ex-journalist and history buff Kellie Tannock will take you behind the foodie scenes in Margaret River with her intimate Walk Talk Taste tours. A fountain of knowledge and a passionate local, you'll be taken on a unique and intimate walk through town filled with tasty treats, history and fun facts on the townsite and of course some of the region's best produce. Take your pick from a brunch or an evening tour: that's fancy coffee, nature, history, food and wine by daylight, or a smorgasbord of dinner delights and cocktails as the sun sets.
Passel Estate Nature & Wine Walk
One of the newest tours on offer, Passel Estate's Nature & Wine Walk is perfect for wine lovers that would also like to explore and learn more about the region's native habitat and the flora and fauna that live within it. The Estate's nature sanctuary has been protected and rehabilitated to encourage the survival of the critically endangered Western Ringtail Possum. You'll enjoy a private guided tour, before stopping by the vines to learn about the terroir and why it is the perfect spot for making award-winning wines. Finish up with a wine tasting and cheese platter, and of course the heart-warming knowledge that you have helped the Estate's efforts in conservation. 50% of the proceeds for every booking go directly towards further conservation work.
Image Credits: Elements, Paul Pichugin, Busselton Jetty.
Ready to book? Talk to one of our local experts now.