Reigniting Nostalgia
Return to life's simple pleasures in Augusta.
Not being on the way to anything is Augusta's secret superpower. It means the people who adventure there know how special it is. And of course, there's less bustle. The relaxed seaside town is three hours and twenty minutes south of Perth.  

If you're heading that way, here are some ideas on how to spend a day in Augusta.
Enjoy the great food and views at The Colourpatch Cafe.  
9am – Coffee at the Colourpatch
The Colourpatch is a café restaurant that overlooks the Blackwood River. Inside you'll find a beautifully restored wooden yacht, built in the sixties by Jim Thompson, a retired farmer from Albany. They also do a good looking full breakfast. 
Kids love the Augusta playground. Photo credit Elements Margaret River.
10am – Walk the Pelican Trail and Swim
Just 300 metres from the Colourpatch, at the bottom of Albany Terrace, is Seine Bay. From here, you can start a 2.4 kilometre walk along bridge, boardwalk and bitumen. It's an easy meander, which follows the Blackwood River to Ellis Street Jetty near town.   
Along the way, you're bound to see the odd pelican. If you're lucky, a dolphin. The walk should take you about an hour, and afterwards, you can swim out to the pontoon or rest awhile on the grass under shady trees. If you have kids, there's an amazing playground. Let the little ones run amuck while you take in the bay. It's the little moments that make a day in Augusta special. 
A delicious lunch from Blue Ocean Fish & Chips is a quintessential Augusta experience. Photo credit Tim Campbell.
12pm Eat Fish and Chips in Town
Along the main strip, you'll find Blue Ocean Fish and Chips – a seafood spot loved by locals and visitors in the know. Seafood is caught fresh at the local marina and prepared onsite. You'll find all your favourites, which can be grilled, battered or crumbed. Plus prawns, crab sticks, calamari rings, and all the other good bits that make fish and chips the best.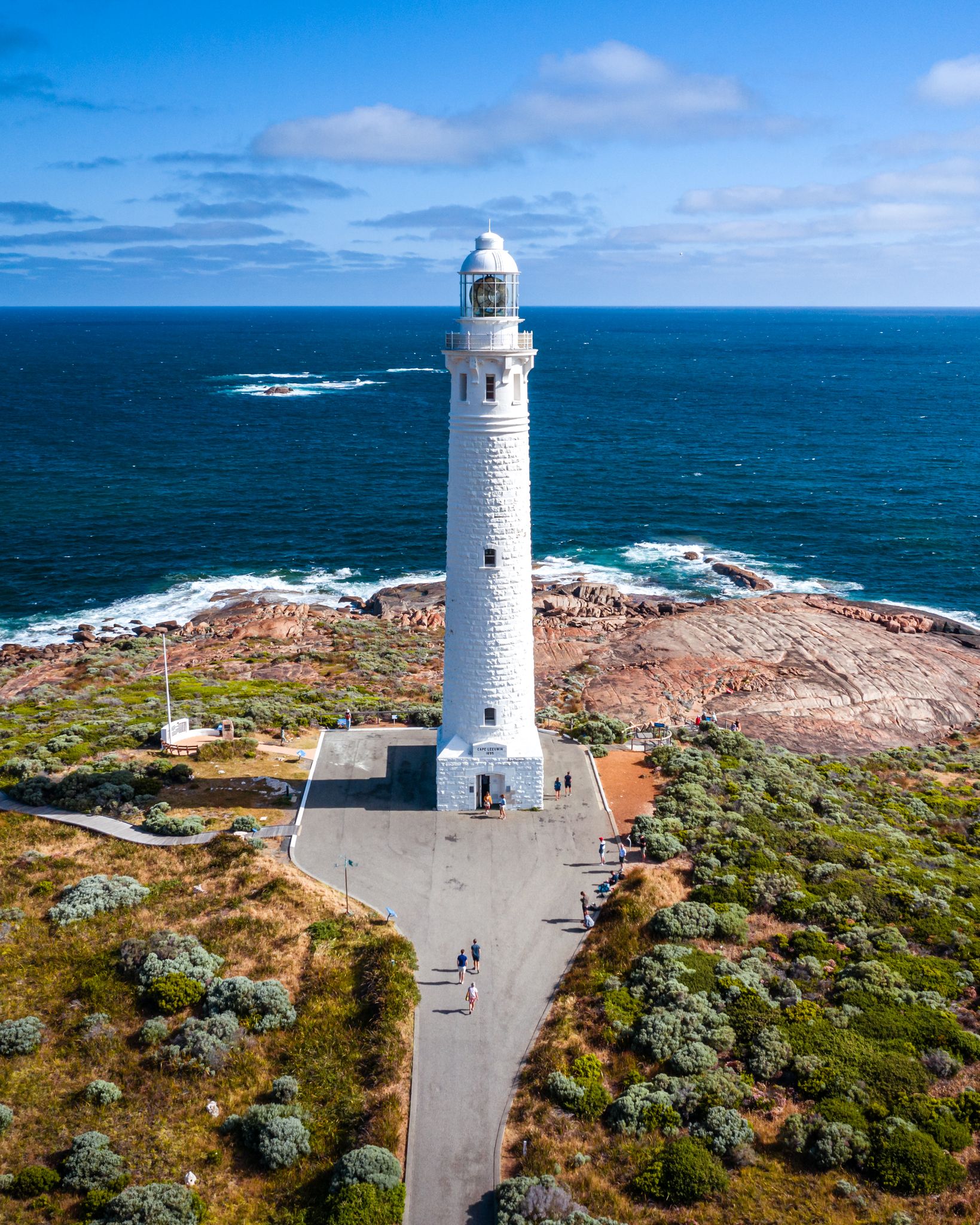 Visit Cape Leeuwin Lighthouse to learn about some of the town's fascinating settler history. Photo Credit Matt Deakin. 
1.30pm – Granny's Pool and the Lighthouse
Jump in the car and head to Granny's Pool, a waist deep hamlet surrounded by rocks –perfect for little people and the elderly folk its name celebrates. If the other side of Augusta is wild, you're likely to find good conditions here.  
If it's warm enough (or you're brave enough) don a snorkel and explore, or search for crabs among the rocks. When you're done, your next pitstop is the Cape Leeuwin Lighthouse – a nine-minute drive, which takes you to the very tip of the peninsula. On a calm day in the winter months, a stop at one of the lookouts might reward you with sightings of the Southern Right and Humpback whales that frequent the coast. Or to really witness these incredible mammals up close, a whale watching tour is guaranteed to be a memorable experience. 
Guided tours happen every half an hour, and will set you back around twenty dollars (ten for kids under 16). The tour takes you to the top of the lighthouse, which is perfect for spotting whales and taking in the rugged coastline.
The crystal clear water of Hamelin Bay is a stunning backdrop to photos. Photo credit Russell Ord. 
3pm – Hamelin Bay
Hamelin Bay is about three epic road trip tunes away. The turquoise waters and white sand are postcard perfect, and there's plenty of space so you'll easily find your own patch of paradise. There's a small shop for necessities, and a caravan park if you can't tear yourself away. 
It's also possible that you will spot a stingray, which sometimes swim close to shore. Remember to always keep your distance and admire them from afar, as these are wild creatures and we need to respect their space.  
The ruined jetty at Hamelin Bay is a relic of the busy timber shipping hub it used to be. In 1900 the old jetty was abandoned, after five ships wrecked in a powerful storm. Divers can still explore the wrecks. The swimming at Hamelin Bay is also next-level, just find a spot clear of rays and head on in.  
The Augusta Hotel has been serving holiday-makers and local since 1912. Photo credit Russell Ord.
5pm – Time For Some Dinner
Gusty's Pizza is a local legend, serving up hand rolled, wood fired pizza and slow cooked ribs in a 1951 Guy Arab Bus. You'll see the bus parked up, just before you hit town. It's a good idea to call ahead, since they sell out most nights. Gusty's is best enjoyed on the park benches out front, or take dinner away to a quiet spot by the Blackwood.
Or if you are feeling like a classic pub meal with million dollar views, head to the Augusta Hotel for a relaxed vibe and cheery small-town service. If the sun is shining the deck is the ideal spot to sit back and watch the waves, or during the cooler months see if you can snag a spot by the fire for super toasty vibes.
Blackwood River Houseboats are a unique and memorable way to stay in Augusta.
Where to stay in Augusta
Meandering along the Blackwood River is one of the most incredible ways to explore Augusta. Blackwood River Houseboats owner, Pamela Winter, says boats cruise along 28 kilometres of untouched national parkland. "It's really beautiful and it's a real wilderness," she says, "It's just you and the river."  
You don't need a skipper's ticket to hire a houseboat, just an induction session to make sure you operate the vessel safely. Houseboats are heated in winter, and come with a dinghy so you can moor close to town and head to shore. 
There are also plenty of great accommodation spots to choose from on land too. Enjoy taking life down a notch in this special town. 
Looking for more ways to spend a day in Augusta? Check out our list of activities and attractions.