10 Amazing Artistic Adventures
New galleries, artistic events and workshops inspire a creative journey through the region.
There is a reason that spring inspires creativity: the days get longer, the light gets brighter and with nature bursting into bloom, it's almost hard not to reach for the paintbrush.

With the start of the warmer months on our doorstep, it's also the perfect time to pause and take a breather before the social season starts. Instead of ramping the levels of busyness up; take some time to slow down, reconnect, and get creative.

Margaret River Open Studios has been rescheduled to September, so make the most of the artistic adventures while it's on. Whether you are a dab hand with a paint brush, or more of a admirer than an artist, there's an abundance of options to fill your spring  getaway.

Need one last gentle push into the artistic realm? Just remember how good it felt as a child when you'd look up and realise a whole afternoon had flown by creating mud pies, colouring in picture books or designing your dream cubbyhouse…that's creative flow. It's the ideal antidote to the modern world's pace of life.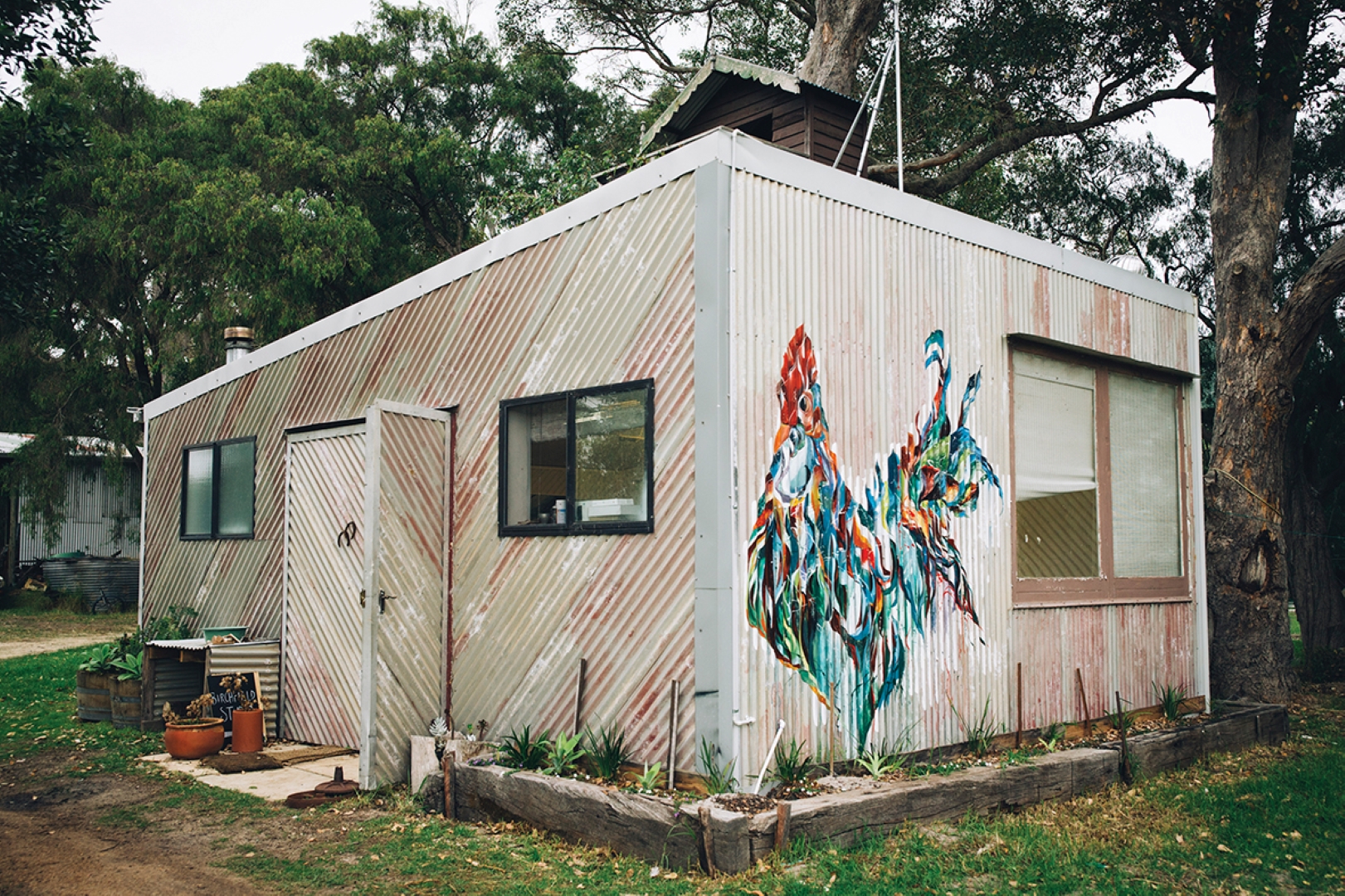 The voyeuristic experience of visiting artist studios in The Margaret River Region. 
Meet the Makers
Margaret River Open Studios is a completely free event unlike any other in Australia. For sixteen days from September 12th  to the 27th, over 100 artists will be open their private studios up for conversations with the public and an insight to their creative processes. While you might not be getting your own hands dirty with this artistic adventure, you'll arrive back home with so much creative energy that inspiration is inevitable. The Margaret River region is not called an 'art paradise' for nothing. The hard copy guides are still the 100% relevant for planning your art journey, however, jump online to the website to confirm new opening times and any changes in the artistic line up.
Evans and Tate have a great little hidden gem that needs to be discovered. Evans and Tate Studio is a shared creative space for artists in the Margaret River Region. It is a space for artists to share, collaborate, and present their beautiful creations. The artists will occasionally work from the space, host events and if you contact them directly can put together workshops to participate in. It is a growing changing space with different artists coming and going and every visit will vary depending on who is in-residence at that time.
Artists who have taken up the space include Chloe Wilder, River Ceramics, and Carmen Griffen Creative. The space has been running for two years now but still feels like a bit of a secret. It seems apt to get your culture fix at Evans and Tate and then why not simultaneously pair that with a wine tasting (or with the new cheese and wine tastings coming soon).
Ceramics for the Soul
There has been a significant resurgence in the popularity of pottery and ceramics over recent years. Whether it's thank to the calming circular motion of a pottery wheel, the fun feeling of wet clay between ones fingers or the union of creativity and practicality; there's something deeply satisfying about walking away with useable cup, bowl, vase or plate after the creative process has been completed in the studio.
There are a number of options for pottery lovers in the region. Happs Pottery has been around for many years – you'll find their handiwork on the tables of a number of the local restaurants too. Myles Happ will create the experience you are after, whether it's a beginners intro or the chance to step up your skills to the next level. Sally May Mills is another fabulous ceramic artist and educator, jump in for a class at her Busselton based Claylines Studio.  Try the pottery wheel or give hand building a go. You'll leave with a fabulous creation, and perhaps even be back for more!
Chloe Wilder artwork at Evens and Tate studio
A Passion for Print
For those that don't think they have a creative bone in their body, a session at Margaret River Printmaking will quickly turn things around. Francesco Geronazzo lives and works in Margaret River, Western Australia and Castel del Rio in Italy – so you'll be getting a touch of international creativity with this class. Settle in with a glass of wine and a hunk of cheese and let Frank guide you through the basics of printmaking. You'll find inspiration in nature and learn a variety of techniques, tricks and artistic design elements. Oh, and you'll also have a heap of fun and head home with a finished piece of art.
Get Thee to the Gallery
With over a hundred artists living in the region, it's no surprise that there are some fabulous galleries to visit year round. Smack bang in the town of Margaret River sits JahRoc Galleries, housing a diverse collection of local and Australian artwork and furniture and hosting a calendar of 5-7 exhibitions annually. Pop in during Open Studios and you'll find abstract artist Liv Vardy as an artist in residence alongside her solo exhibition.
Head down to Karridale, and you'll catch Welsh artist Heather G Lowe-Sims at her gallery and working studio, Oriel Karridale Gallery. Filled with ocean hues and beachy vibes, her work ranges in medium from textiles through to paint and mixed media. Opening earlier this year, Bina Maya Aboriginal Art Gallery is the only gallery in the region focused on Aboriginal artwork, and is committed to the fair and ethical trading of indigenous art. You'll find a selection of local and national art to inspire and learn more about the oldest living culture in the world.
Another gem, hidden in the Boranup forest, just past the bend where the Karri forests cause you to take a breath in awe, is Boranup Gallery. The scenic drive along Caves Road is every reason to visit and the gallery is an attraction within itself – showcasing hand crafted furniture and fine arts using traditional methods with modern designs. Owners James and Ann Howieson have been at the helm for over 30 years and are positively committed to supporting local artisans.
Finally, if you're ready to settle in for some lunch and a glass of wine, try The Studio Gallery and Bistro. After you have browsed the artwork in the gallery, head through to the restaurant for a relaxed dining experience in the sculpture courtyard.
Canvas Creations
Fi Wilkie is based at her Margaret River creative hub, Toot Studios, and here you'll find all sorts of inspiration to boost your own creative practice. One of the regions most established artists, Fi has a wide range of workshops on offer from beginners painting workshops, through to collage workshops and creative art and travel journaling. You can even get out in the fresh air and try your hand at her 'open air art gym'. It's practically impossible not to find creative inspiration after a session with Fi, no matter what age or experience level you are at.
Towards the northern end of the capes, you'll find Busselton's heritage precinct which is also home to the Art Geo Cultural Complex. Put aside an hour or so to wander through the bush food garden, the historical buildings and art exhibitions before jumping in and developing your own artistic instincts at one of their regular workshops. Classes range in focus from printmaking through to painting, drawing, jewellery and creative writing so there's always something new to give a go.
Something for Kids
Of course, the ideal pick for a family based crafternoon involves something that keeps the grownups AND kids busy. Entering The Quill Collective is akin to Alice falling down the rabbit hole. Settle into a cosy armchair in the library or bring in a craft project for the craft tables. The kitchen garden will provide green thumbs with inspo and kids can run amuck in the Gulliver's garden , the Swallows and Amazons garden or the woods. Here it is all about crafting and creating, so check out the ever changing list of art and craft classes and workshops on offer. The café produces some darn tasty grub too, to help keep up energy levels.
Become a Gin expert at Margaret River Distilling.
Inhale and Invent
The sense of smell is often forgotten about when it comes to creative ponderings. There are several options to heighten your olfactory skills, from candles through to gin.
An afternoon at Vasse Virgin is filled with opportunities to succumb to the world of scent. You can fill your basket up with goodies to get creative in the kitchen back at home, but we'd recommend taking things one step further and try one of the classes on offer. From a simple lip balm through to a full afternoon of natural perfumery creation, you'll leave with your own piece of artistry and a head scintillated with sublime smells.
For those that like to sniff AND sip, Giniversity is the ultimate in creative adventures. You'll spend the afternoon at the Margaret River Distilling Company leaning the craft of distilling gin and the secrets behind blending aromatics. Learn exactly what it is you like and dislike, and finish up with your own bespoke bottle, crafted precisely to your tastebud's preferences.
Just a short drive south of Margaret River, you'll be able to find the Margaret River Candle Company in the heart of Witchcliffe. Alongside a store full of fire-friendly goodies, they also offer individual and small group candle making classes. The gift that keeps on giving, candle making combines the joy of creation with the relaxation of enjoying the finished product long after the wick is set in wax.
Walking and Wondering
Artistic inspiration very often comes from mother nature, so what better way than to pull on your boots and get out on the trails in the region? Dr Erika Jacobson is a creative practitioner and lecturer in creativity and innovation at Murdoch University  – that is, when she is not hosting a guided hike with Edgewalkers. Whether you fancy delving in for just one day of walking or a full multi-day hiking experience, you'll be guaranteed to come away with the creative juices flowing and oodles of self-expression itching to find its way out into the world after one of her tours.
Now that you know what you're doing, book somewhere to stay