Bustling Busselton
Find the best breakfasts, new breweries and takeaways
Busselton's ditched its quiet seaside image and welcomed some brilliant new breweries, burger bars and bistros. Think you know Busso? Rediscover this bustling city and the epic eateries in its CBD.
Busselton's Best Breakfasts
Hailing from Brittany, France, Bistro Breton serves up seriously scrumptious sweet and savoury crepes. Caramelised apples and Chantilly cream with 'une noisette' – there's no better way to start the day. Also open for lunch.
The Good Egg is a favourite amongst locals, and it's a café with a big heart. Great Micrology coffee, freshly squeezed juice, perfect eggs Benedict and kids are very welcome too, with a cool play area. Their upstairs office hub is perfect if you need a quiet place to catch up on some work. Open for lunch, bookings recommended.
Also try: The Equinox for bay views.
Cute Café Cruising
Get your treadly serviced while you sip a flat white at Fat Duck Cycles. It's lovely sitting in the shade of the plane trees, or indoors amongst some slick cycling and triathlon gear.
Merchant and Maker have brought their Dunsborough coffee smarts to Busselton, setting up in the sunny laneway spot where Mono once was. Discover their secret garden and indulge in a cinnamon scroll amongst the greenery.
Busselton Bean & Gone has grown from a hole in the wall serving good coffee, mini donuts and bagels to a hidden treasure where the walls are plastered with vinyl records.
Set within the limestone walls of the old courthouse, The Lock-up Coffee House is renowned for scones with jam and cream. If you can't nab one of their retro seats, take your coffee for a stroll along Queen Street to the foreshore 150 metres away.
Baked is a groovy family owned and operated bakery, with superb wraps, quiches and sweet treats. Don't miss the vanilla slice.
Also try: Hummingbird Café, Alans Café for gluten free, Fig Tree Lane Cafe.
Lunch in Busselton
It's a good idea to book ahead when visiting new kid on the block, Shelter Brewing Co. The vast barn-style structure houses a full brewery setup and seating for 300 guests, all happily feasting on ribs, brisket, vegan burgers and much more, washed down with craft beer and cider.
Burger Bones comes from Coops Deville's obsession with making the absolute best burgers he can, and constant off-menu specials as he experiments with sauces, cheeses and fried chicken. Fans have been known to make day trips from Perth especially for these burgers.
Lunch at The Equinox equals seafood with a sea view; think salt n pepper squid, garlic prawn pizza or a seafood board, or casual classics like a chicken schnitzel sandwich (yum!) Watch out for dolphins cruising past and relax after lunch while the kids enjoy the award winning Sea Play by the Bay playground next door. Open breakfast, lunch and dinner 7 days a week.
When you need easy family friendly pub dining, The Ship Inn is the place. This Busselton icon dates back to the 1840s, and now boasts a beer garden with kids play area, indoor bars, a sports bar and accommodation.
Also try: Pho Sai Gon, and The Urban Coffee House.
Dinner in Busselton
Café d'Amore, the much-loved Broome pizzeria, up and moved to Busselton about two years ago. Quirky mismatched furniture, friendly service, yummy pasta and a totally delicious lemon tart.
Al Forno dishes up feel-good European fare and pizzas; fresh pasta, slow cooked shanks or lasagne served in Le Creuset stoneware. Dine in or takeaway.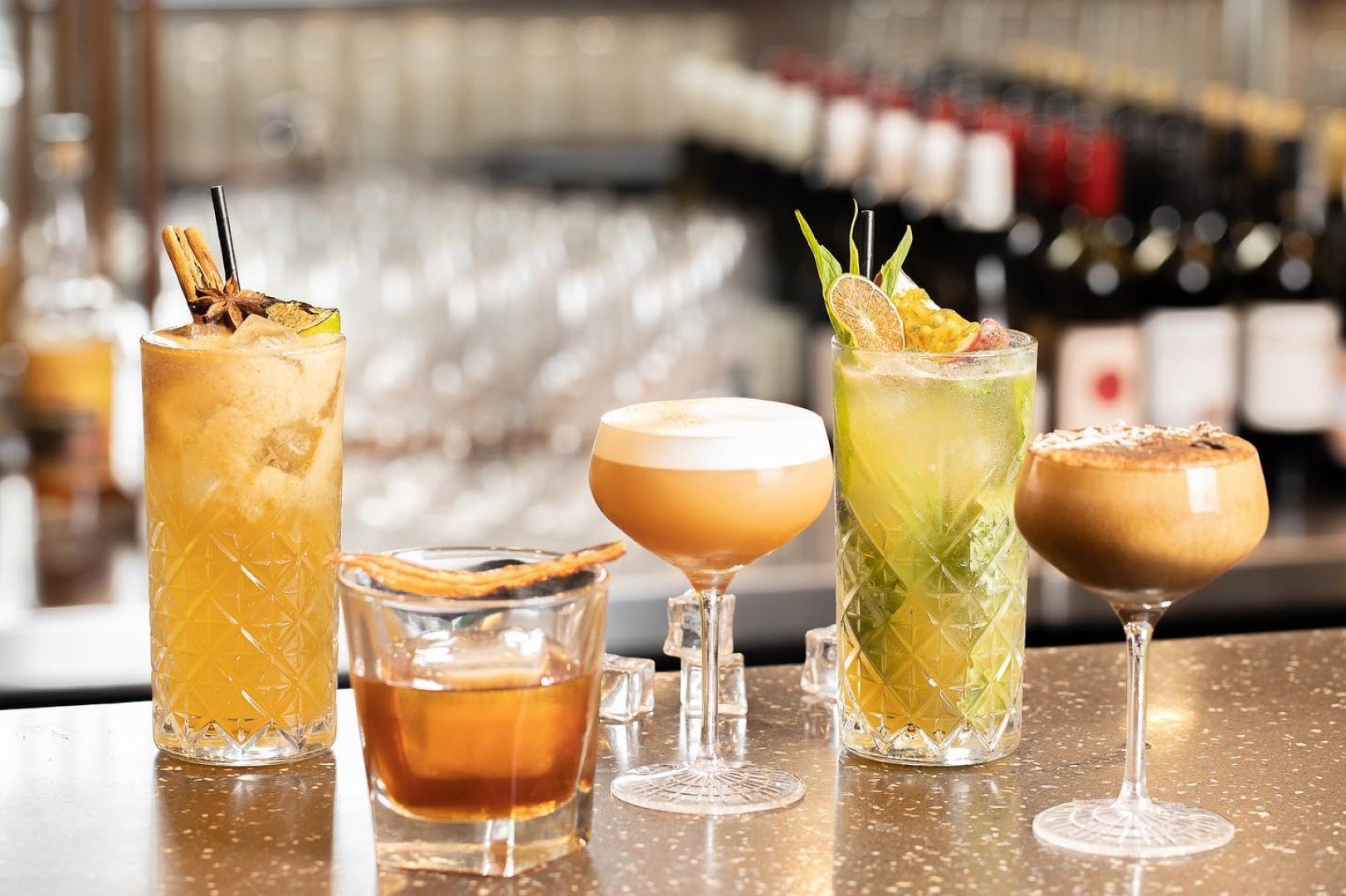 Bar Hopping in Busselton
Firestation has an impressive array of natural and organic wines plus a craft beer list to win the heart of any beer lover. Grab a bevvy or two and a pizza in the courtyard.
Rocky Ridge has its brewery operations out in Jindong, but their cellar door on Marine Terrace has about 26 tap beers to choose from. A cellar door licence means tasting paddles with multiple beers to try.
Busselton Takeaway Dinners
Spice Odyssey Hidden Kitchen is loved by locals from across the region; their famous Indian curry van serves up crispy dosas, curries and garlicky naan at the Old Dunsborough Boat Ramp and Margaret River Rotary Park. The Hidden Kitchen in Busselton is where chef Sathish cooks up these delicious dinners, and you can dine in or takeaway.
Thai Lemongrass makes fantastic Thai curries and soups; packed with perfectly cooked vegetables and tasting a little lighter than some.
Pho Sai Gon makes excellent Vietnamese rice paper rolls stuffed with prawns or pork. We can't go past their noodles and crispy pork.
Seaside holidays call for fish and chips eaten fresh out of the paper, shooing seagulls away. Cod Rocks Fish and Chips is our go-to, with crunchy golden batter and (guilty pleasure) mushy peas by request.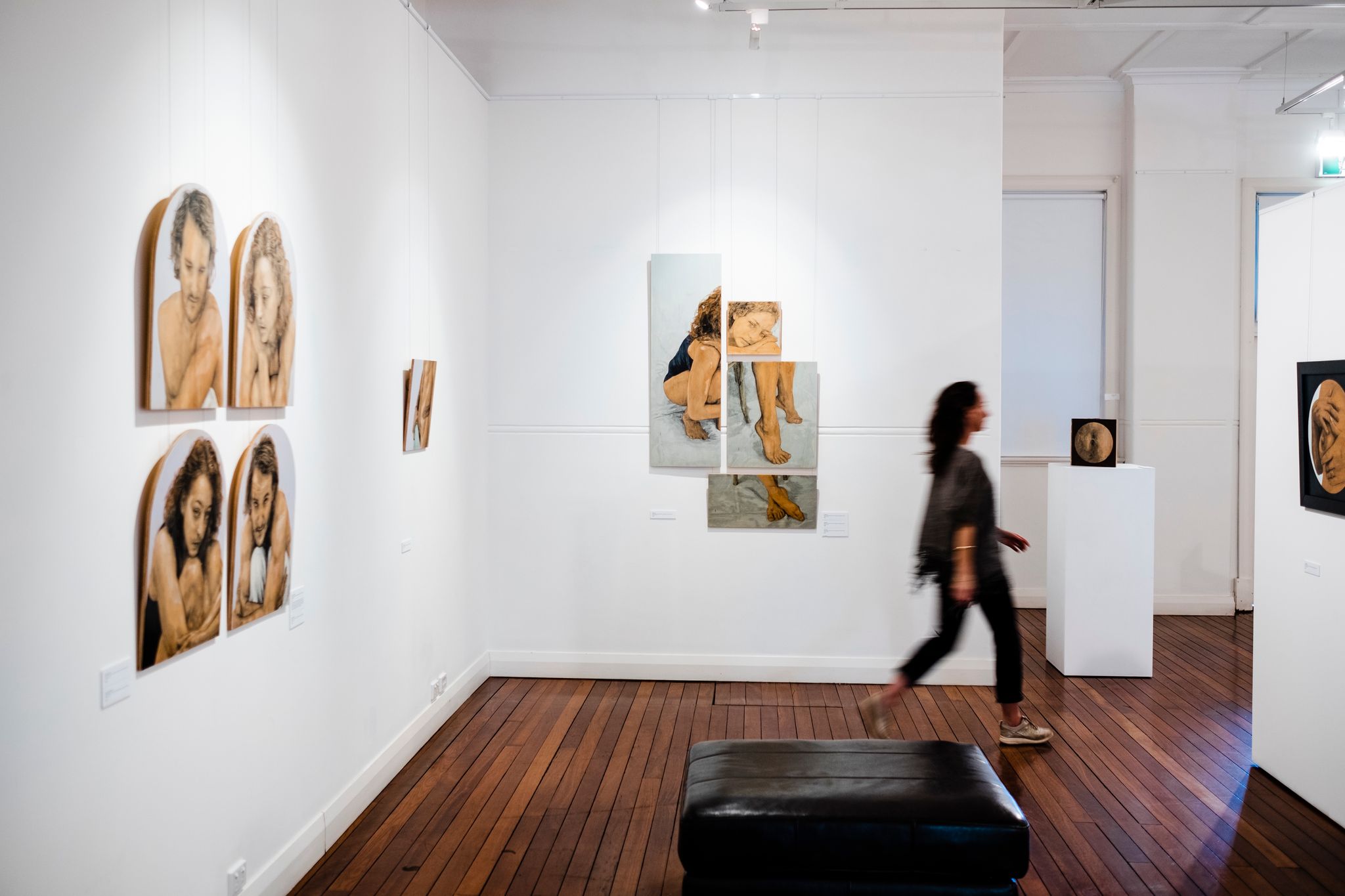 Shopping in Busselton
Indulging in some weekend shopping in Busselton? Shop for shoes, clothing, art supplies, jewellery – all the lovely things you need, with a relaxed small town vibe and free parking. Check the opening hours, as some places wind down early on Sundays.
Busselton is home to four awesome bookshops; Busselton Books, Viva Books, Barefoot Books and Dymocks, all locally owned and operated. Busselton Books is a second-hand bookshop and paperback exchange. The team at Busselton Books are eager to help you find your next read, or the perfect gift, and all four happily wrap.
Ladies, browse clothing and accessories at Cstyling and Sociologie, where you'll find pieces from Australian designers and global imports.
Fat Duck Cycles has everything an avid athlete could ask for, from the latest cycling gear to performance swimwear, as well as being a great place for coffee and a snack.
Fusion Jewellers is family owned and operated and not only do they have a superb selection on display, they custom design and handmake pieces too. It's especially lovely to shop at Fusion knowing how generously they support so many local causes.
Shabby Duck Studio is a delight for DIY upcycling enthusiasts. They sell beautiful homewares, restored furniture and all the paints you'll need to revamp your own pieces.
Jacksons Drawing Supplies is a treasure trove for artists and budding creatives. Why not some quality watercolours and head to the beach to sketch the beautiful Geographe Bay?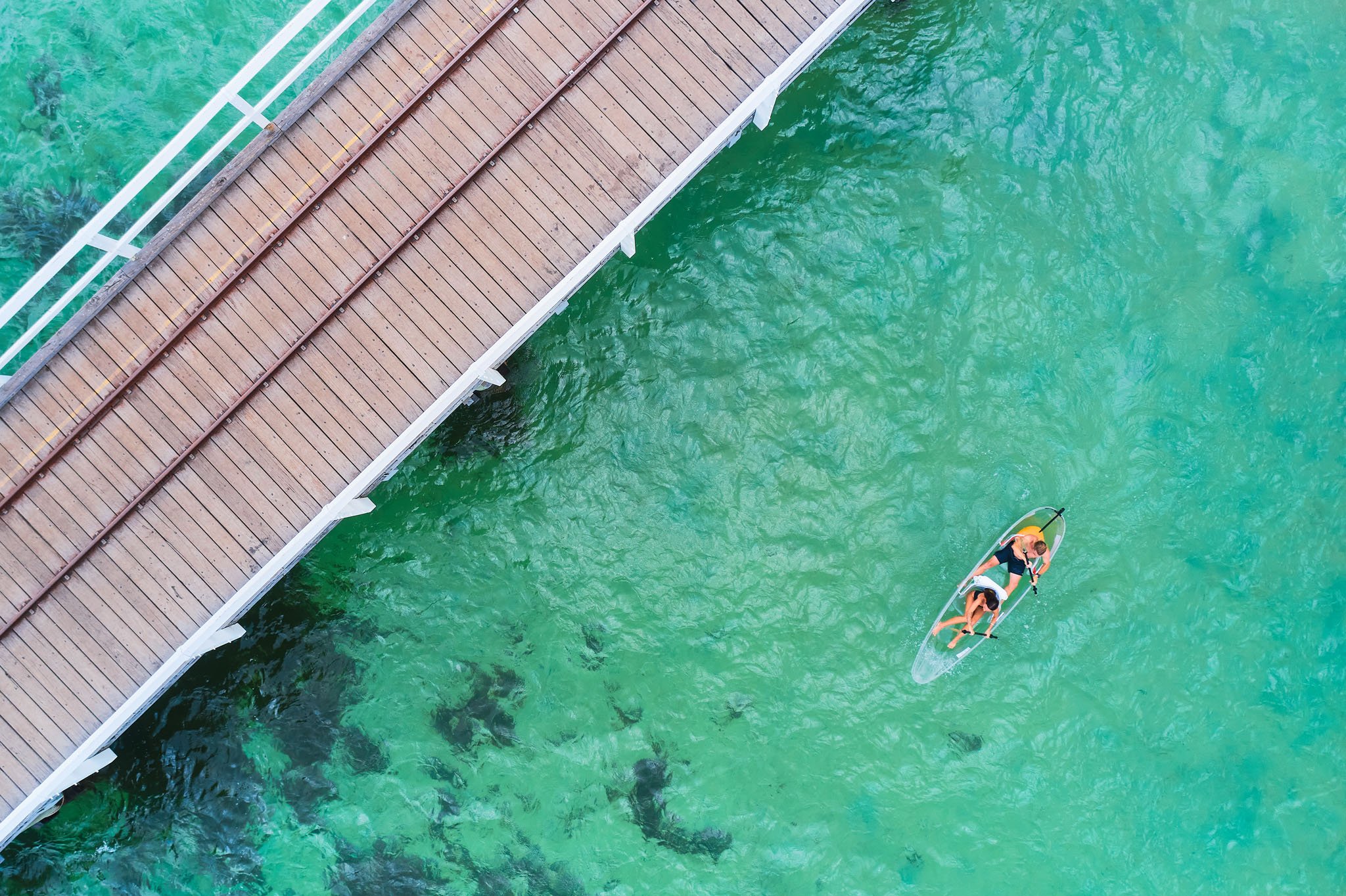 Things to Do in Busselton
There's plenty to do in Busselton, from Tigermoth flights to culinary delights. Here are some of the lesser known gems you might not yet have heard about. For more Busselton inspiration, see our story Busselton Rediscovered.
Standing high and dry on Busselton Jetty, you'd never know there's a spectacular coral ecosystem below. Dive Busselton Jetty have scuba and snorkelling gear for hire, allowing you to see the fish, octopus and sponges, as well as a unique underwater helmet walk with no experience required.
Fancy catching an underwater glimpse without getting wet? Busselton Jetty has clear canoes for hire, allowing you to paddle around the jetty and foreshore, taking in all the natural beauty.
ArtGeo is the City of Busselton cultural complex, with regular exhibitions, workshops and heritage tours. It's all set within the 160 year-old courthouse and gaol complex.
Yoga on Busselton Jetty is a restorative treat and wonderful way to start the day in the warmer months. Imagine walking the 1.8km jetty, yoga mat tucked under your arm, then stretching and strengthening to the sound of water lapping the southern hemisphere's longest jetty. KatieYoga runs the class, with part proceeds going towards Busselton Jetty restoration projects.
Photo Credits: Tim Campbell Photo, Russell Ord, Stephen Norman.
Ready to discover Busselton? Book with one of our local experts now.