5 Classic Road Trips
Inspirational drives in the Margaret River region
It's time to get this show on the road. There's nothing quite like the freedom of being behind the wheel and setting off into the unknown. Road trips have been romanticised in fictional stories for centuries and the sense of adventure that comes from taking the back roads is second to none. The Margaret River Region offers rugged coastlines, rolling vineyards, and at this time of year, green pastures prolific with olive groves and fruit trees, sheep, cows and alpacas. Pack your bags.
Take a road trip down south and take in the picturesque Meelup Regional Park. Image: Matt Deakin
The Scenic Drive
Where?
Cape Naturaliste Road drive leaving from Dunsborough town and ending at the Cape Naturaliste Lighthouse.
How long?
Approximately one hour but allow up to three if you want to stop for food, a dip in the ocean, and a tour of the lighthouse and the end.
Details of the drive:
There really isn't anything more stunning than a drive along Cape Naturaliste Road and discovering the beaches and look-out points along the way. When the Margaret River region picked up Lonely Planet's 'Number One Destination in the Asia Pacific' last year, it was nominee Fleur Bainger's comments about Meelup Beach that really honed the badge of honour. Fleur wrote; "Take one look at Meelup Beach and you'll wonder where it's been all your life: the West Australian bush parts to reveal ocean the hue of a Bombay Sapphire bottle, which is typical of the coastline stretching from Margaret River to the state's south."
Starting from the beginning of Cape Naturaliste Road, the first pit-stop worth a gander is old Dunsborough. It's a well facilitated part of the bay with a jetty, child-friendly areas with grass and picnic tables, and hot showers if you're feeling chilly after a dip.
If you're just driving through, carry on towards Meelup Regional Park. Castle Rock Road and Meelup Beach Road will take you to those respective beaches and both are must-see destinations. The white sand against the turquoise blue water is striking, and red ochre rocks quite architectural. Popular with yachties and fishing enthusiasts you'll likely spot boats in the inlet or fisherman casting a line out from shore. Tip: It would be remiss to leave your camera in the car and miss a photo opportunity here!
The road-trip secret when leaving Meelup, is to take Eagle Bay – Meelup Road along the coast. This will go past Point Piquet and Eagle Bay, letting you take in the sweeping views. It will also conveniently pass Eagle Bay Brewery who are currently selling take away craft beer and provisions on Fridays and Saturdays if you need to hydrate (reopening will be just around the corner too).
Continuing the journey toward Bunker Bay, you'll honestly wonder if beaches can get much better. A perfect beach for kids or long days under an umbrella with an esky, this is another one of those white sand, blue water coastal gems. Bunkers Beach House are also operating within regulations if you need a coffee.
The final leg takes you up to Cape Naturaliste Lighthouse. Positioned approximately 100 metres above sea level and offering a large viewing deck that is sensitive to its surrounds, the lighthouse really allows you to breathe in the beauty of the northern tip of the cape and reconnect with the land.
The Surfing Roadie
Where?
This drive will take you to all the classic surfing spots from Yallingup to Gracetown to Surfer's Point in Margaret River.
How long?
Depending on whether you're just checking out the waves or surfing each one, this could be anything from a half to full day road trip.
Details of the drive:
This is a classic roadie for the adventurer chasing a sense of nostalgia and freedom. Surfing culture is ingrained in the Australian way of life and whether you surf or not, there is an element of general abandon and good humour that comes with exploring the coast with a few mates. Autumn is one of the best seasons for offshore winds and glassy conditions, and the beginning of winter sees huge swell to the region. It's no wonder the Margaret River Pro is normally placed at the end of May or beginning of June.
Start in Yallingup – the heart of surf country. This is where the pioneer surfers carved out the first tracks down to the beaches, when the Caves House Hotel was their club house sanctuary, and when a good night's sleep meant a hammock under the Melaleucas. Smiths Beach on a small day is better if you aren't too experienced and Yallingup Mainbreak is the place to check if you don't mind a paddle out over reef. This break, and nearby Rabbits, are local surfer Taj Burrow's regular haunts so clearly not for the faint-hearted. Rabbits can be hollow, shallow and fast – so you'll want to be well-practised. At Yallingup Mainbreak, a swim or snorkel in the lagoon is always a great post-surf activity too.
If you're looking for a more accessible beach with some community vibes, carry on south to Gracetown. Scenes from the feature film 'Drift', about the beginnings of surf culture in Western Australia and starring Sam Worthington, were shot in Gracetown. You'll realise why when you descend into town. With fibro beach shacks fanning their way around the bay, a quaint general store and an old petrol pump, it really does feel like you've stepped back in time. For a mellow A-frame, head to Huzza's. Famed for its armies of groms and beginners, it is definitely a fun and easier break. North Point handles a heavy swell and is where the Margaret River Pro is sometimes re-routed when the weather calls for it. If you aren't up for the challenge there, it's a great place to just sit and watch other surfers get barrelled. Tip: A pie from Gracie's General Store is incredibly tasty spectator stodge.
The road trip isn't complete without finishing up at perhaps one of Australia's most iconic surf destinations. Surfer's Point in Margaret River is a beautiful paddle out through a key-hole lagoon. If there's a sea breeze, you'll find wind surfers and kite surfers enjoying the breaks too. Surfer's Point has a beautiful vantage point with tiered steps and grass, and food vans will pull in from the late afternoon, as groups of people set up picnics on the lawn. If you've arrived here by sunset, you may have timed this road trip perfectly.
Cullen Winery. Image: Tim Campbell
Driving Through the Vines
Where?
A drive from north to south along Caves Road
How long?
Anything from an hour and a half to half a day depending on if you're stopping for food, wine or sightseeing.
Details of the drive:
The Margaret River region is equally famed for its natural assets and surf, as it is for farm to table food philosophies and world class wine. If you are a foodie on a road trip, Caves Road provides the perfect opportunity to taste, see, and explore. It's a bit of a romantic drive if you have your favourite human in tow, and right now the autumn colours make it even more special. Tip: Jump onto Apple Podcasts and listen to our very own Wine Unearthed podcast for this stretch of road.
Start your road trip in Yallingup, at the northern end of Caves Road. Winery restaurants are currently only able to operate with a maximum of 20 people and cellar doors can offer take-away bottles or cases rather than tastings. As the region transitions into this new phase, you might not be able to plan your stop off points perfectly, but a lack of structure can open you up to adventure. Options for restaurants opening after May 18th and complying with government regulations include Swings and Roundabouts, Arimia. Cullen Winery is offering take away hampers and wine.
Caves Road stretches between two capes – Cape Naturaliste to the north and Cape Leeuwin to the south, running parallel to the coast but set inland. A drive along Caves Road is all about appreciating sweeping vineyards, happy livestock and locally grown produce. Jarrah, Karris and Marris get thicker and taller as you head south. You can see the geography and the colours changing and open paddocks of gold and green are replaced by the dense browns and deep greens of the Karri trees. Look closely and the drive will reveal the region's sensitivity around sustainable land care. Vineyards are prolific, olive groves weave in and out of view, solar passive roofs and rammed earth structures can be counted along the way, and walls built by local stonemasons lead into winery entrances.
An appropriate end point for this half-day drive would be the Boranup forest. You'll know when you get there. Rounding the bend in Caves Road, just south of the Conto Road exit, are towering trees so impressive and powerful, you'll be pulling over to the side like most other cars to stop, listen, breathe, and grab a photo or two.
You definitely need a moment here to let the beauty of the journey sink in. It's a magical drive and even if you're just sitting behind the wheel it can be oh-so-therapeutic.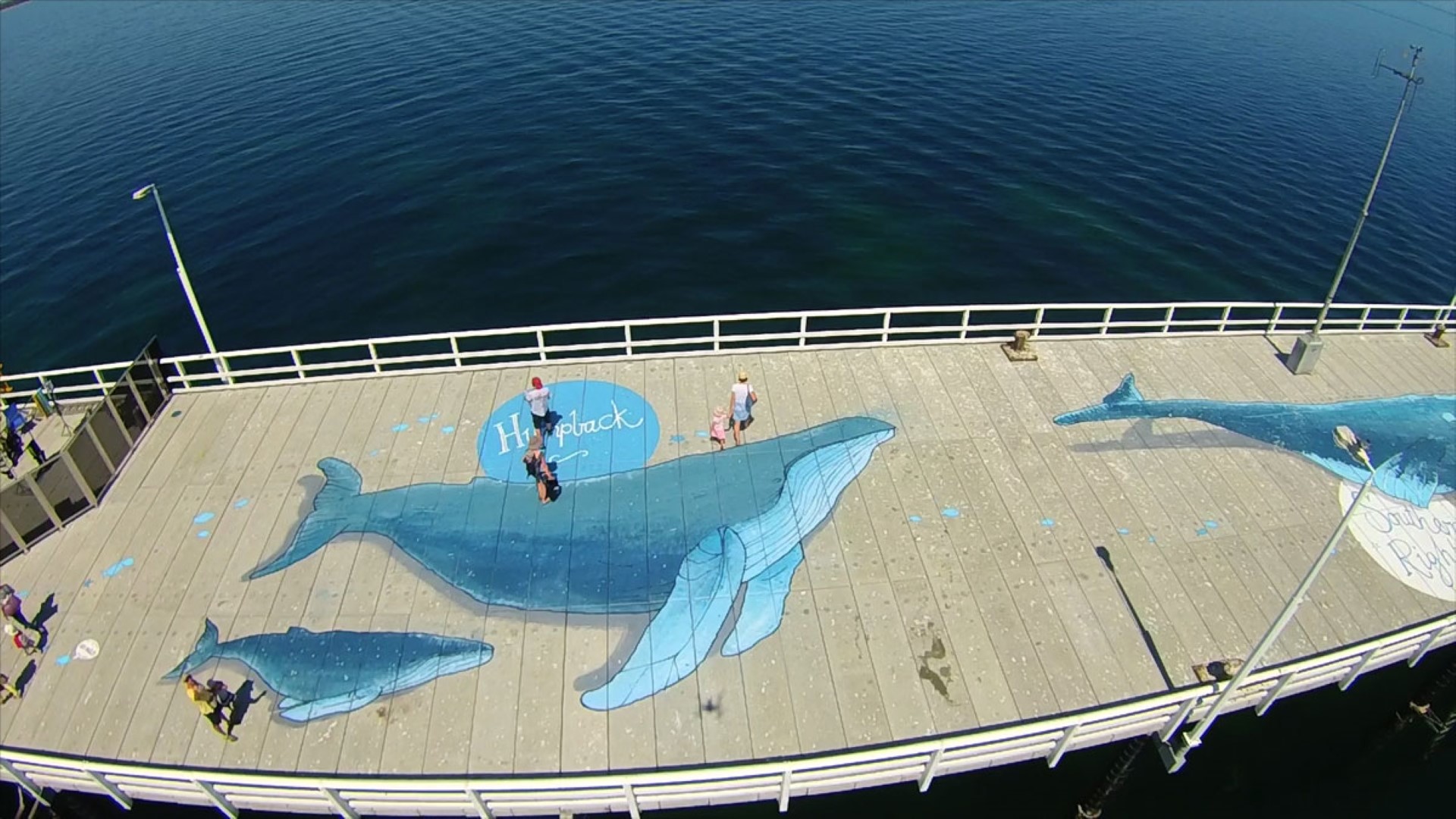 Whale mural on the Busselton Jetty by artist Ian Mutch
The Visual Arts Voyage
Where?
This is a town to town road trip taking you from Busselton to Cowaramup, to Margaret River to Augusta. The route follows the main roads that lead to public artworks around the region.
How long?
This road trip will take around a day if you're taking your time. Make plans to stop for a bite to eat halfway in either Margaret River or Cowaramup and maybe another at the end of your journey. Cafes are operating within government restrictions.
Details of the drive:
Thanks to the generosity of local councils and the thriving creative community of the south west, you can embark upon a road trip taking in the colourful public artworks in the region.
Start in Busselton, where the foreshore is alive with sculptures and a walk out to the jetty will reveal Ian Mutch's incredible life-sized whale paintings. Pop into The Equinox for a coffee before you hit the road and discover the Jack Brommell mural outside expertly illustrating Busselton's history.
Next stop – Cowaramup. Cow statues will appropriately welcome you to the small artistic town, but you might have to look a little further to discover the true meaning of the name 'Cowaramup'. Fremantle artist Brenton See paints site specific murals, featuring local flora and fauna, and was commissioned to paint the town's namesake on the Lion's Shed in Pioneer Park on the main street of Cowaramup. Cowaramup in Wadandi language is place of the purple crowned lorikeet "Cowara" – this brightly coloured beautiful bird. And just around the corner from Brenton See's supersized cowara lorikeet are Anita Revel's "Cowara Dreaming" interactive wings. It would be remiss not to capture a picture in front of these wings and post it to Instagram.
Continue the drive to Margaret River. If you pop by the Visitor's Centre (which has some great gifts), you'll spot a couple of public works. Alan Meyburgh is the artist responsible for the large sculpture nicknamed Ziggy after Margaret River's historic wilderbeasts (megafauna) that once roamed the region (the sculpture sits on the corner of Bussell Highway and Tunbridge Street). Kyle Hughes-Odgers and Ian Mutch's mural just to the left of the Visitor Centre entrance and before IGA is also worth a squiz. Hughes-Odgers' work is of global acclaim. He has recently finished a work in Iceland and has held exhibitions in Vienna, Berlin and Los Angeles.
Take the scenic drive down Wallcliffe Road to the coastal town of Prevelly and you'll spot a number of Russell Sheridan sculptures. You'll find the whimsical man and dog piece at Rifle Butts Reserve and the beautiful 'Layla' – on a rock being pummelled by waves near the rockpools before the Rivermouth.
The final leg of this road trip is a stunning tourist drive that completes the journey. Head south down Caves Road through the Boranup forest and towards Augusta make sure you stop at Boranup Gallery. Finish the trip at Margaret River Sculpture Park in Hamelin Bay. It's a surprising and enchanted park offering animal sculptures carved from wood and stone.
Boranup Beach. Image Jinna Yang
The Road Less Travelled
Where?
Leeuwin Road Augusta, Caves Road Augusta and towards the southern end of Margaret River (finishing at Redgate beach).
How long?
Stopping for tours or continuing the drive, this road trip is around two to three hours.
Details of the drive:
There's something exhilarating about travelling the back roads, finding solitude on a beach to yourself, and encountering the surprises of an unplanned adventure. When you're off the beaten track, it's also important to respect the land and the Wadandi Cultural Custodians and leave nothing but footprints behind.
Cape Leeuwin Lighthouse is a great starting point. It is the tallest lighthouse on mainland Australia and is currently open for tours. Cape Leeuwin is also the most south west point of Australia where two oceans collide, so if you're chasing remote – this is your place. Leaving via Leeuwin Road, be sure to take in the views of Flinders Bay, the boat harbour, Hardy Inlet, and the Blackwood rivermouth. A coffee at The Colourpatch cafe on-route is a must.
Following Caves Road, make your next stop at Hamelin Bay. You'll appreciate the drive to Hamelin watching the geography turn from rolling green natural bushland to thicker forest towards Jewel Cave. Hamelin Bay and neighbouring Cosy Corner are worth a look to meet the family of stingrays in the bay and admire the white sand and turquoise waters set against limestone cliffs.
Make Conto's your next stop. You'll enjoy the road trip north along Caves Road and through the Boranup forest, and taking the unsealed drive down Conto Road can be an adventure all on its own. There are places to explore the cliffs, Conto beach, and the rock pools but be prepared to watch your car turn white from the limestone track!
Finish the road trip by continuing north to Redgate beach, south of Margaret River. If the timing is right, it might be wise to grab a take-away bottle of wine from one of the many cellar doors in the region to have a sundowner at the beach. A list of cellar doors or breweries doing take-away can be found here.  Redgate is the place of the Georgette shipwreck in 1876, and on a clear day, you can see the sunken ship in the bay. When the Georgette ran aground more than a century ago, local woman Grace Bussell and an Aboriginal stockman, Sam Isaacs rescued 50 people on board, and the way they worked together is a beautiful reminder of the human spirit and reconciliation. It's quite a nice place to end the road trip as the location offers a certain sanctity and resoluteness.
For the latest travel advice see here