Local Surf Scene
How to experience it without getting wet.
Surfing: it's not just a sport – it's a lifestyle.  Many of those who make their way to this coastline are constantly chasing the inevitable high that comes from being immersed in the ocean while feeling 'the glide'.

The Margaret River Region is home to world-class waves.  And if you surf, you get to feel the power pulsing throughout the water, knowing that you're only a small dot in a huge ocean.

So it only makes sense to join in on the fun, even if you don't want to get wet.  Here are a few ways to experience the Margaret River Region's surf scene, even if you're not a surfer.
1. Watch the world class surfers compete at the Margaret River Pro
As a WSL Championship Tour event, the Boost Mobile Margaret River Pro welcomes surfing's global elite to compete here.  Yes, you could watch pros Kelly Slater, John John Florence, Stephanie Gilmore or Sally Fitzgibbons make surfing Main Break look easy (which it certainly is not).  Park it in Prevelly, with a cold brew or warm tea, and spend the morning watching the pros go head to head at Surfer's Point from 2 – 12 May.
2. Soak in some surf culture at the WA Surf Gallery
Take a break from the sun at the first ever official Western Australian surfing museum — the WA Surf Gallery at Aravina Estate.   Founded to celebrate surfing history throughout Western Australia, the WA Surf Gallery houses the official collection of surfing memorabilia — over 160 items.
The gallery is located just minutes from the world famous breaks of Yallingup, Margaret River and Gracetown.  You can see their collection of rare and never-before-seen memorabilia, including surfboards from the 50's, 60's and 70's, as well as images from legend WA surfers in the days before being launched onto the world stage.  The gallery is open to the public every day from 10am – 5pm with free entry.
3. Visit and support your local shaper
The masterminds behind the handcrafted wave-riding machines are the surfboard shapers — local artisans who are constantly innovating the designs of surfboards specifically tailored to the waves around the area.
There's history here, too.  Tom Hoye, one of the first international surfers to relocate to the Margaret River Region from California, also a living surfing legend, started Precision Equip Surfboards over fifty years ago.  After teaching himself to shape surfboards, he worked with the late Jack O'Neill (inventor of the wetsuit) in the 1960s.  He's credited with introducing twin fin surfboards to Australia in 1970.  He still shapes every board by hand using techniques learned over a lifetime, at his warehouse in Margaret River's industrial area.
Nathan Rose and Mat Manners are also notable mentions. Conveniently enough, both of their warehouses are also located in the industrial area of Margaret River town.
4. Sign up for an eco-friendly surfboard shaping workshop
You can learn how to build your very own surfboard using sustainable materials at Boogaloo Surf & Yoga, an eco-friendly campsite located in Augusta.  The workshop starts with understanding the basics of surfboard design and guides you through the use of state-of-the-art shaping software.  They believe that building and surfing a board you have built yourself is one of the most ultimate experiences a surfer can have, all with a cleaner conscience, knowing that you did it with less impact on the environment.  You can build hollow wooden boards at the workshop, or shape a more high-performance board with recycled EPS core and Paulownia skins.  Their 3-day shaping course starts at $790.
5. Gear up at your local surf shop
There are plenty of beach-friendly goodies to find at the local surf shops around the region.  Hillzeez is a family-owned surf shop offering a range of surf and skate products for over 30 years.  They stock men's and women's apparel and shoes, surfboards, wetsuits and bodyboards, skateboards and all of the necessary accessories.
If you don't surf or skate, don't feel shy.  Pop in to find your new favorite beach hat, towel or sunscreen. With locations from Busselton, Dunsborough down to Margaret River, Hillzeez is accessible to everyone.
6. Catch the sunset surf at the Sea Garden Cafe
The Sea Garden Cafe is located in the heart of surfing paradise.  It's just a two-minute walk from Surfer's Point in Prevelly.  Walk down the winding road and onto the driveway to witness Australia's longest surfboard fence, showcasing boards of all colours, shapes and personalities.  Head up to the cafe and feed your growling belly with one of their delicious dishes.  Share a cold cocktail with a friend on the terrace while enjoying the view of the sun setting over the Indian Ocean.
7. Relax, recharge and warm up in front of the waves
Thanks to Kaarna Sauna, you can run out of the ocean and step straight into a traditional Finnish wood-fired sauna parked in front of the waves.  Once fully heated, the temperature ranges from 65-95 degrees and can be adjusted.
Apart from complete relaxation, the sauna provides your body with increased circulation, flushed toxins and stress relief — all with a killer view of the ocean in front of you.
Photo Credits: Elements, Zac White, Tim Campbell Photo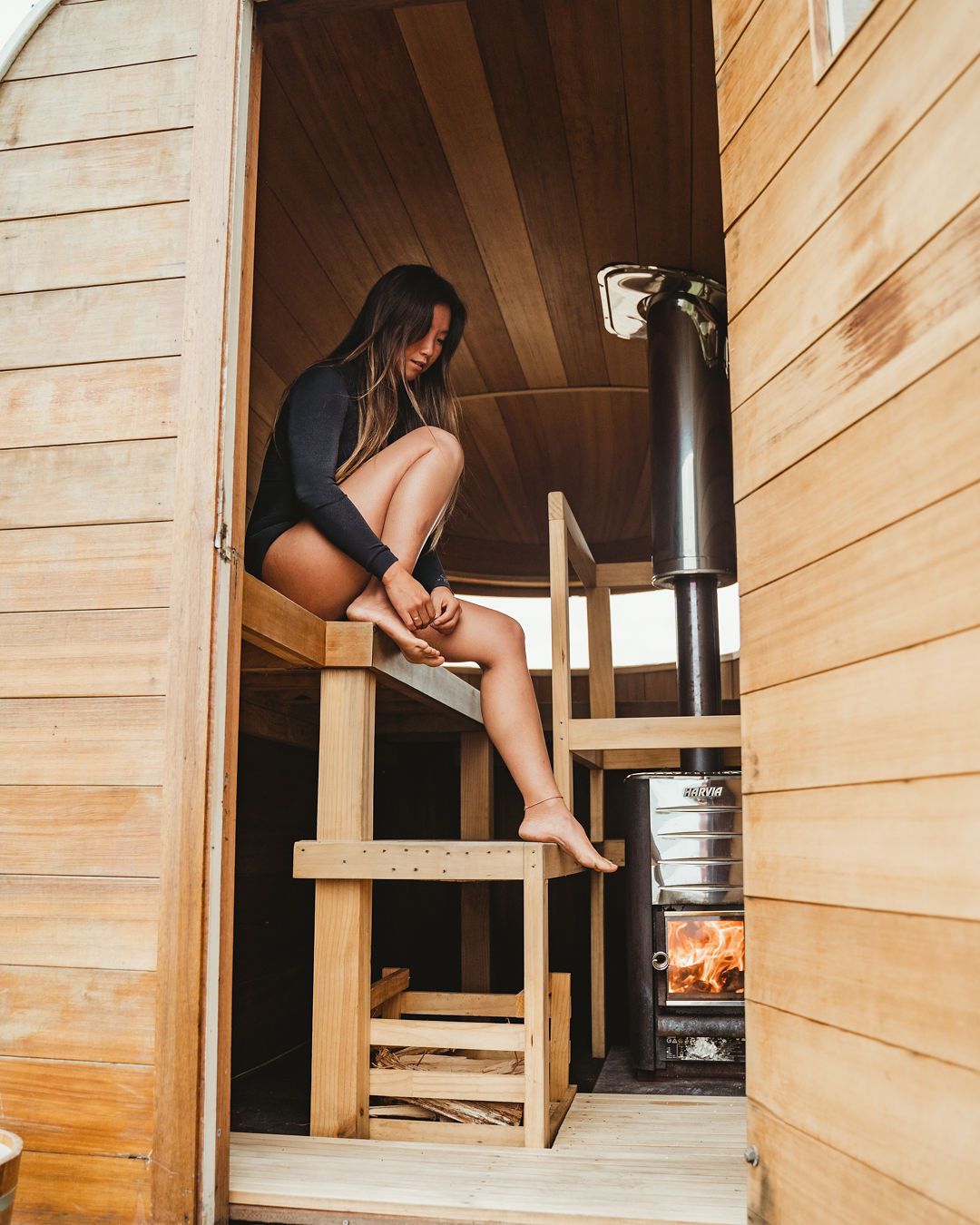 Ready to escape? Book your getaway with one of our local experts now.