Mother's Day Gift Guide
Mum-worthy gift ideas you can deliver to her door
PSA: It's Mother's Day on Sunday 10 May, a once-a-year opportunity to show your incredible mum or grandmother how much you love her.

To help you out, we've compiled a list of mum-worthy gift ideas you can deliver to her door. With brunch boxes, cooking classes or a delicious drop to drink, keep it local with our Mother's Day Gift Guide.
Think pink, a refreshing new way for mum to enjoy a gin and tonic.
Top Drops: Drink Pink
Dune Distillery
Dune Distillery has created a Mother's Day gift box which includes a limited-edition pink gin made from locally sourced South West and Australian botanicals, including juniper, coriander seed, salt bush and lemon myrtle. The pack also includes locally made hand sanitiser and Gabriel Chocolate.
Cost: Gift boxes at $99. Order here.
Margaret River Distillery
Margaret River Distillery has released a new pink gin, just in time for Mother's Day. This light and refreshing gin highlight's the native fruit quandong. It's a fun and playful drink best enjoyed with good company.
Cost: $60. Order here.
Deep Woods Estate
Big is better when you want to impress your mum. Make an impact with a magnum, a larger format wine which holds 1.5 litres. Deep Woods Estate has released a limited-edition magnum of their 2019 Estate Rosé. This delightful drop is a good accompaniment for Mother's Day lunch. Only a small quantity is available, so get in quick.
Cost: $70, wine club members $60 (it's free to join wine club online). If ordered by midnight Monday 4th May, delivery is guaranteed before mother's day* *For Perth metro and Margaret River wine region only. Order here.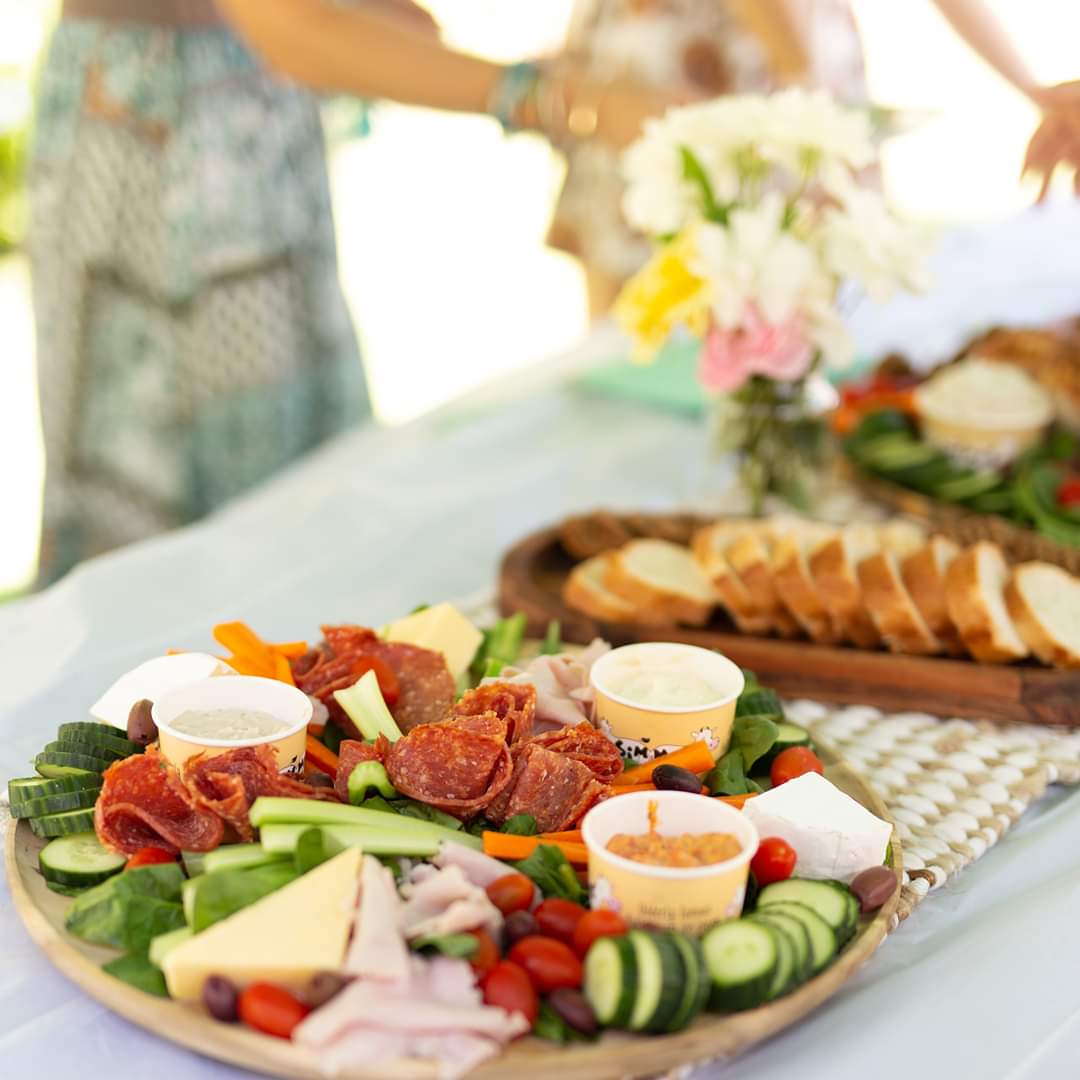 Celebrate Mother's Day with a grazing plate from Simmo's Ice Creamery.
Amazing Graze
Yallingup Cheese Co
In search of an insta-worthy treat for mum? Then order the gourmet grazing box from Yallingup Cheese Co. It's filled with local produce including Yallingup Cheese Co Brie, Camembert and St Julian, Bettenay Nougat, Pork and fennel saussison, hummus, wild olives, fresh baked bread, seasonal fruit and quince paste and a bottle of Goon Tycoons Rose.
Cost: $100 per pack. Order here.
Fishbone Wines
Lunch just got easier with sushi platters from Fishbone Wines. They've collaborated with Yelverton Protea Farm and put together a pack which includes a sushi platter, bouquet of local blooms and two bottles of wine. Platter options include fish, chicken or vegan sushi.
Cost: From $80 per pack. Place your order by calling 08 9755 6726. Pick up between 1130am – 4pm on Mother's Day. All orders must be placed before 4pm on Saturday 9 May.
Simmo's Ice Creamery
Make that special occasion at home really pop with a celebration platter from Simmo's Ice Creamery. The pack includes a three-layer ice cream cake with your choice of flavours, and a grazing platter with deli meats, cheese and dips.
Cost: $100. To order call 08 9755 3745. Please allow 48 hours notice with pick up from Dunsborough only.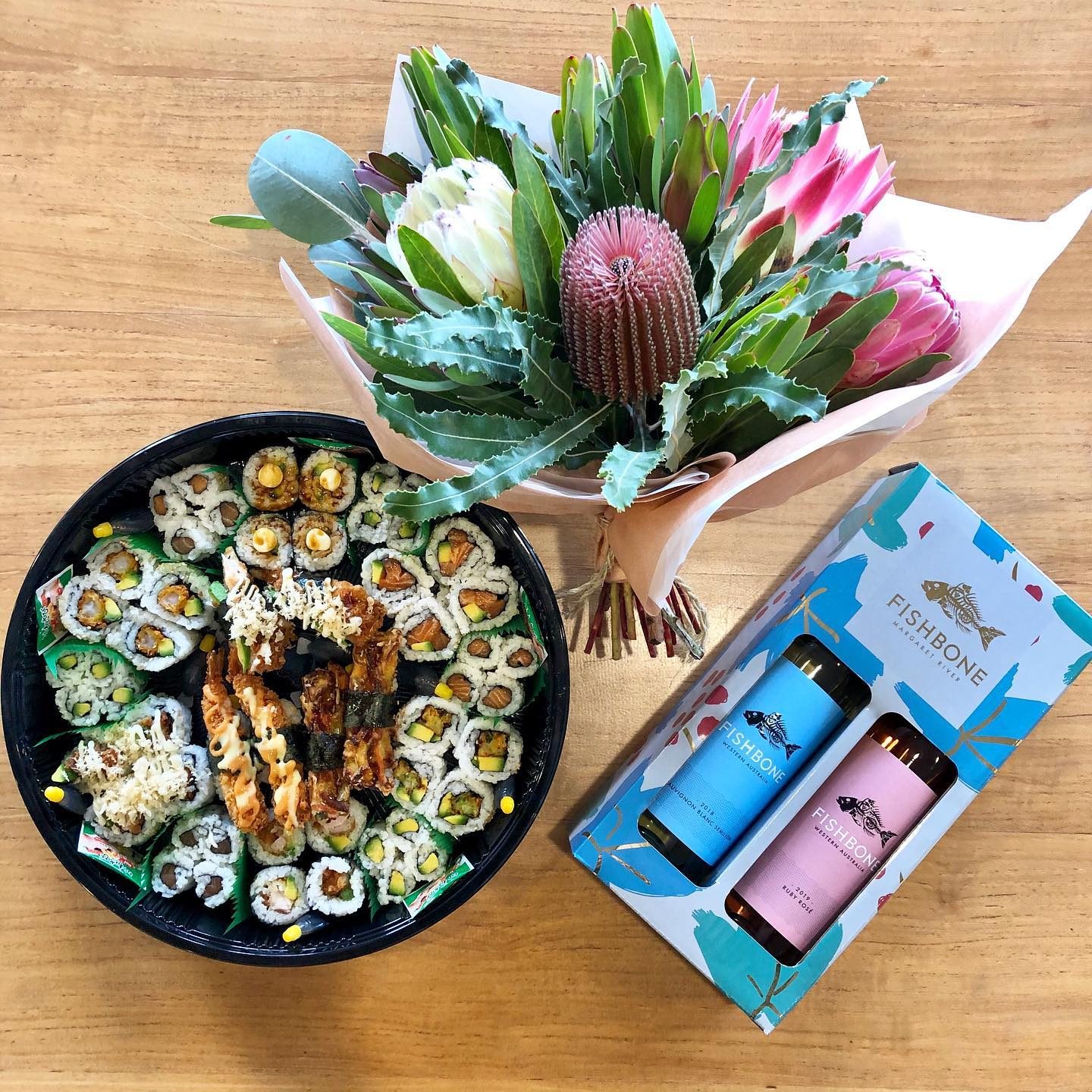 Plan the perfect Mother's Day lunch with a sushi platter from Fishbone Wines.
What's Cooking
Blind Corner
Whip up the best Mother's Day brunch with Blind Corner. Dust off your Sunday best with a virtual cooking class with Balthaza's head chef Luke Wakefield. Luke cooks, you follow along in your own kitchen (mum too if you're not in the same house). Then sit down to a delicious two course meal (via Skype, FaceTime, Zoom for the distance-challenged) matched with wine. You'll receive a hamper of 6 organic wines, local treats and a handwritten note for mum. Chef Luke will send out an ingredients list and sneak peek of menu on Wednesday 6 May.
Cost: $99. Orders to be made before Thursday 7 May for free local delivery within the Margaret River Region. Order online.
Blue Manna Bistro
Blue Manna Bistro has the ultimate seafood spread for Mother's Day with a ready to cook meal at home. The pack includes crab oysters, dhufish chowder, prawn skewers, crayfish, stick date pudding and a bottle of sparkling Capel Vale NV.
Cost: $150, pre-order direct on 08 9786 5051. Collect on Saturday 9 May.
In Bloom: Bouquets for Mum
Clairault Streicker Wines
Surprise your mum with a bottle of wine and locally grown proteas on her doorstep this Mother's Day. Just place your order with Clairault Streicker Wines and they'll take care of the rest. Their Mother's Day Bottle & Bunch package includes a bottle of Streicker Ironstone Block Old Vine Chardonnay or Streicker Ironstone Block Old Vine Cabernet Sauvignon, a bouquet from Yallingup Protea Farm, single bottle cooler bag and free local delivery for mums living in Dunsborough, Yallingup or Busselton.
Cost: $70. Contact Maddy on 0407 371 216 or email [email protected] to place your order. All orders must be confirmed by Friday 8 May or until protea bunches run out.
Mix and match a gift hamper with Bettenay Wines.
Gift Hampers
Bettenay Wines
Build a bespoke gift hamper with Bettenay Wines. Choose from a selection of their wine, Margaret River Nougat and pearl jewellery made from local artist Salt Water and Fire.
Cost: Starting from $30. Order here.
Whirlwind Olives
Whirlwind Olives in Karridale have a range of gift boxes with local products from their farm. You can choose from the Taste Sensation or the Dipping Gift Set with a selection of Extra Virgin Olive Oil, Fused Olive Oil, Dukkah and Balsamic Vinegars. Each set includes recipe cards with suggestions on how to use their products.
Cost: Prices range from $58.00 to $86.00. Order direct at [email protected] with free delivery within the Margaret River Region.
For the latest travel advice see here