Secret Cellar Doors
Authentic wine experiences at the lesser known cellar doors
If you're reading this, collecting inspiration for your next trip, you've likely already enjoyed the fine wine, hospitality and art collections of the region's best known wineries. Vasse Felix, Cullen Wine, Voyager Estate et al offer incredible experiences, but curious wine lovers are rewarded for taking the quiet back roads, searching for the secret cellar doors of the Margaret River region.

Naturally, wine tastings changed as the region re-opened following COVID-19 closures; it's a good idea to book ahead, especially if you're visiting as a group, and expect to pay a small fee which is usually refundable against a bottle purchase. Some wineries had such positive feedback about seated tastings, paired with cheese platters, that they've continued offering it. Add a cheese and charcuterie platter to a seated wine tasting, and it feels a lot like a degustation.

Here are nine splendid secret cellar doors, and there's plenty more to find for yourself. If you love these recommendations, ask them for their favourites, and pick up a map from the Busselton, Dunsborough or Margaret River visitor centres.

Header image: The Passel Estate vineyard nestled amongst pristine bushland.
Ashbrook Estate
An original Wilyabrup gem
In the heart of Wilyabrup, bordering big names such as Cullen, Pierro, Vasse Felix and Gralyn Estate, Ashbrook's tiny cellar door has barely changed in 40+ years, barring a new fridge, and visitors love it.
"People say this is how Margaret River was in the 80s," says winemaker, Catherine Edwards. "We are welcoming plenty of people from Perth who are rediscovering Margaret River; what's still here, what hasn't changed."
Visit on a weekend and you'll be welcomed by Catherine's father, Brian Devitt, who founded Ashbrook with his brother 45 years ago, and built the mud brick winery out of clay from the Wilyabrup Creek. Dr John Gladstones had supervised his brother's agriculture honour's degree and prompted their Margaret River purchase, Gladstones being the writer of the now-famous paper that identified Margaret River as the perfect place to grow premium wine.
They planted the Bordeaux varieties in 1976, given Margaret River's favourable comparison to the French region, along with riesling which was Australia's most-consumed varietal at the time, and still has a loyal following.
Enjoy an 'old school' tasting of their award-winning estate grown wines, standing at the bar with one of the family owner operators.
Taste in the atmospheric barrel hall
When wineries first re-opened, guests had to be seated for wine tastings, so many – including Thompson Estate – prepared tables beautifully set with lavish glassware.
"Everyone loved the seated tastings, so we decided to keep doing them. Our guests were relaxed, really enjoying the moment but also more engaged in the tasting. We still offer traditional standing tastings, or you're welcome to sit at one of the tables amongst the barrels." said Tracey Humberstone.
The seated tasting includes a blind tasting of a new wine recently added to the Thompson Estate range; "we've recently added a new red wine to the range, and it's fantastic to try it without any preconceived ideas."
Coming soon to Thompson Estate is a sculpture walk featuring works by internationally acclaimed artists, acquired at Cottesloe's Sculpture by the Sea. "This has been years in the making. We'll position the sculptures around the grounds and give guests a map and possibly a golf buggy to help them explore and find the artworks."
Bookings are recommended, particularly for seated tastings
Love Thompson Estate and Ashbrook Estate? Take the Tom Cullity Wine Trail, including Juniper Estate, Peacetree and Heydon Estate.
Soak up the views of Eagle Bay at Wise Wine
An entertaining tasting in a working distillery
Wise Wine has the region's northernmost grape vines, and it's one of the few vineyards with a dazzling ocean (or Eagle Bay) view. They added spirits to their line-up when distiller and former winemaker Greg Garnish joined the team and made a spectacular pirouette to producing hand sanitiser when COVID-19 hit, even donating bottles to local medical centres.
"I was contract wine making for another winery when I made my first batch of pisco, a Peruvian spirit, and got four death threats. I thought it would be hilarious to make gin from gingin clone Chardonnay, and hence gin gingin was born" says Greg, who uses nine litres of Wise Wine chardonnay to make each litre of gin, and recently picked up a gong at the London Spirits Competition.
Weekend festivities were starting when I arrived on Friday afternoon, and Greg put on an entertaining tasting dotted with stories and jokes. The tasting room is also a working distillery, with pink strawberry gin being bottled by hand during our visit, and gin-soaked strawberries were included in the tasting.
You can sample the full range of Wise Wine including sparkling and premium drops before moving onto spirits and cocktails, with a fantastic view of both Eagle Bay and the still.
Bookings recommended for groups of 6 people or more.
Love gin tasting at Wise Wine? Try Dune Distilling at Caves Road Collective and Margaret River Distilling Co. 
Marq Wines
Cheese and wine degustation
A cheese and charcuterie platter shared between friends, and the winemaker himself, Mark Warren presenting two wines at a time to taste side-by-side. This feels more like a degustation than a wine tasting, and it is absolute bliss on a sunny afternoon.
Happily, the Marq Wines team was already offering generous cheese and charcuterie platters pre-COVID, so it was an easy transition to seated wine tastings, with guests relaxing on the verandah overlooking peppermint trees and the vineyard.
Mark makes Happs Wines' excellent range and plays at the experimental edge with alternative varietals and techniques with his own label, Marq Wines. Taste rare petit manseng next to wild fermented chardonnay, amarone-style shiraz against DNA cabernet – the only cabernet blend comprising fruit from four parts of the Margaret River region.
Bookings recommended. Seated or standing tastings available.
Love Marq Wines? Visit Happs Wines and Blind Corner for more alternative varietals
Sprawling open space for a lazy afternoon at Swings & Roundabouts
A true wine dog welcome
Owner operators Jen and Craig Brent-White not only have a terrific selection of current release and museum wine from their Yallingup property on show, there's also an entire wall of the cellar door filled with polaroids of visiting dogs.
"Lots of these dogs have visited 20, 30 times," says Jen. "On Saturday we had eight dogs at one stage!"
Well behaved dogs are welcome, and you'll be greeted by their rescue dog Max who featured in the Wine Dogs Australia book. Jen is the volunteer treasurer and fundraising officer at the local SAFE branch (Saving Animals From Euthanasia).
All their wines are estate grown, with a hybrid biodynamic-organic approach in the vineyard. "We take the best bits out biodynamics and organics." Jen is looking forward to releasing their first ever 100% Malbec very soon – keep your eyes peeled!
Want to take your dog wine tasting? Let Grape Escape do the driving on their Pawesome Tours.
A little slice of Italy right here in Yallingup
Swings and Roundabouts was fantastic before the big renovation, and now it's even better. With more indoor dining and a wonderful tasting space reminiscent of an American wild west saloon, albeit with indoor plants hanging from the rafters, and that magical view across the Wildwood valley.
Stand at the bar to taste the range of bubbles, whites, reds and a scrumptious sticky, or stay for lunch and buy by the glass or bottle. All tables have a wonderful view, but most popular are the long tables lined with swing seats, where you can gently sway to your heart's content.
Dogs are welcome, kids are welcome, and there's a brand-new adventure-style playground.
Lunch bookings essential.
Love Swings? Try Aravina or the Berry Farm; two wineries with excellent playgrounds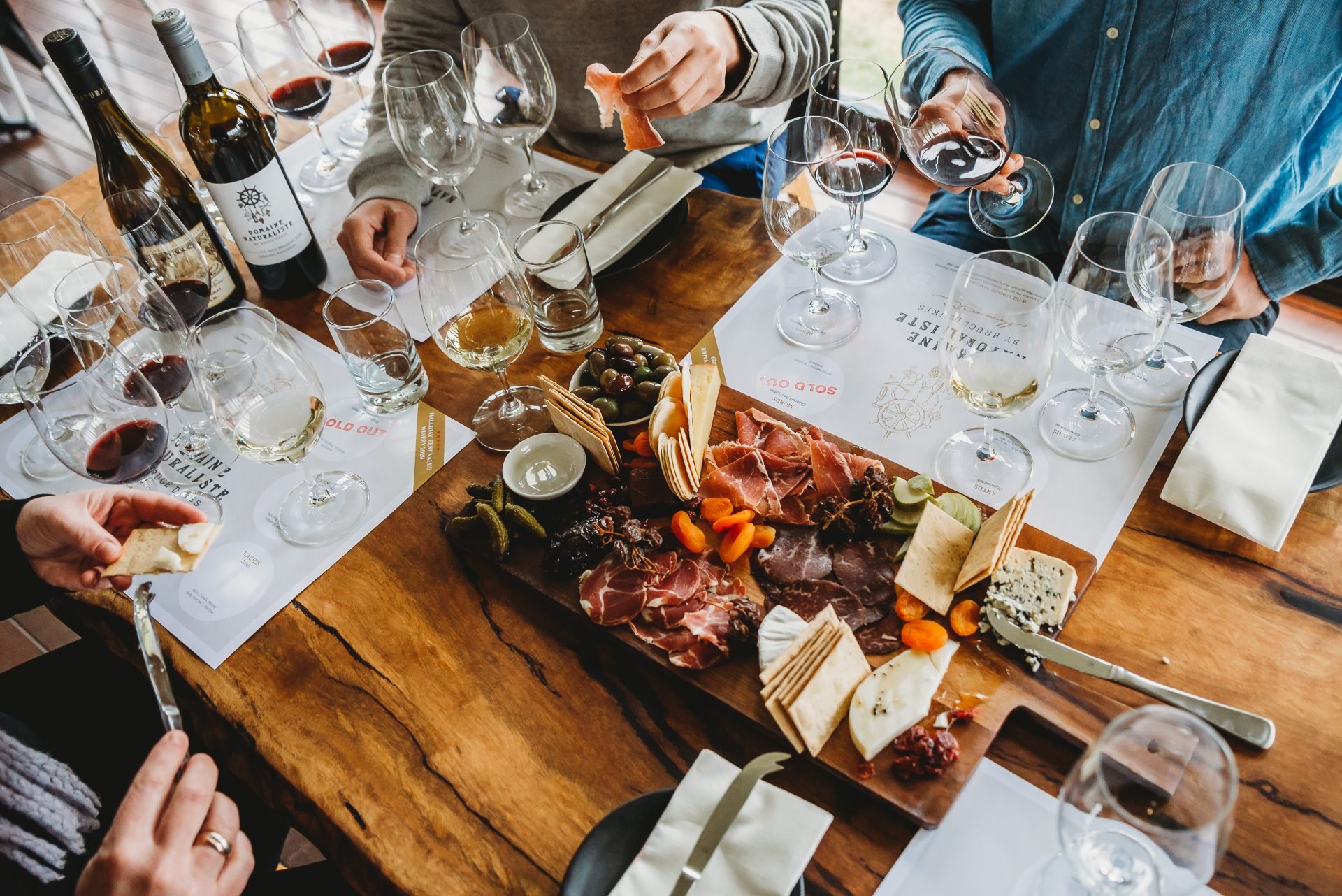 Charcuterie and wine tasting at Domaine Naturaliste
Bruce Dukes is bit of a rock star in the Margaret River winemaking world, and it's not just his charm and good looks. He makes incredible wine for many of the big-name wineries, and six years ago took the plunge to create his own wine, Domaine Naturaliste.
Two years ago Bruce took another leap, this time buying the old Knee Deep cellar door on Johnson Road, where his team present fantastic flights of wine in seated tastings with optional cheese and charcuterie platters, as well as the traditional stand up tasting experience.
"People really enjoy the experience, sitting down with all the glasses, and you learn about the wine and why this region is so special," says cellar door manager Jeff. The seated tasting costs $12 for a flight of six wines; four from the mid-tier Direction range and two from the Flagship range and is redeemable against a purchase.
Add to the experience with a cheese or charcuterie plate, featuring lots of local goodies including a Manjimup truffle honey which Jeff can't get enough of.
Look out for spring and summer events at Domaine Naturaliste, especially those where Bruce will be speaking. He's a font of knowledge about Margaret River's perfect terroir and wine growing.
Bookings for seated tastings recommended.
Love Domaine Naturaliste? Try Glenarty Road and Kerfuffle Wines
Dumplings and wine? Yes please
There are plenty of options at this lovely estate; a seated or standing tasting, bring the kids and a picnic to enjoy with a bottle of House of Cards wine, or book a table at Chow's Table next door.
It's a family friendly, dog friendly space with a gorgeous native garden and veranda. Owner operators Liz and Travis Wray worked with their team to create a fairy garden amongst the nature play area when the cellar door shut during COVID-19 closures. There's a huge lawn, a fig tree to climb and plenty of places to relax in the sunshine.
The bar was buzzing with people tasting when I visited. There's a Pet Nat and a Cider made with Manjimup apples that "tastes like a delicious apple champagne" according to Liz, whose winemaker husband makes small batches according to traditional methods. "Because we're small, we can use some traditional methods like the basket press for our reds. Production is tiny – sometimes just two barrels of a wine."
We recommend the dumpling experience at House of Cards – it needs to be booked ahead, but Chow's Table brings over a selection of dumplings to accompany your wine tasting. Even better, you can book lunch at Chow's Table and have House of Cards staff conduct a tasting of six wines at your table.
In happy news, they are on their way to full organic certification after many years of organic farming. Look out for live music and Saturday sundowners in summer.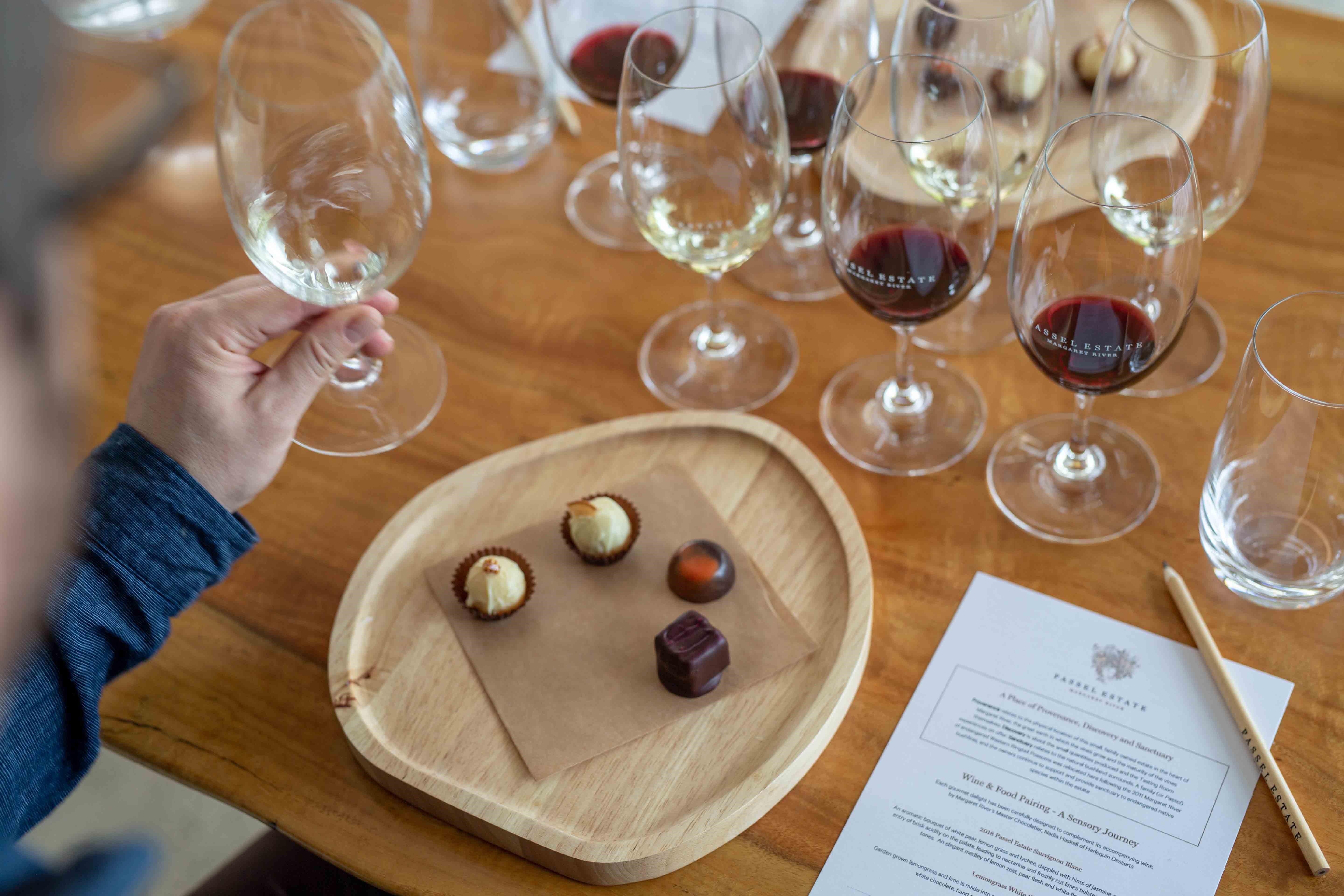 A delectable wine and food pairing experience at Passel Estate
Protector of possums
A family (or passel) of critically endangered Western Ringtail Possums was relocated to Passel Estate following the 2011 Margaret River bushfires, and their important conservation work has continued.
Owners Barry and Wendy Stimpson launched a series of virtual wine chats when travel restrictions came into place, and you can still join them for a fortnightly Facebook live.
Since re-opening, their hospitality team has launched a series of winery experiences, from guided tastings to wine sunsets and nature walks through the conservation sanctuary. A delectable food and wine pairing features handmade chocolates made by a local master chocolatier.
Testament to their commitment to this beautiful patch of wine paradise, part proceeds from each experience goes back to their conservation efforts.
Love Passel Estate? Visit Gralyn Estate, Margaret River's first cellar door where you can taste chocolate paired with fortified wine!
Beer. Gin. What's not to love?
Infused with local botanicals is the scrumptious Dune Distilling gin. Black Brewing Co is by no means secret, but few people know of the boutique distillery set within the family friendly venue. Available now is a signature gin and a Yallingup pink gin but look out for seasonal tipples and cocktails in the warmer months.
Let someone else drive
Nothing says "holiday" quite like delegating decisions and driving to someone else. We're blessed with plenty of excellent tour operators who know all the best secret cellar doors and scenic spots, so why not join one of these excellent group or private tours.
Small group tours
This article was written as a collaboration between The Margaret River Busselton Tourism Association and The Margaret River Wine Association
Now that you know what you're drinking, book somewhere to stay…