Spotlight On: Bettenay's Margaret River
Bettenay's is clearly a labour of love - and a buzzing testament to the theory of abundance
It was Mae West who said "Too much of a good thing can be wonderful."

At Bettenay's Margaret River, good things are in such abundance you may have trouble finding reasons to leave the farm. Which, for those seeking a quiet and indulgent break, will hardly be a problem. Well known for its lauded wines and hand-crafted French-style nougat, indulgence is a byword at Bettenay's.

Here you'll find luxury in many layers – peace, space and privacy among them. With three very separate and individual accommodation options, this family-owned-and-run winery exudes personality and generosity.
The jewel among Bettenays' stay options is the lakeview spa apartment. It's clear the family worked thoughtfully in curating the ultimate "romantic getaway." From up here, the view is fine. Elevated above the cellar door and nougat tasting room, you can crush on the vast lake and 30-year-old vines from your private balcony, spa bath, or even the comfort of your bed. This large, self-contained apartment has a full kitchen, air-con and TV (surely not required where there's a barbecue, great wine and such exquisite views to drink in).
If you're yearning for a real taste of country living, there are two super-cosy, comfy and character-filled options just beyond the olive trees. There's something about these cottages that feels a lot like a warm hug. With room for 6 to 8 guests, couples will feel equally at home with everything you'd expect from a well-serviced holiday home – including a full-sized fridge, oven and dishwasher.
The larger, three-bed chalet is tucked behind the olive grove, with tantalising glimpses of the lake beyond. Slightly further afield, the two-bed cottage overlooks the lake and vines. Swathed in verandas and birdlife, each chalet has a wood fire carefully laid for arriving guests by the same man who created the wine which will soon flow.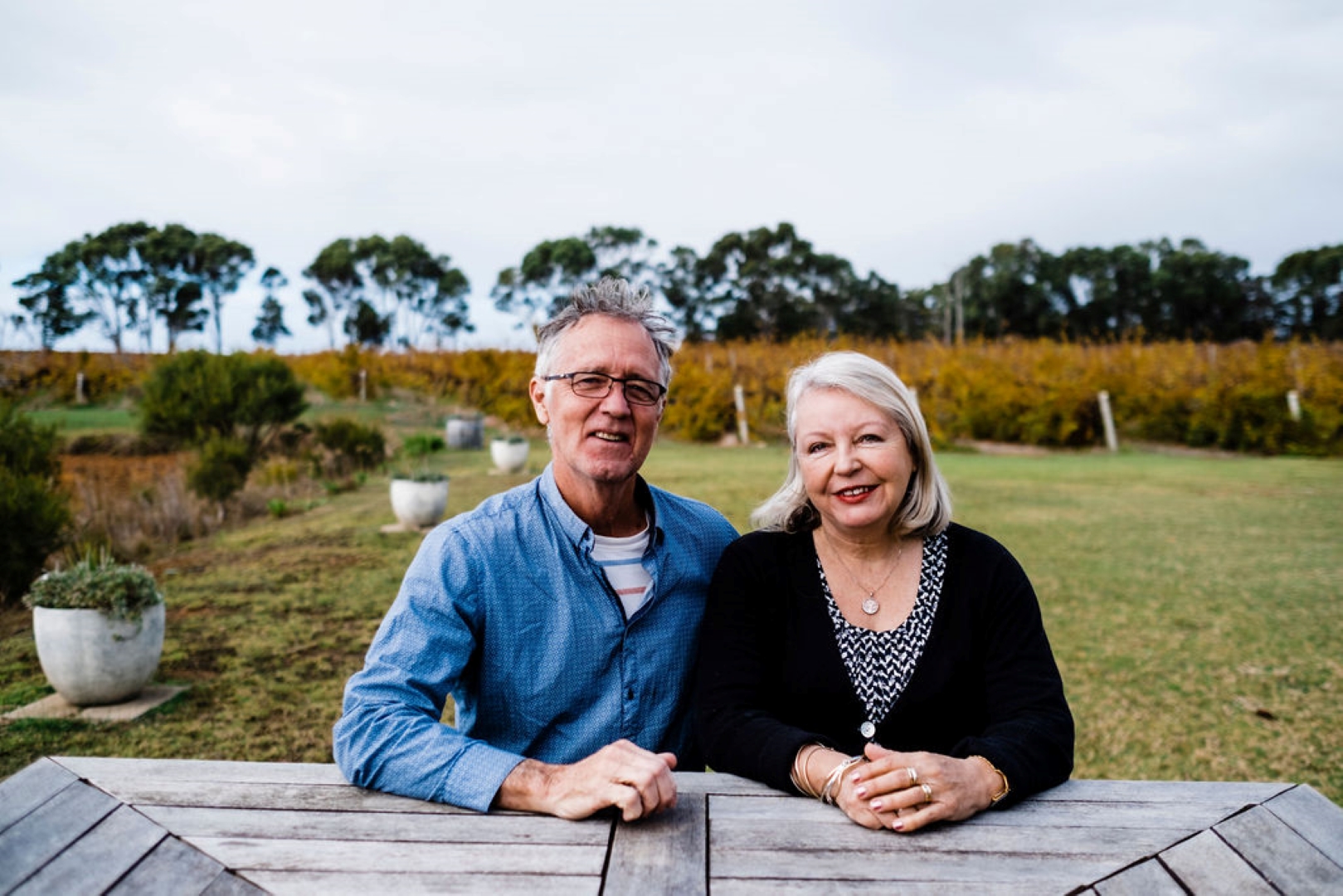 Back in 1989, viticulturalist Greg Bettenay had a secret weapon in his search for the region's best wine-growing soils – his Dad, Eric. Eric Bettenay had spent years mapping Western Australia's soils for the CSIRO, and the property on Tom Cullity Rd was in Margaret River's burgeoning vineyard heartland. Pioneer vineyard Vasse Felix is a near neighbour.
Early plantings of cabernet sauvignon, merlot, semillon, sauvignon blanc and chardonnay preceded shiraz and cabernet sauvignon eight years later. With vine maturity and increased fruit intensity yielding dozens of wine show medals in the past decade, there's been reward for the hard graft of nurturing 10 hectares under vine.
But as all smart growers know, diversification is key.
Keenly aware of the food-loving crowds drawn to Margaret River, nougat fan Greg was eager to break new ground in the region. A research trip with son Bryce to France's famous nougat regions and further refinement under a Melbourne confectioner fostered what's now a secret family recipe.
In 2012, Greg and wife Terri extended the cellar door with a nougat kitchen and tasting space for the full Bettenay wine and nougat experience. For true immersion in la dolce vita – and to really get to know what drives the owner – I highly recommend signing up for the nougat and wine pairing brunch with Greg.
Greg Bettany is a warm, fun and sometimes delightfully irreverent host – his eyes twinkle with every story he tells about the place. After more than 30 years, you wonder how he can still speak with such contagious fervour. The wine and nougat pairing is a revelation: five slabs of confection seamlessly matched with five very different wines… and it absolutely works.
Bettenay's makes more than 35 nougat varieties. The classic honey and toasted almond sample sings alongside the smoky oak of a 2018 chardonnay, while the chai latte nougat and cabernet sauvignon pair like a winter tonic.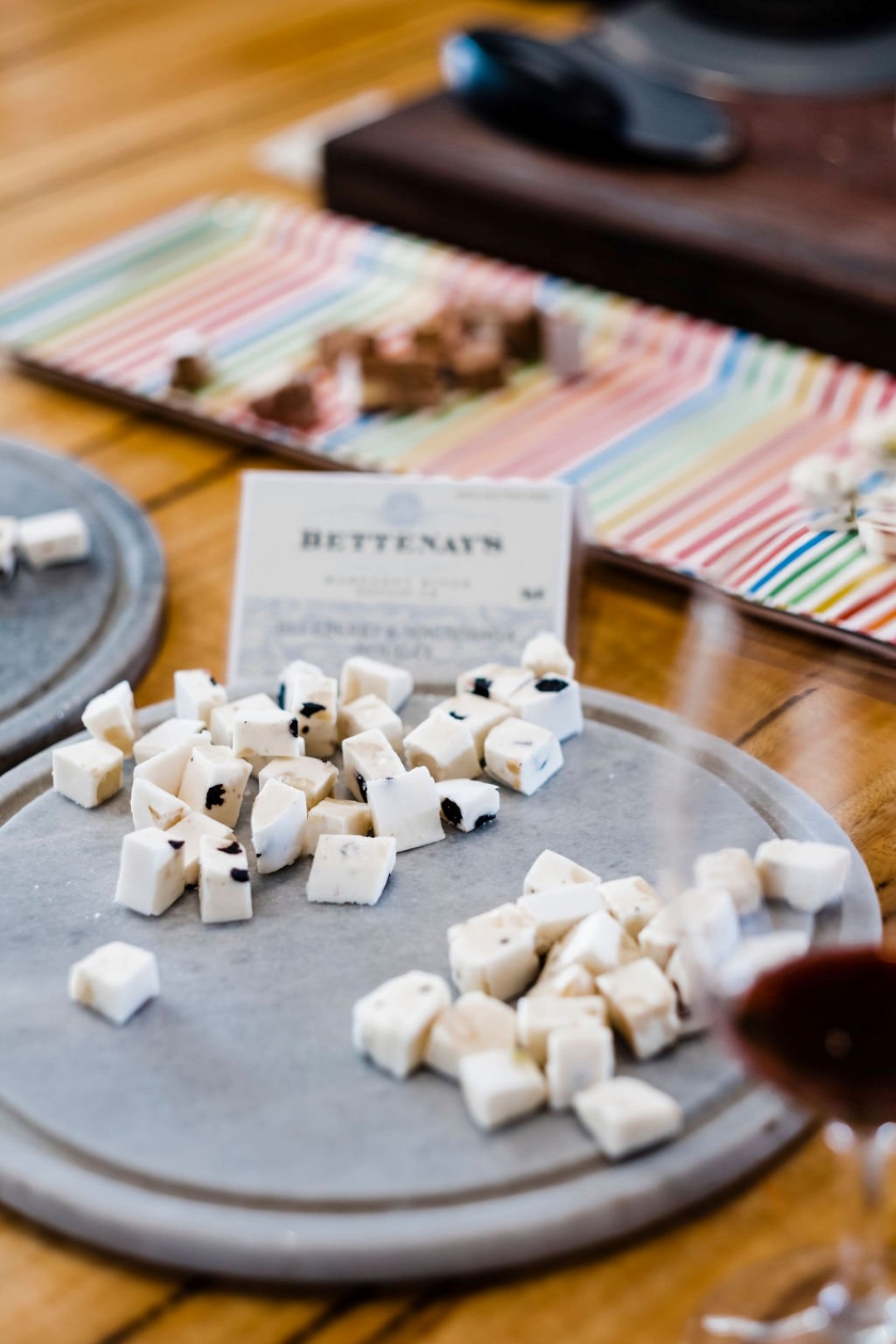 At this point you might want to rethink lunch plans, as Greg's daughter and product manager Danica delivers a platter of mini savoury waffles topped with fresh and delicious seasonal produce alongside your choice of coffee, wine or liqueur. Also on the plate: more sweet treats from nougat cook Steph, who later will happily talk you through her exploits while hand-mixing kilos of creamy, chewy nougat from honey, egg white and nuts from neighbouring farms.
A guided vineyard stroll with Greg rounds out the experience, which is best followed up with a lap of the lake and a retreat to the nearest comfy bed.
Not for Greg though, who thrives on the happy hordes who arrive each day at the tasting room.
Bettenay's is clearly a labour of love – and a buzzing testament to Mae's theory of abundance.
Bettenay's wine and nougat tasting room is open 7 days a week, 9:30am – 5pm
Ready to book a luxury getaway at Bettenays?