Family Friendly Augusta
The quintessential seaside holiday - and all the best things to do with kids.
How does your ideal seaside holiday look? If it's a country town filled with sleepy streets, laid back service with a country smile, a soundscape of waves lapping the shore, ocean views at every turn, and a heap of kid (and grandparent) friendly adventures to keep busy with; then Augusta is your one-stop destination.
Sitting at the bottom of the Margaret River Region, where the Indian ocean meets the Southern Ocean, the relaxed vibe and easy-going pace of life will have the whole family in a state of holiday bliss before you have even unpacked the car.
So now you know what destination to set your sat-nav towards; what is there to do once you arrive? We've wrapped up some of the best family friendly things to keep busy with during your trip to Augusta.
Cruise, fish, swim and relax on board a Blackwood River Houseboat.
Kid Friendly Stays
Hamelin Bay Holiday Park
Of course, the number one priority when it comes to travelling with the family is "where are we going to stay?" Augusta has you covered with some of the best kid friendly and caravan/camping friendly options in the region. Smack bang on the sandy shores is Hamelin Bay Holiday Park. The ultimate beachy holiday spot, it's also where in-the-know locals head when they want a break from everyday life. Yes, even Margaret River residents need a holiday at home sometimes! Whether you bring the caravan, pop up the tent  or choose to sleep in a cabin or cottage, you'll quickly adjust to the holiday time zone here. No mobile reception or wifi and the sound of the ocean waves 24/7; it doesn't get much better than this.
The Augusta Hotel & Motel
If you prefer to be in the centre of town, the Augusta Hotel and Motel might be a better fit for the fam. With unrivalled views, the hotel is situated on the banks of the Hardy Inlet, where the Blackwood River meets the Southern Ocean. Built in 1912, it's been a firm favourite for many years. The cottages and rooms are simple, yet furnished with all the essentials for a summer break. And if you fancy a feed, just duck next door to the bistro, which is open for lunch and dinner daily.
Blackwood River Houseboats
One of the region's most unique accommodation offerings, a stay at Blackwood River Houseboats has you completely immersed in this thriving waterway, surrounded by bush walks and birdlife, the odd dolphin and of course, enough private fishing spots to poke a rod at. The houseboats are fully self-contained, complete with a functioning kitchen (in which to cook up your catch) and front and rear decks for relaxation.
Grab the snorkels and interact with wild rays at Hamelin Bay.
Family-Friendly Things To Do
Head Underground
It's easy to get caught up in the majesty of the ocean views, the sweeping forests and the sandy beaches; but one of Augusta's best day adventures is actually downwards. The limestone ridge stretches all the way from Cape Naturaliste to Cape Leeuwin, and is home to an abundance of caves that are open to the public, including Jewel Cave. The biggest show cave in Western Australia, you'll want to be sure to plan you trip in advance, as the cave is only accessible via fully guided tours that run on the hour from 9.30am. After you have enjoyed the three massive chambers and caught a glimpse of the Tasmanian Tiger (Thylacine) remains, you'll be ready for a cuppa or a light refreshment at the Jewel Cave café.
Get Back to Nature
Whether your family is filled with water babes or land lubbers, there are plenty of options to get out in the beauty of the South West. For some watery fun take your pick from sheltered beaches such as Cosy Corner, Foul Bay and Hamelin Bay. Kids and grownups will both get a kick from interacting with the wild stingrays at Hamelin Bay. For families that prefer to keep their feet dry but would like to stay close to the waterline, Augusta River Cruises offers a Blackwood River Cruise which is filled with bird watching and perhaps even the odd dolphin sighting!  You'll find some spectacular coastal hikes in the area. For adventurous souls, try a section of the Cape to Cape; or for a more gentle stroll there is the Whale Trail in Flinders Bay, stretching from the Blackwood River Mouth across to the Augusta Boat Harbour. If you've got a bit of fitness (or an e-bike), the mountain bike trails are also a lot of fun, though rather hilly so you have been warned!
Step Back in Time
Augusta is a hugely significant historical town in the landscape of the South West, and you can find all sorts of interesting facts and photographs at the Augusta Historical Museum, open from 1-4pm daily. Did you know that this quaint little town was actually the third European settlement in Western Australia? Both little and not-so-little kids will be kept occupied with shipwreck remnants and remnants from days gone by. Of course, the Cape Leeuwin Lighthouse is a must-visit. Be sure to take a tour up the winding staircase to the top of the tallest mainland Lighthouse in Australia, and spend time wandering around the interpretive centre and historical buildings on site at the most South Westerly point of the country. Hungry? Grab a bite from the café – the scones are some of the best around.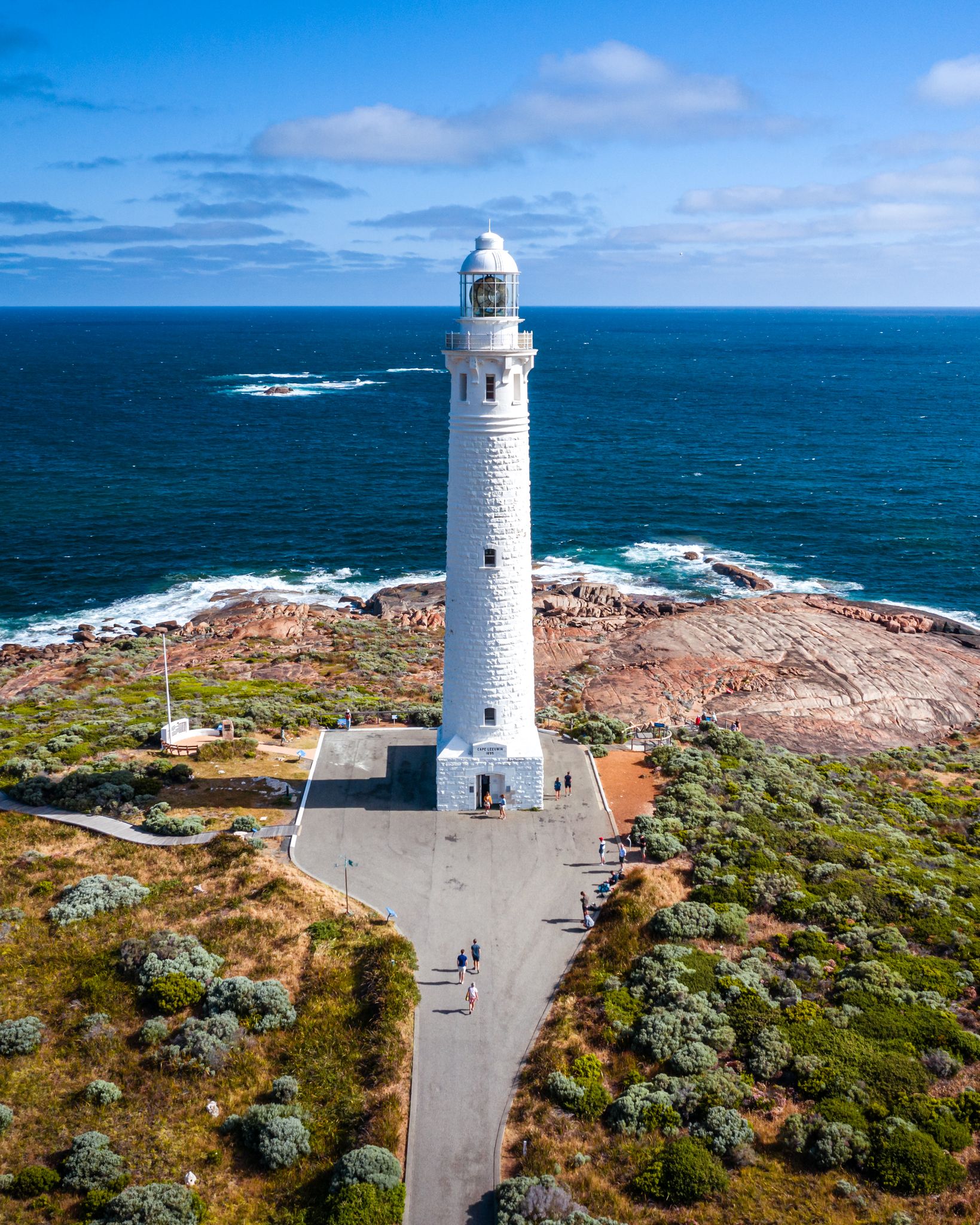 Discover the fascinating maritime history of Augusta with a guided tour of Cape Leeuwin Lighthouse.
Where to Eat in Augusta
Fill Hungry Bellies
When you're BBQed out, and can't stand the thought of another ham sandwich, it's well and truly time to dine out. It would be sacrilege to leave Augusta without at least one serve of seafood. Take a parcel of Blue Ocean's fish and chips down to a scenic spot such as Ellis Jetty, or pop into Colourpatch Café and Bar for a fresh and tasty meal from their a la carte menu with a side of a cracking view. The Karridale Tavern and Roadhouse is a local watering hole and firm favourite for family feeding time, with generous portions and a relaxed, country-tavern atmosphere. If you'd like to sample some local wine with your meal, Glenarty Road has outdoor space and farm animals for the kids to gaze at, while you can settle in for some vino and a true paddock to plate lunch. Hamelin Bay Wines is another option for a relaxed lunch, and being dog friendly even Fido can come along for the ride. Enjoy the rolling vineyard views after a tasting and a lunch filled with local produce.
A seaside holiday in Augusta would not be complete without fish and chips by the beach.
If you´re visiting Augusta in the warmer months, your days will be filled with sun – and there´s nothing better than an epic beach day spent snorkeling, fishing, swimming and smiling with your little loved ones. Plus, the town is abuzz when circus performers come together for Karnidale Festival in January and the iconic Augusta River Festival held on the banks of the Blackwood River on the Labour Day Long Weekend.
Winter Pick
Come through Augusta in the winter and you´ll escape the crowds to get a more intimate feel for the area. It´s the perfect time to throw on those jumpers, get cozy by the wood fire in your accommodation and play board games with the family. Get back to nature and head out on a whale watching tour. Augusta is one of the few places where you'll see the Southern Right and Humpback whales interact, the best time to see these gentle giants is between June and August.
Photo Credits: Tim Campbell Photo, Elements and Matt Deakin.
The iconic Augusta River Festival is an annual family-friendly event held on the banks of the Blackwood River.
Need help planning the ultimate family holiday in Augusta?