Creativity in Crisis: Artist Ian Mutch
Ian Mutch has released some unique new works in the wake of the climate debate and covid-19
Creativity and art forms part of the heartbeat of the Margaret River region. And it's a pulse that has become a movement over the last few years. Ian Mutch is part of that movement, using the destination's iconic natural and historical assets to display his work.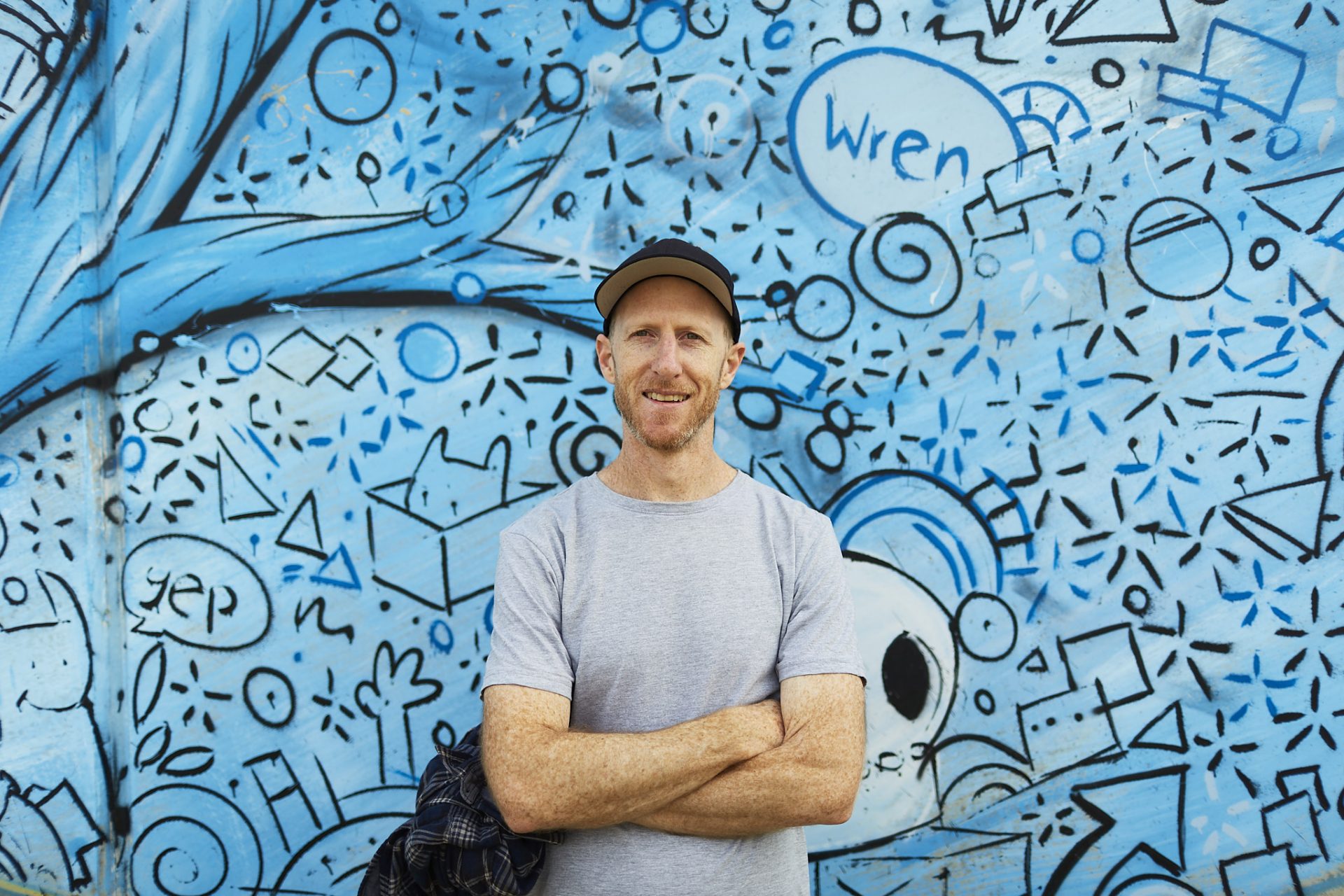 Ian Mutch's artwork has won awards, given life to public spaces, and featured in well-known publications. Chances are you've admired his work; life-size whales on the Busselton Jetty, black cockatoos adorning the Dunsborough Hall or sipped from Colonial Brewery Small Ale cans designed in collaboration with Dune Haggar.
His recent creations – a collab with photographer, Christian Fletcher, make comment about climate change and the global panic-buying in reaction to covid-19.
The artworks seem simple – requiring nothing but a drone, a rake, and some manual labour but the solemn observations that stem from the works are complex.
"Beach Blanket" created and shot at Bunker Bay, portrays a character sleeping under the ocean. Ian says "the character is content because the ocean is providing comfort. The ocean provides us with so many crucial things and this piece comments on how we should not sleep on climate change and that we need to protect the environment we love."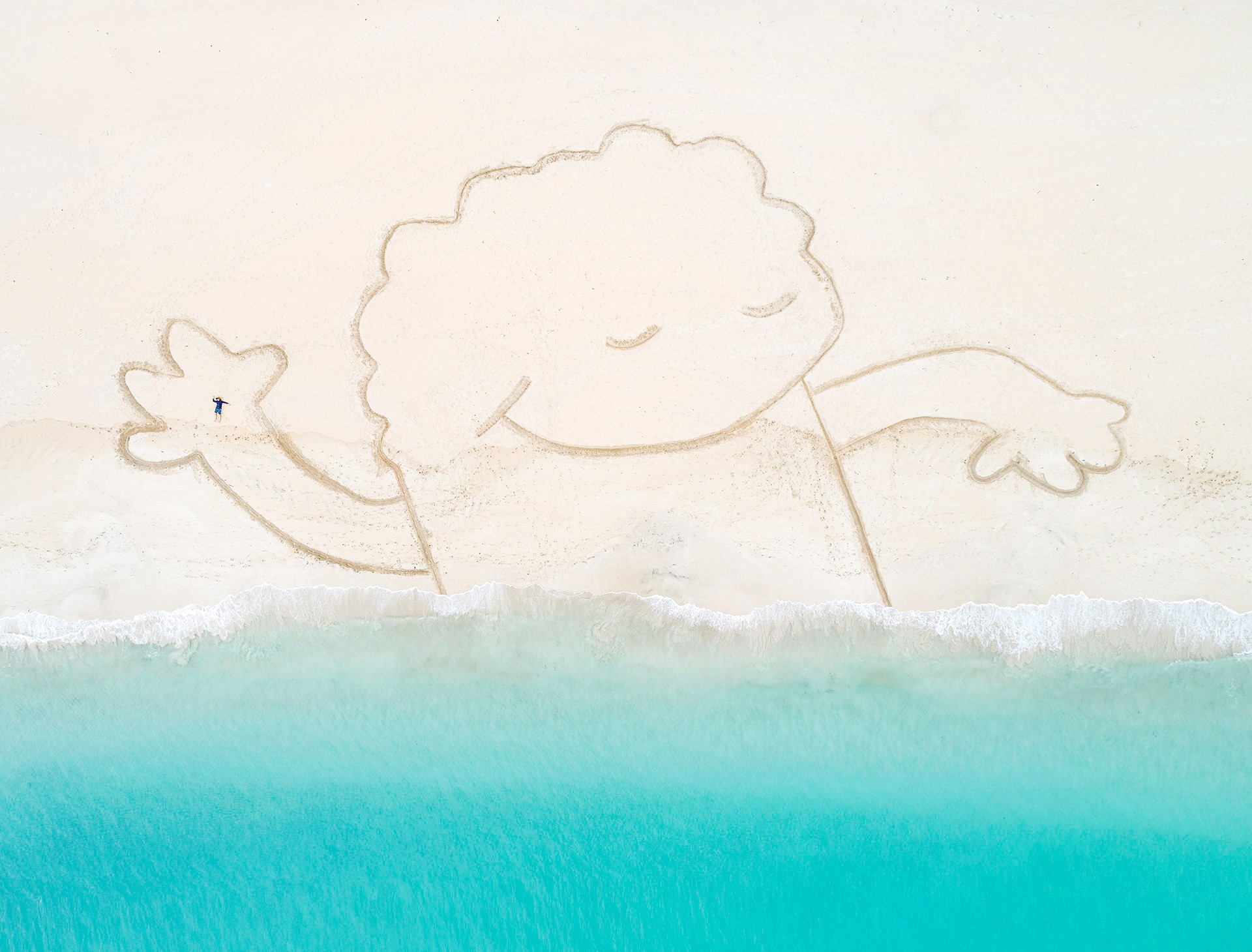 His other new work "Head in the Sand" was a response to the panic-buying that happened when covid-19 first broke out in Australia. This artwork was created at Wyadup just a few days before the lockdown in WA.
The beach murals disappear within a day or two. Mutch says "That's appealing to me and it makes it more special. It's a fleeting moment. A quick drawing. The artworks live on through footage and photography."
Across the world, artists have continued to create and share work in the face of isolation. Singers and musicians streaming live from empty auditoriums, illustrators producing live-pieces on a zoom call, and Mutch's work is another compelling piece that causes society to reflect and ask questions during this forced downtime.
Mutch says; "These beach drawings form part of a body of work I'm striving to conquer – It's based on going large and creating big murals which can be photographed from above. Based on various locations, I like to consider the surrounding environment, and also keep the line work and concepts simple for effect."
Born in South Africa and now based in Dunsborough with his family, Mutch draws inspiration from landscapes, animals, travelling, stories and patterns. Look closely at his large-scale murals and you'll find delightful details – skulls, a ship's captain, burgers, fish, whales, guitars. The maritime theme – including whales – continues through Mutch's work, influenced by life on Geographe Bay.
Working with a combination of aerosol, acrylics and inks, Ian merges layers of textures, landscapes, nature and character illustrations.  "I often paint nature, landscapes, characters and stories, and include lots of ink details that can be viewed close up. One of my first artworks portraying this style was a dreamy whale passing through the Bay."
The life-sized whales on the Busselton Jetty is another stunning example of his work best viewed from above. The artwork depicts the migratory whales that can be spotted in Geographe Bay – the Humpback, Southern Right and Blue Whale. "They're painted full scale so visitors can appreciate how large they really are.
An estimated 35,000 whales pass through Geographe Bay each Spring as they make their annual migration from the "maternity ward in the Kimberley" back to the feeding grounds of Antarctica.
"I like seeing the whales passing by the Cape. Sometimes I'll see them on a surf check, or I'll go and visit some favourite lookout spots with my kids. I've also seen some close up suddenly while paddle boarding, which is cool. In my artworks I like portraying them as friendly giants. The kind that have enough power to knock over a bus if you get in their way."
Mutch's latest artwork can be purchased here.
Images by Christian Fletcher, Tim Campbell (portrait), and Nev Connor (jetty)
This article was originally written by Lizzy Pepper for Your Margaret River Region magazine, and has been adapted with some additional content 
Want a regular dose of inspiration from the Margaret River region?