Top 10: Summer School Holidays
Summer adventures the whole family will love
Summer holidays are my happy place. Plenty of beach trips, forest adventures, bakery treats, ice creams and lunches at our favourite family friendly venues.

The best summer holiday activities are outdoors, and these are our family favourites, from Cape Naturaliste in the north to Cape Leeuwin in the south. Important note: be sure to book ahead for any lunches or tours to ensure you don't miss out. Enjoy!
Take a thrill ride with Jet Adventures in Geographe Bay.
1. Frolic on the Foreshore
The Busselton Foreshore has long been the place family memories are made and this school holidays there are plenty of ways to while away your days along this spectacular stretch of coastline.
A visit to the Busselton Jetty is a must-do activity for any family looking for things to do with kids. The little ones will be mesmerised by a 'real life' mermaid at the Underwater Observatory and older kids (12+) can dip their toes into the world of diving with an Undersea Helmet Walk suitable for all abilities. Numbers are limited so be sure to book ahead!
The Festival of Busselton is up there with the most family-friendly festivals in the region, lining up a whole month of arts, craft, live music and sporting activities until the 31st of January. Check out the program for individual events including sandcastle comps, the annual duck drop competition and the Busselton Beachfront dig and dive.
2. Elevate the Heart Rate
Jump aboard Jet Adventures' Exhilarator for an exhilarating ride on Geographe Bay. The shiny red jet boat collects you from Old Dunsborough Boat Ramp – or Busselton Jetty on Wednesdays and Saturdays – to whiz along the coast at up to 90 kilometres an hour, performing spins, donuts and a power brake stop. You'll take in spectacular scenery from Meelup to Eagle Bay, stopping for a quick swim at Castle Bay, if time allows.
Alternatively, take the Wilderness Cruise, a much more relaxed experience, along the Cape Naturaliste coast. Skipper Pete shares a little of the region's history, including a chat about whaling at the old Castle Rock whaling site. You'll see dolphins, seals and birds on this beautiful two-hour cruise. Bookings recommended.
Okay, this one is a bit of a splurge, but arguably the best adrenaline high you'll ever have. Hop aboard a Scenic Helicopters flight for a truly spectacular view of the Margaret River region coastline and vineyards. Find pilot Jackson McLeod and his 3-passenger helicopter at Cheeky Monkey, Aravina, Colonial Brewing Co, The Beerfarm or Pullman Bunker Bay Resort throughout the summer season, or at his Margaret River airstrip base.
Flights begin at $99 per person and are totally addictive. Check Facebook or Instagram for locations and times, and book ahead or simply rock up to one of the hospitality venues above.
3. Explore a Cave
So far, summer's been HOT and one of the best sunsmart ways to cool down is in a crystal cave. There are four awe-inspiring show caves in the region that are open for tours; Ngilgi Cave in Yallingup, Mammoth and Lake Cave within Boranup Forest and Jewel Cave near Augusta. They're all unique and beautiful; million-year-old caves filled with pristine gleaming crystal, all set within the Leeuwin Naturaliste National Park.
Ngilgi and Mammoth Cave are particularly good for babies, toddlers and pre-schoolers thanks to their semi-guided or audio-guided format – you're free to explore at your own pace, and Ngilgi Cave has the optional Tunnel of Doom.
Lake Cave and Jewel Cave are also great for children and teens; I started taking mine when the youngest was five years old and happy to follow the tour guide and climb all the stairs herself. Carrying a 20-kilo kiddie up 300 steps is an amazing workout, that's for sure!
Bookings are recommended, particularly during holidays.
Teach your groms to surf with lessons at a local surf school. Photo: Woolacott
4. Learn to Surf
Sitting on the beach, watching your youngsters learn to surf? That's a proud parent moment, right there. Kids get such a thrill learning to catch waves and creating amazing holiday memories while they're at it.
Yallingup Surf School has a fun and enthusiastic group of coaches taking beginners and intermediate lessons for anyone aged five and above, including adults. Everything is provided; warm wetties, easy-to-ride boards, even zinc for your nose. Call or text the day before you want a lesson and they'll endeavour to fit you in, even putting on extra sessions when it's busy. They are flexible with weather conditions, moving between Smiths Beach and Yallingup lagoon depending on the swell.
If you're staying further south, nearer Margaret River, we can also recommend Josh Palmateer's Surf Academy in Prevelly and Margaret River Surf School at Redgate Beach.
5. Cool off at the beach
The Margaret River Region boasts about 200km of pristine coastline, with plenty of superb beaches to choose from. Some of these beaches aren't suitable for families, so be careful about selecting a safe place to swim. Here are a few of our favourite family beach experiences.
Busselton Beach – my kids love jetty jumping from the small U-shaped jetty in front of Equinox Café, just 100m west of Busselton Jetty. Enclosed by a net, it's a safe spot with mellow waves. There's usually plenty of other kids, plus there's a nearby playground and takeaway food.
Meelup – Lonely Planet famously said ""Take one look at Meelup Beach and you'll wonder where it's been all your life: the West Australian bush parts to reveal ocean the hue of a Bombay Sapphire bottle." Meelup is a show-stopper with vivid blue water, protected from ocean swells. Perfect for a picnic with BBQs in the shade, toilets and shower facilities.
Yallingup Lagoon – circled by reef, this is a safe spot to take kids for a splash, swim, snorkel or a surfing lesson. There's also a great playground and lawn overlooking the surf break, a new café (Lagoon), showers, toilets and several accommodation options within walking distance.
Hamelin Bay Beach – it's a thrill to see the giant sting rays of Hamelin Bay each summer. Keen to collect the fishermen's scraps, these beautiful rays patrol the beach near the Hamelin Bay Holiday Park. It's a beautiful spot to take a dip but remember that sting rays are wild animals with a venomous barb on their tail which they could use if threatened. Look but don't touch and stay several metres away.
Throughout the summer months, the following local beaches are patrolled by lifeguards.
Please refer to Surf Lifesaving Western Australia's website mybeach.com.au for times and days lifeguards are on patrol.
Sea Play by the Bay at the Busselton Foreshore.
6. Find the best playgrounds
Need the kids to burn off some energy while you sip a coffee/wine/beer? We hear you. These are some of our favourite playgrounds, all conveniently located in close proximity to great coffee, wine or craft beer.
Aravina – who doesn't love a fully fenced playground? This summer Aravina are serving pizza on the lawn with live music, and beer from their new taphouse.
Cheeky Monkey – craft beer, family-friendly food, and another fully fenced playground. Winning!
Yallingup Adventure Playground – overlooking main break, this is an awesome nature style playground. Grab a coffee from Lagoon first.
Sea Play by the Bay is an award-winning playground near the Busselton Jetty modelled on an old wooden whaling ship. Kids can climb the crows nest, play beneath the whale's tail which spurts water or ring the bell on the jetty. Conveniently located between three fantastic café-restaurants, The Goose, The Equinox and Shelter Brewing Co, and with takeaway options too, the whole family will be happy with a visit.
Need more inspo? Check out the best playgrounds to visit in the Margaret River Region.
Family-friendly dining and an outdoor nature playground to keep the kids entertained at Swings & Roundabouts.
7. Fuel up with Family Friendly Dining
Love food, but have fussy kids? The following food options should appease the whole family; from gourmands to cautious eaters. Some of them even have AMAZING playgrounds!
Swings & Roundabouts in Yallingup have superb wood fired pizza and warm hospitality, and a great new playground and huge lawned area. They just won Best Outdoor Venue in WA, and dogs are welcome too. Taste their wine, relax while the kids play and share a plate of donut style pizza dough.
Goanna Café is our go-to for brunch and lunch. It's hard to go past the Spicy Indo Rice (my daughters order it every time) but they also have an excellent, ever-changing lunch menu. Owner/chef Duncan Timmons did his time in a Michelin-star London restaurant, and it shows in his delicious fare.
Margaret River Bakery is a treat everyone will love. Feast on sumptuous quiches, salad-filled baguettes, quality pies and burgers then fill your 'dessert compartment' with salted caramel donuts, raspberry Danishes, warm cinnamon scrolls and more. Heaven!
Shelter Brewing Co is the new kid on the block, and it's fantastic. A beautiful big light-filled space with Busselton Jetty views, they're serving up scrumptious beer and seriously good food. There's even a cute little caravan playground and sandpit out front. There's also table service, which is really welcome.
Colourpatch Café in Augusta has some of WA's best fish and chips, made with local fish, fresh off the boat. The café had a snazzy renovation in 2019, and it's a great spot to sit, sip and snack with a superb view of the rivermouth. If the kids need to expend a bit of energy, get your fish and chips wrapped to takeaway, and enjoy them across the road on the grass by the river.
White Elephant Beach Café is awesome for a sandy-feet, post-swim meal. Perched above Gnarabup Beach, they serve up a yummy bacon and egg burger, spiced pumpkin and eggs, generous salads and great coffee. Kids love the coconut bircher and mini brekkie burgers.
A trip to Dunsborough is not complete without visiting Simmos Ice Creamery.
8. Lick an ice cream
Lately, we've been oscillating between the beach and Simmos Ice Creamery. There's nothing so sweet as a well-deserved ice cream, and we're lucky to have both Simmos and Millers Ice Creamery making a whole rainbow of delicious colours and flavours right here in the region. All from fresh, local cream.
Simmos Ice Creamery is on the outskirts of Dunsborough and has 60 flavours to choose from. They have a huge shaded grassed area, a brand new playground, mini golf and BBQs. During the holidays there's a climbing wall, jumping castle and bungee jumper ride.
Millers Ice Cream is just outside Cowaramup in a restored settlers cottage on a working dairy farm. They've created 60 yummy flavours and have 26 on display and ready for scooping. Grab your ice cream or coffee and head outside to enjoy it on the verandah or picnic tables next to the playground.
Another fab place for a frozen treat is the Margaret River Chocolate Company who sell a range of Simmos Ice Cream.
High rope adventures at Next Level Monkey Business.
9. Have a high rope adventure
Whether you love heights or you're naturally cautious, we reckon you'll love two epic zip line and high ropes courses in the region – Next Level Monkey Business and Forest Adventures South West.
Next Level Monkey Business welcomes cheeky chimps aged four years and older, and it's set next door to Clancy's Fish Pub near Dunsborough. They have low-to-the-ground obstacles and zip lines for younger kids, right up to The Mega Zip which has you flying over the lake. Great for families with children aged four and over.
Forest Adventures South West is just outside Busselton in the Ludlow Tuart Forest. Rather than climbing pine poles, you're climbing real trees! Dial up the adrenaline and get ready for some serious tree top challenges on "the adults' zip lining course that kids can do too". Perfect for families with slightly older kids, you have to be seven plus years to tackle these courses. As a guide, my brave eight-year-old blitzed course four (of six), which has a suspended totem swaying ladder, climbing 18 metres up into the trees before enjoying nine consecutive zip lines. Awesome!
10. Stay somewhere amazing
Would your kids enjoy feeding miniature Irish donkeys, alpacas and baby calves each morning? Then Margaret River Holiday Cottages is the place for you. It's an idyllic "bush comfy" getaway nestled between state forest and acclaimed wineries, on Boodjidup Road, just south of Margaret River town. They have eight two-bedroom cottages and one four-bedroom cottage, all perfect for families, and all have been renovated within the last 12 months.
There's entertainment for all ages; an indoor swimming pool, cricket pitch, playground and nature trails in the forest next door. A shared games room has foosball, air hockey, table tennis and a pool table.
Best of all, during summer there's pop up outdoor movies three nights a week, especially for guests. Snuggle up on a picnic blanket or comfy couch and watch a movie. Sometimes, guests are joined by the alpacas and donkey who can't resist a screening of Secret Life of Pets. Bless!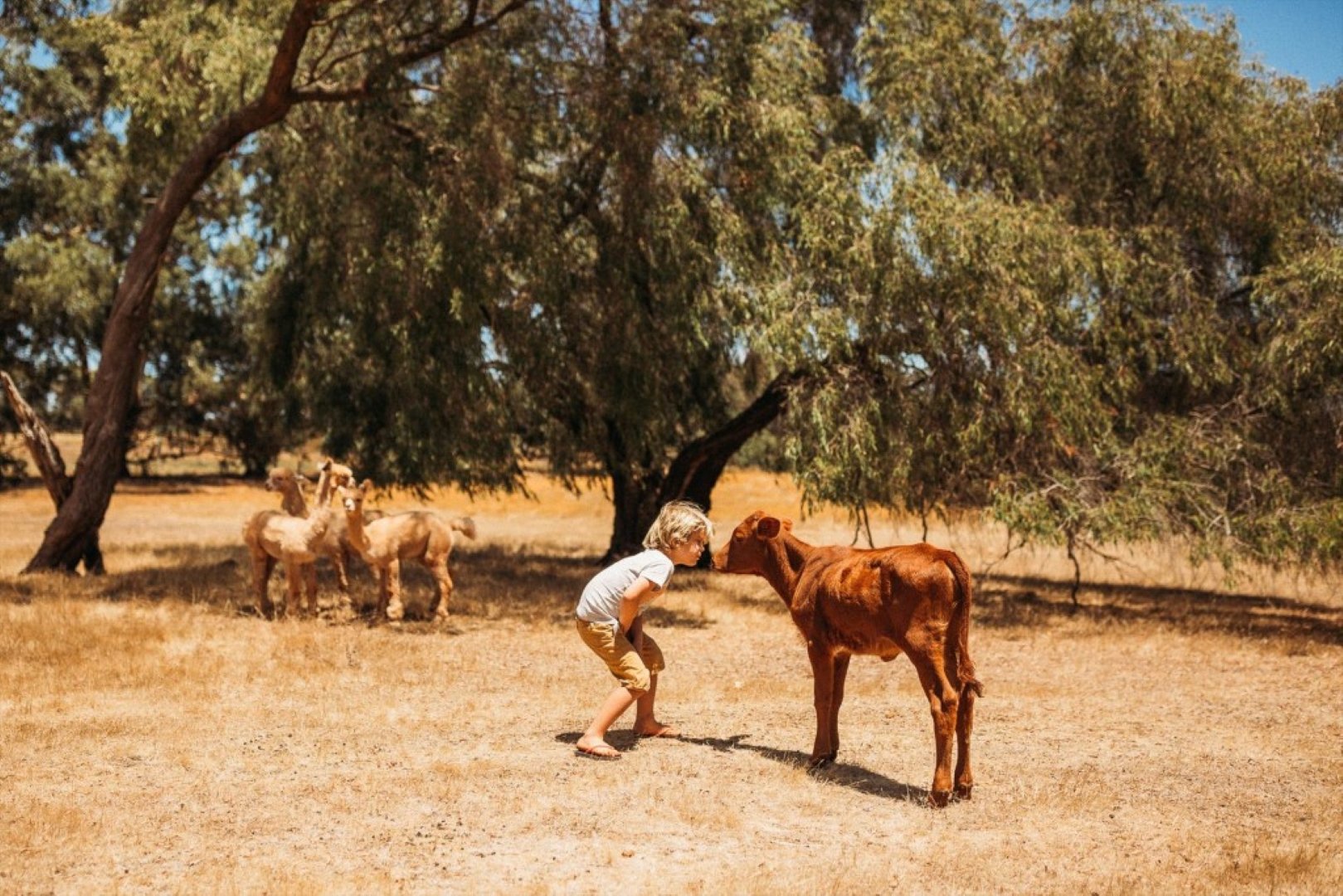 Reconnect with family – book in a farm stay at Margaret River Holiday Cottages.
Search more school holiday inspo