Wintry Wineries
Fireside wine tastings, vineyard tours and toasted nougat.
There's something special about the Margaret River Region over the winter months. Gazing out over a vineyard on a crisp misty morning is an idyllic view to accompany that first sip of your morning coffee, and bracing walks through the forest or along the coast really do recharge the batteries. Cabernet Sauvignon, the variety for which the region is famed, is also a natural partner to roaring fires and comforting meals.

It used to be that only those in the know would venture south at this time of year, but word is getting out and wineries are responding with innovative new experiences, to fully immerse us in the glorious chill of winter.

Bring your gumboots and a hearty appetite, ready to revel in these warming winery experiences.
Relax with a cheese board next to the fire at Marri Wood Park.
Marri Wood Park
Marri Wood Park is a boutique vineyard owned and run by father and daughter duo Julian and Natalie Wright. While their rustic cellar door just had its first anniversary, Julian planted the vines back in 1992, and achieved organic and biodynamic certification in 2005 and 2007 respectively.
Julian and Natalie put on a vineyard tour especially for Cabin Fever Festival in July, and its success inspired them to start the tours on a permanent basis. Small group tours of up to four people run on hay bales on the back of Julian's truck, "it was going to be a walking tour but we didn't want people stranded in the vineyard in the rain," explains Natalie. They will be reinstating the tours from October, so stay tuned to @marriwoodpark on Instagram for updates (and be sure to book).
Meanwhile, back at cellar door, indulge in a cheese board and tasting by the fire. Natalie sourced beautiful woollen blankets made of recycled wool from Edinburgh, Scotland. Cheese is from Yallingup Cheese Company and Margaret River Dairy. Outside the firepits are burning, and come summer you can borrow a picnic blanket to enjoy a takeaway bottle of wine on the lawn.
Love biodynamic wine? Visit Cullen Wines for a fireside tasting of their biodynamic wine followed by a self-guided tour of their biodynamic spiral garden. Fun fact: Cullen is Australia's only carbon negative winery, and 90% of their restaurant produce is grown onsite.
Bettenays
The Bettenay family have been perfecting a French nougat recipe, making it smooth and soft with plenty of southwest honey. And happily, they launched a fireside nougat experience this winter.
They light the firepit outside and take you through a tasting by the fire with a warm shawl on your shoulders if it's cold. Next, taste the nougat and learn to toast it by the fire, finishing with a liqueur-infused hot chocolate. Children are very welcome, plied with nougat and alcohol-free hot chocolate.
Following a fireside chat, come back inside to see the nougat being made through the window.
Bookings are currently available until the end of the October school holidays. If the fireside tastings have finished for the season (fire bans prevent it running during warmer months) then try the Wine and Nougat pairing instead.
Bettenays also has accommodation with wood fires and generous windows, lovely for watching storms rolling in over the vineyard and lake.
Loved this? Visit Gralyn Estate, the region's first cellar door, where their fortified wines will warm you up.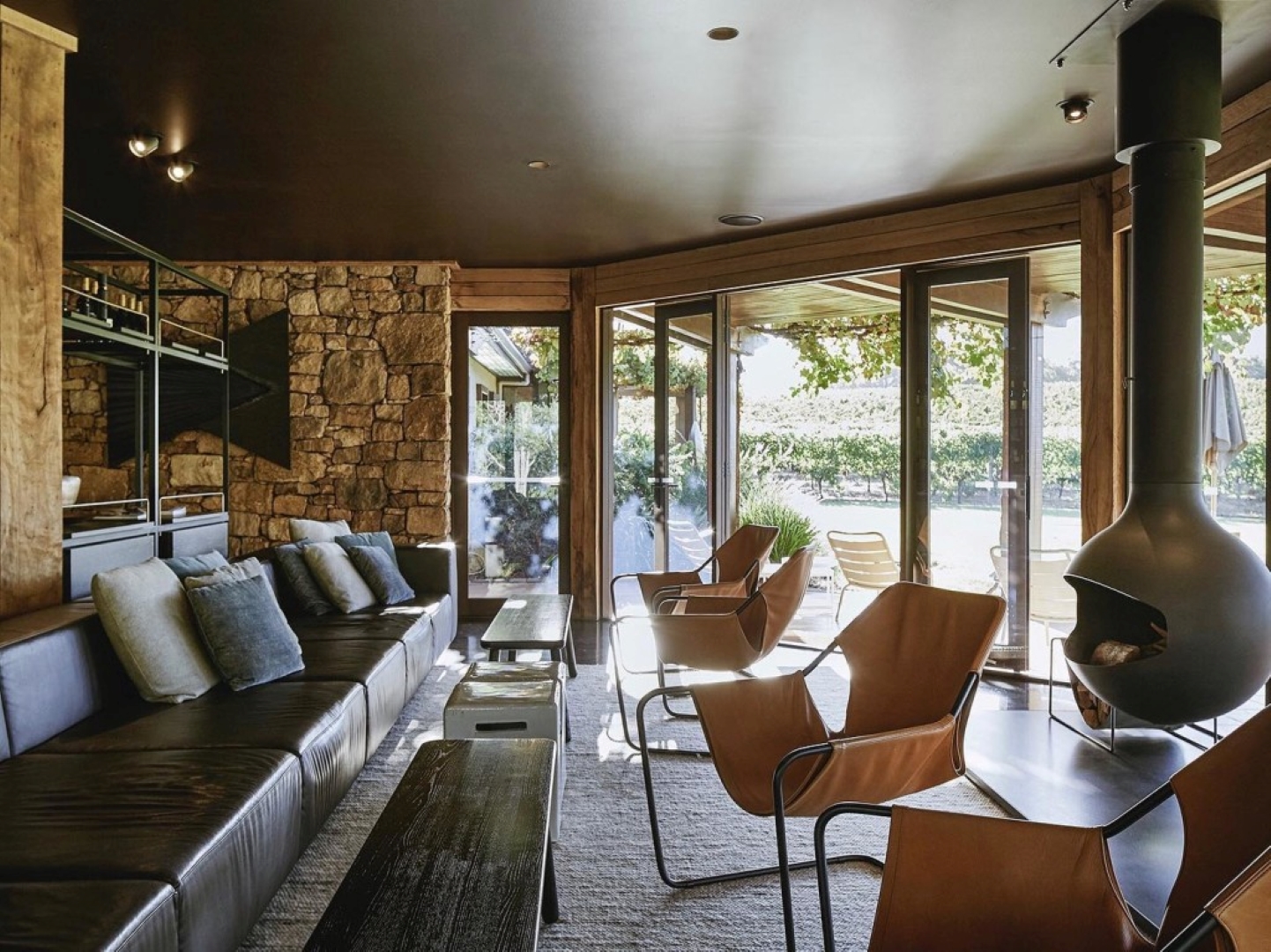 The Lounge at Vasse Felix is an ideal spot to while away the afternoon. 
Vasse Felix Wines
There's nothing quite like snuggling up by the fire, wine glass in hand, watching rain fall on the region's first vines at Vasse Felix. Taste at the bar, browse Art Gallery exhibitions from the Janet Holmes à Court Collection, then pull up a chair in The Lounge for wine, cheese and charcuterie. Looking like something from a design magazine, the Lounge features a suspended fireplace and floor-to-ceiling glass with superb views of vines, the winter creek and sculptures.
Also on offer are a range of behind-the-scenes tours, tutored tastings and delectable epicurean experiences. Upstairs, the restaurant blends modern features with original timber panelling and another roaring fireplace making it a supremely comfortable place to while away wintry afternoons indulging in modern Australian fare and fine wine.
Love the luxe surrounds? Also visit Howard Park for a superb cheese platter by the fireplace, in the cellar door that was architect-designed to ancient Feng Shui principles. Larry Cherubino also offers superb fromage, antipasto and panino alongside wine tastings, plus a stroll through the Linton + Kay Gallery.
Cape Mentelle
Visit another pioneering producer of the Margaret River Region for a behind-the-scenes tour and to delve into the history of Cape Mentelle and fascinating facts of winemaking. The fire is blazing all day long making the cellar door a warm and welcoming place to taste exceptional Cabernet Sauvignon. Taste at the bar, or book ahead for a private seated tasting in the atmospheric Barrel Hall with crystal Riedel glasses and expert guidance from your cellar door host. Wine tasting notes are shared on an iPad, allowing aficionados to deep-dive into the winemaking technique and detail.
Also on offer is the Behind the Scenes tour, venturing into the vineyard (weather permitting) with big umbrellas to keep dry. Explore the cellars and see what the winemakers are up to, finishing with a seated wine tasting paired with small bites.
Visit Glenarty Road for cosy fireside vibes.
Glenarty Road
The rustic restaurant and cellar door at Glenarty Road is framed with timber, tin and glorious big windows looking out to verdant vines. Twin fireplaces keep us warm in winter, and a glass or two of Karridale Syrah (Shiraz made in a softer cooler-climate style) certainly helps.
Perch at the bar for a simple tasting or sit back, learn and listen during a private tasting with farm snacks to graze on. Book ahead the sumptuous Graze or Farm Feast set course lunch, featuring their famous grass-fed meats cooked over coals on the wood-fired grill. Farm tours run on Saturdays from September to April, where you'll walk amongst vines and macadamias, veggie gardens and hops, meeting farm dogs, lambs, chicken and ducks along the way.
Ben and Sasha McDonald are the "lucky custodians" of 240 acres of fertile soil in Karridale, a patch of land that has been in the family for five generations. They grow 10 varieties of grapes, raise sheep, cattle and pigs, and harvest seasonal veggie patches which produce around 40% of their kitchen needs.
Sustainability informs everything they do, from using sheep and guinea fowl as organic pest control and soil enrichers, to a minimal intervention winemaking style and paddock-to-plate ethos.
Love their sustainable approach? Also visit Arimia for lunch by the fire featuring hand-reared pork, trout and organically grown wines.
Skigh Wines
A love of music is the thread running through Skigh Wines. Winemaker Skigh McManus' band used to rehearse in a rustic Yallingup barn, and for years he thought "this would make a great cellar door space".
After five years making "lo-fi" lower-alcohol wines, they opened Skigh Wines cellar door on Abbeys Farm Road in 2020. It's a warm, timber-lined barn with comfy furniture and a roaring fire in winter, and Skigh wants you to "have a really good time, not just sample 30 ml of wine."
Live music is a drawcard, especially on long weekends, where touring or local artists play acoustic sets and DJ Mandy B runs Reset concerts a couple of times a year. As part of the Yallingup Cheese Crawl in conjunction with Goon Tycoons and Marri Wood Park, you're encouraged to pick up a picnic from Yallingup Cheese then follow the trail, tasting the recommended matching wines.
Yallingup Cheese Crawl, you say? Best visit Yallingup Cheese first, then Goon Tycoons and Marri Wood Park.
The cellar door at Swings & Roundabouts is welcoming all year round. 
Swings & Roundabouts
While Swings & Roundabouts is a dreamy spot to while away a summer afternoon, massive open fireplaces and an outdoor firepit make it just as appealing in winter. "We wanted a venue that was welcoming year-round, and to focus on looking after customers in winter," says marketing manager Amanda Keady of their 2019 renovation.
Inspired by English style bars and reminiscent of ski chalets lined with wood, Swings & Roundabouts Yallingup features two floor to ceiling chimneys and open fireplaces in the wine tasting room, and a cosy fireplace flanked by Chesterfield-style armchairs. Outside, a generous firepit is beautifully landscaped and overlooks the adventure playground.
"Our brand is all about creating memorable experiences, and our premium label Backyard Stories tells a tale of the typical Aussie lifestyle – playing footy, surfing, backyard barbecues. We've created an environment where guests can sit around the fire and make memories."
Love this? Visit Swings & Roundabouts Margaret River for Sunday roast by the fire.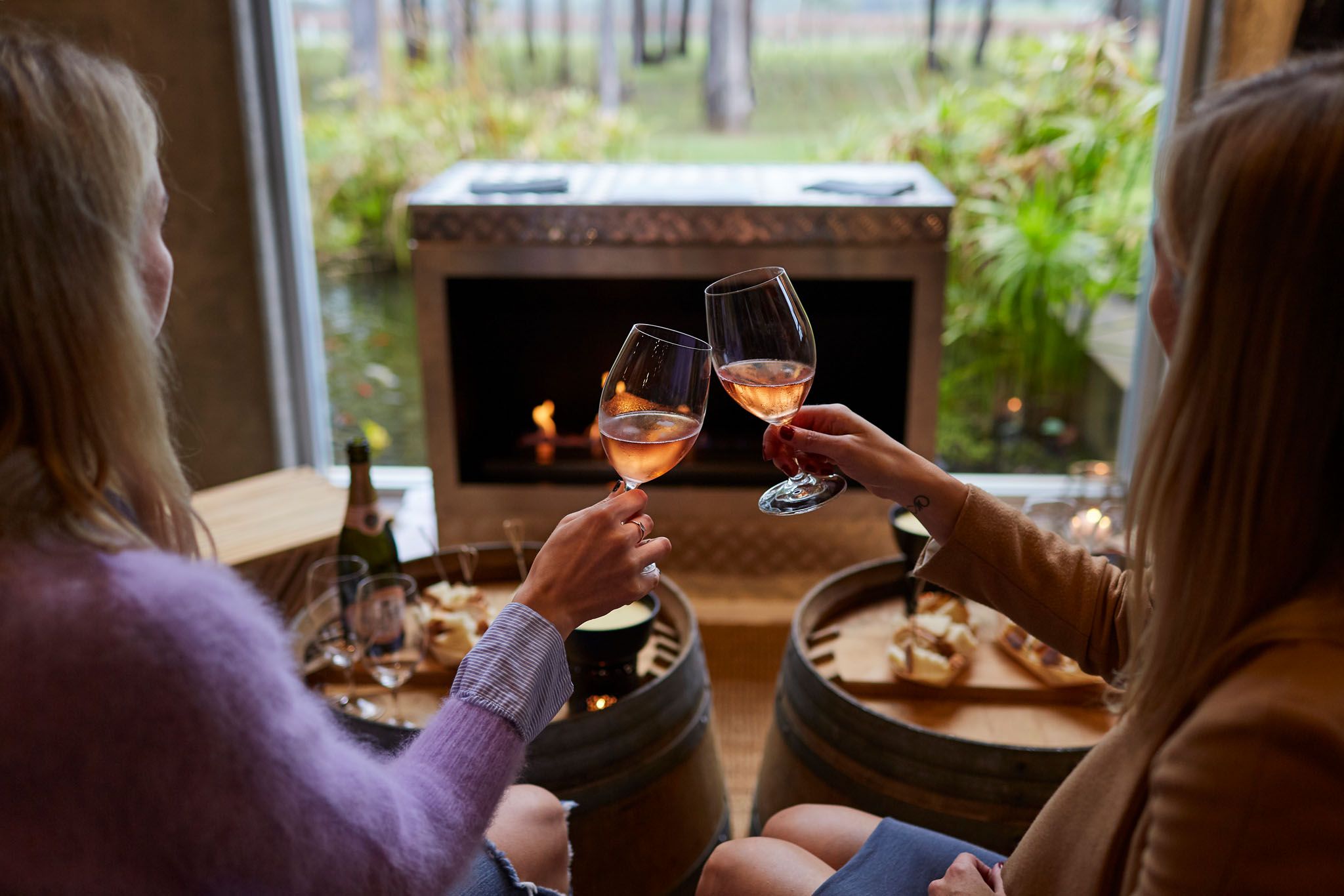 Enjoy award winning wines and architecture at Howard Park.
Now that you have your warming winery experience sorted, check out these incredible winter accommodation options.