Scenic Sips
Plan a wine tasting itinerary that's a feast for your eyes as well as your taste buds.
What's better than a tasting of world class Margaret River Cabernet Sauvignon? The opportunity to drink in the view while savouring your glass.

The world's leading wine critic Jancis Robinson described Margaret River as 'as close to paradise as I have been on wine travels.' Find below a list of nine wineries to help you plan an itinerary that's a feast for your eyes as well as your tastebuds.
Whicher Ridge
The Wine Sensory Garden is the centre piece of the wine tasting experience at Whicher Ridge, with its plantings of fruit trees, herbs, flowers and seasonal vegetables which match the texture and styles of the family- owned winery's small batch wines. You can do a self-guided tour around the garden, or book a Pick and Sip Tour with Cathy Howard the winemaker. This hidden gem is located off-the-beaten-track, 20 minutes from Busselton, in the Geographe Wine Region.
Howard Park
You can choose from an array of wine tastings at Howard Park, both at the counter or tailored seated tasting experiences including a line-up of Jeté – their awarded méthode traditionelle sparkling wines. You can put together your own platter, made up from delicious regional produce – cheese, charcuterie and all the trimmings, matched to your favourite wine. Howard Park are one of Western Australia's leading family wineries.
Swings & Roundabouts
Swings & Roundabouts are known for their relaxed vibe. The 'Swings Backyards Stories' experience takes you on a guided tour through their 40-year-old dry grown Cabernet Sauvignon vines, whilst you enjoy a glass of Backyard Stories Sparkling. Then it's onto the 'Swing Seats' set amongst majestic gum trees with views of the surrounding bushland and rolling vineyards, for a shared grazing feast and wines. The cellar door & restaurant venue was extensively renovated in 2019. The new space is industrial organic in style, filled with open fires, a dedicated wine tasting bar, VIP tasting room and huge feasting table with some of the best views in the Margaret River Region.
Aravina Estate
Aravina Estate is a destination as well as a cellar door. The restaurant overlooks extensive gardens, manicured lawns and the lake. The alfresco setting has a classy resort feel, offering lunch five days per week with organic produce sourced locally. If you prefer a more relaxed dining experience, grab a table at the Riviera Pizza Bar or sit on a supplied picnic blanket on the lawn. On weekends live music is performed outside where children can play freely in the playground. Apart from the cellar door, there's also a Sports Car Gallery with a collection of cars for you to browse through plus WA's only Surf Gallery showcasing a collection of rare surf memorabilia. There's also the new 8Waves Brewing Co. brewing 5 beers on-site.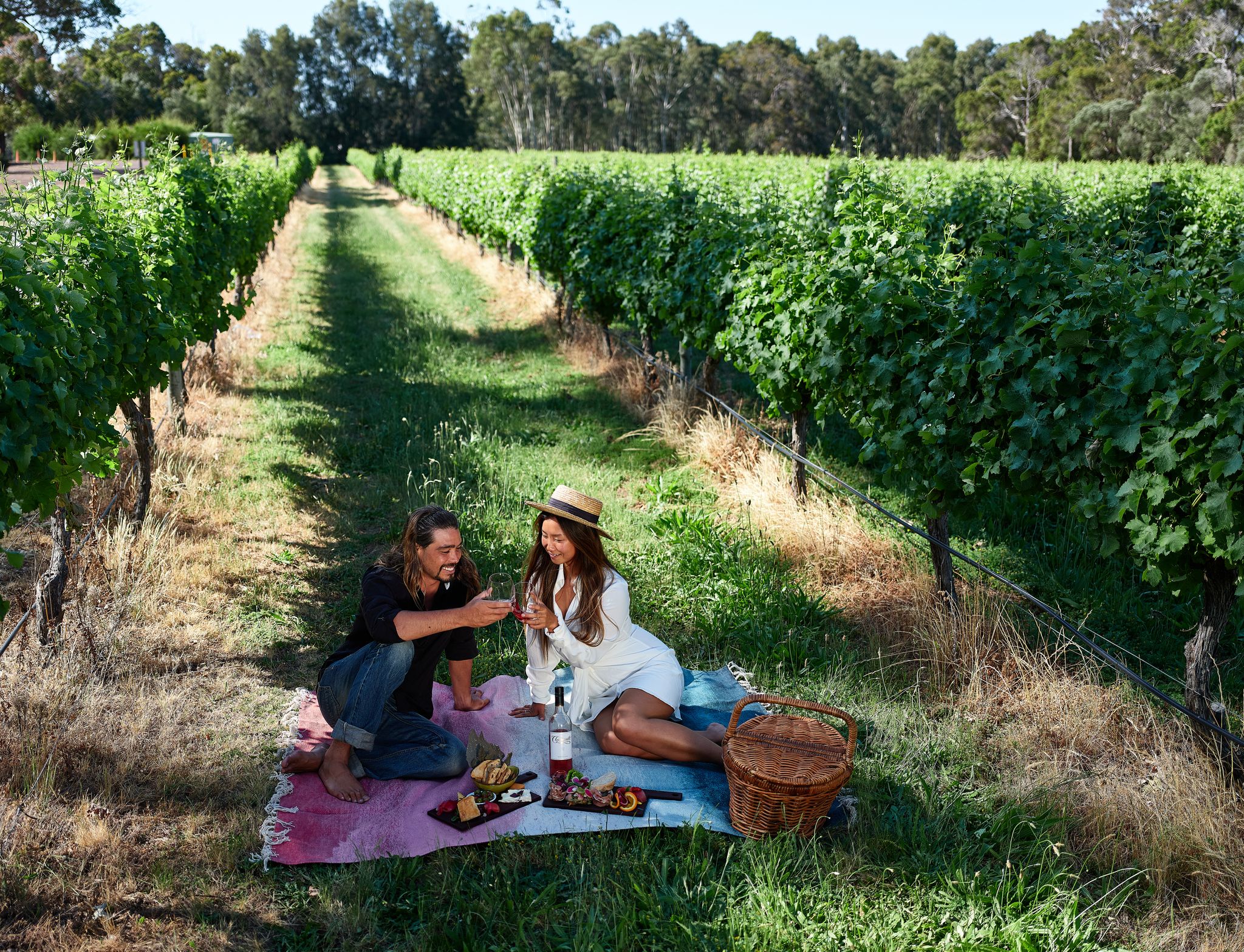 Clairault Streicker
You can find your own private spot overlooking the rolling vineyards and native bushland at Clairault Streicker with their Vineyard Picnic. Relax and take in the peaceful surroundings as you roll out the picnic rug and basket packed with goodies. The Vineyard Picnic is $75 for two and includes a picnic basket packed with a selection of dishes from their seasonal menu as well as salads, daily baked sourdough, cheese and house made crostini and lavosh. Perhaps a bottle of the Streicker Blanc de Blancs Sparkling to complete your picnic? Wines are made by the highly regarded Bruce Dukes. The quality of the Chardonnay, Cabernet Sauvignon and Syrah across their ranges is impressive.
Black Brewing Co
For those who want to embrace the region's full culinary bounty, head to Black Brewing Co where you can select from a delightful wine tasting or a craft beer paddle. A modern menu with full flavoured food will also satisfy. And the view? Several outdoor viewing spaces overlook a lake complete with a fountain.
Cullen Wines
The Cullen Biodynamic Wine Room offers a complete emersion into the biodynamic journey through seated wine tastings, dining and a self-guided biodynamic spiral garden tour. Biodynamic winemaking is enhanced organic winemaking eliminating artificial fertilisers and sprays and coordinating winemaking activities around lunar movements. The spiral garden allows you to stroll through the garden and follow the fascinating biodynamic process that is employed at Cullen. You can touch, feel and read about the actions and concepts. Cullen Wines are one of the region's founding and greatest wineries and Gourmet Traveller Wine nominated them as ´Star Cellar Door 2021'. Vanya Cullen makes icons like Diana Madeline and Kevin John, Amber and the entry level 'Dancing' Wines.
Juniper Estate
Sitting beside the tranquil Wilyabrup Brook, the Juniper Estate cellar door is surrounded by cottage gardens and green lawns. You can enjoy wine by the glass at one of the picnic tables on the lawns under the shade of the trees when it's warm. Voted Best Small Cellar Door 2021 by Gourmet Traveller Wine, the Juniper Crossing Range offers outstanding value at the entry level. Aquitaine Rouge and Blanc are two of my favourites.
Wise Wines
Wise Wines is the only winery in the region with ocean views. The views are spectacular over the Meelup old growth forest and Geographe Bay. These can be enjoyed over a long lunch at the Wise Restaurant matched with their award winning wines or just enjoy a refreshing gin and tonic or glass of wine on the terrace. James Halliday has noted the value for money of their range.
Once you have visited these wineries with a view, take a look at some secret cellar doors in the Margaret River Region.