Rise & Shine
Here are 9 wineries where you can sleep over, and wake amongst the vines producing your favourite drop.
Sleeping over at your favourite winery is one of the best ways to experience the Margaret River Region. The peace and tranquillity is second to none, plus with many of these options there's no need to worry about organising transport after a long lunch or tasting at the cellar door – simply meander over to your abode and settle in for the evening, preferably with a bottle of something made from the fruit surrounding you.

Here are nine amazing wineries that offer that seriously special experience of waking up surrounded by vines.
'The Lodge' is an airy, light filled sanctuary set on one of the oldest vineyards in the Margaret River Region. The home itself is stylishly appointed, with beds for up to 10 people, and all the comforts you'd expect from a luxury stay. An incredible expanse of vines makes up the 'backyard', which can be appreciated from one of the many large windows overlooking the estate. At sunset, take in the picturesque vineyard with a drop of premium Fermoy wine.
This beautifully rustic homestead was constructed in 1976, by the vineyard's founders, Diana and Kevin Cullen. The Homestead is made up of a main house and a studio, and was built using local timber and granite rock. All around the Homestead is natural bushland and vineyards, not to mention a tennis court for a leisurely swing. When you're done, head across the road to Cullen Wines for a magnificent lunch, laden with organic and biodynamic produce.
Bettenay's is a boutique winery, with 25 acres of vines stretched across the estate. They're famous for their French-style nougat and liqueurs, which are created on-site and absolutely delicious. Families and groups can stay in either of Bettenay's charming chalets, one with views of the lake, and the other set amidst the olive grove. Then there's the adult's only Lakeside Spa Apartment for a romantic weekend away. Guests can also enjoy a wonderful gourmet picnic by the lake, starring the tasty produce Bettenay's is renowned for.
Tucked away on 15 hectares of organic farmland, both bungalows are set in the peace and privacy of stunning natural bushland. Bungalows are solar passive, and crafted with recycled timber, stone and rammed earth. Each special spot has a luxuriously large bath and a cosy wood fire. Plus, a private verandah, perfect for sampling their renowned Zinfandel. Guests can also book a farm tour to discover more about how biodynamic wine is created.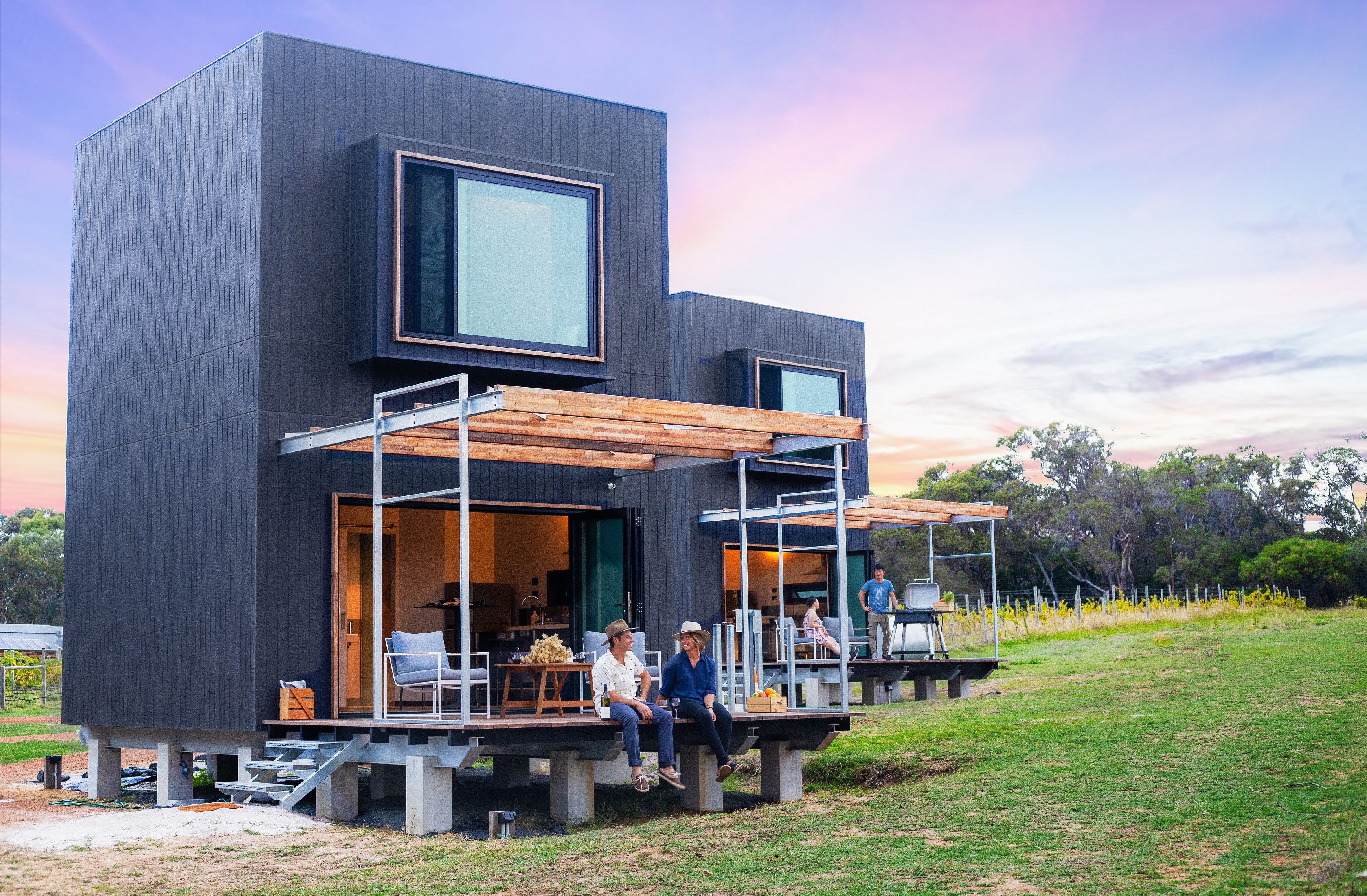 These eco-luxury pods meld modern industrial design with self-sustainable philosophy. Each pod has been carefully developed for a minimal carbon footprint, while embracing materials that blend seamlessly with the natural landscape they call home. They're bold, luxurious and each pod delivers sweeping vineyard views – the perfect sustainable getaway for eco-loving travellers. Plus, iconic Smith's Beach is a stone's throw away.
Rivendell's holiday villas really are something to behold. Each of the nine luxury residences offers its own magnificent view of the countryside – whether it's the serene lake and natural bushland, or rolling vines. There's a tennis court and gorgeous cottage gardens, as well as the vineyard's legendary cellar door. Guests can also purchase delicious coffee, beer and gourmet picnic fare.
This boutique hotel is the perfect spot for your next romantic getaway. Set on 40 acres of breathtaking parkland and vines, guests can choose between glistening lake views or gorgeous country gardens. Each room is light, airy and modern, with high ceilings and stylish furnishings that feel luxurious and charming all at once. There's also an epic five-bedroom residence, overlooking the lake, which can be booked for families or large groups.
Nestled in a jarrah forest about halfway between Busselton and Margaret River are three charming timber chalets. Each chalet is perfectly private and completely self-contained. The vineyard itself is in full swing, supplying grapes to Haywood Wine Company and Devil's Lair. Guests can enjoy their own two-person spa and barbeque, and are treated to a complementary bottle of wine when they arrive.
Chris Davies began farming the land at Windows Estate when he was just 19 years old. Today, guests clamour to stay at his 'Petit Eco Cabin', tucked away in native bushland overlooking his certified organic vineyard and farm. The cabin itself was built with timber milled by Davies' father, and embraces all facets of sustainable design. It's peaceful and private, with a beautiful vintage outdoor bath and bespoke furnishings.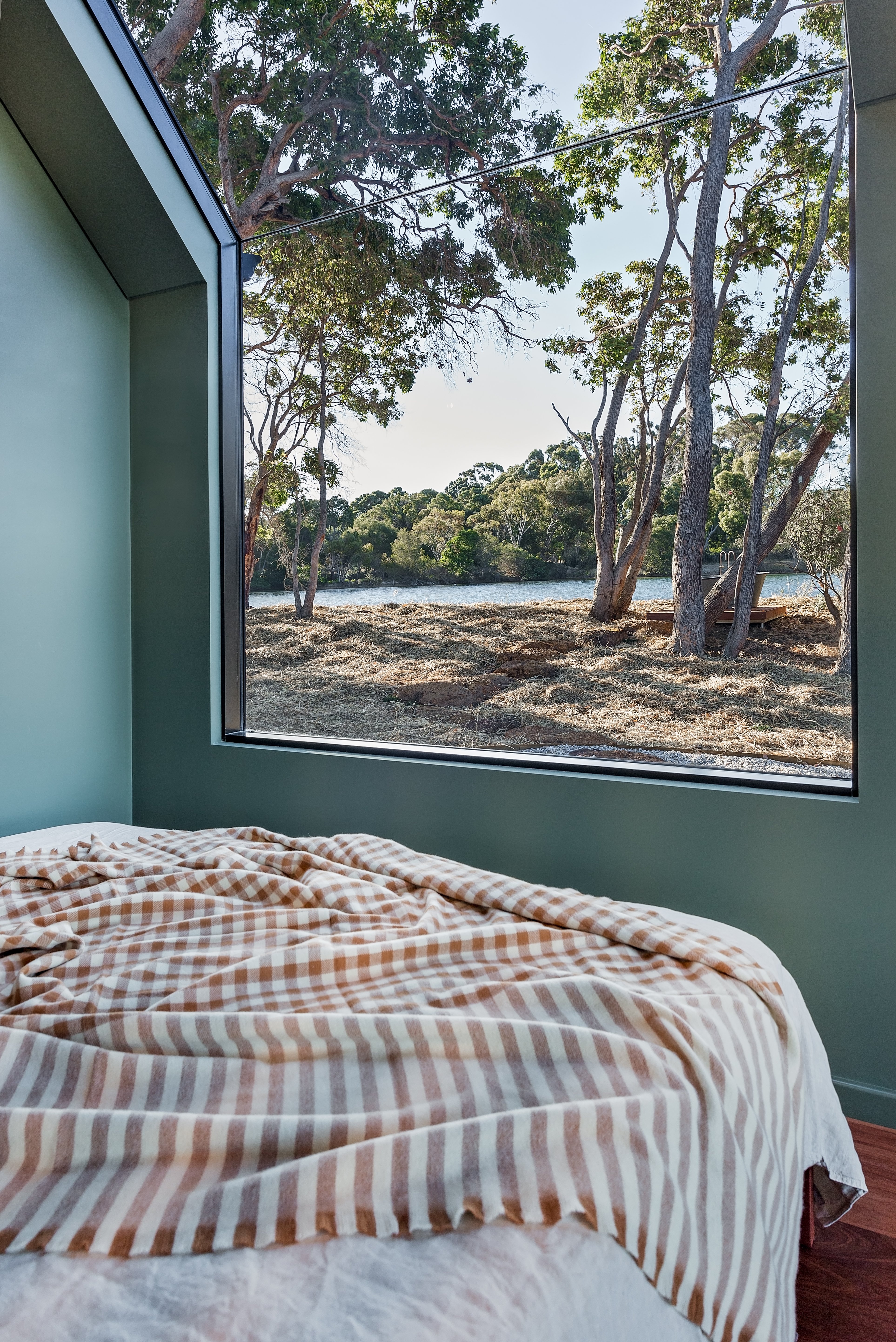 Looking for more accommodation inspiration?