Who doesn't love getting out into the great outdoors? Now is the perfect time to plan that long awaited camping trip: spring is here, the weather is warming up and the hiking trails are filled with wildflowers.
But wait a minute, what about the tent? Someone better be in charge of the camping stove, and what if the heavens open and spring takes a sidestep for the odd rainy day? Never fear, there is a bridge between roughing the elements under a piece of canvas and being tucked away from the sounds of the bush in a hotel room. Enter the one stop solution: glamping.
Glamping adds a touch of glamour to an outdoor expedition while holding onto the heart of a real campout with those things money can't buy: nights under the stars, special company and an open fire. Gone are the struggles with tent pegs and cold nights thanks to the addition of creature comforts and a helping hand from the experts. The only thing you'll need to make sure you remember is an ample supply of marshmallows.
Whether your idea of luxury involves a plush doona, a bell tent or a full on bathroom in your outdoor abode, there is a sliding scale on the glamping radar that features something for everyone. Here are some of the top options when it comes to glamping in the Margaret River region.
Mile End Glamping
Getting back to nature doesn't have to mean going back to basics. Mile End Glamping is the ultimate in luxury. There are no drop toilets here, instead two 65 m2 geodesic dome tents are fully equipped with a private outdoor spa bath and BBQ deck. Inside, the bathroom comes complete with a rainfall shower that you can jump straight into your king-sized canopy bed from. There's also a kitchenette if you fancy whipping up a feast with the help of some gadgets and a kitchen sink.
You'll feel like you are right amongst the outdoor action, without having to worry about…well, anything. Each dome is surrounded with stunning views from the tent's clear window panels. You'll be able to watch the sun rise over paddocks and woodland from your king size bed – that is, after you fell asleep gazing at the stars from the same spot. These stilted tents are set on 144 acres of private property with a mixture of native bush and farmland. With a canopy of Jarrah, Marri, Peppermint and Eucalypt trees surrounding the accommodation, animal lovers and bird watchers will be in for a field day. Parrots, cockatoos, kookaburras, and of course plenty of kangaroos will be sure to keep you company.
Smack bang in the middle of wine country, you'll not be further than a 15 minute drive to a selection of options for wining and dining throughout the day. This is surely the most decadent camping trip you'll encounter. In fact, the hardest part will be dragging yourself back to reality one it's time to pack the car up again.
Olio Bello Lakeside Glamping
It's not every day that you'll be waking up with lakeside views in the middle of a 320 acre certified organic olive farm. Olio Bello Lakeside Glamping however is one spot where you'll be able to do exactly that, all from your own luxurious safari-style bungalow. With just six bungalows to choose from, you'll be assured a restful stay far away from the crowds.
Surrounded by 8000 olive trees and only minutes from the beaches of Gracetown, so you'll have plenty of space to wander through the groves and get some fresh country and oceanic air. This eco-friendly glamping option is a blissful marriage of style and simplicity. You'll have the luxury of your own private en-suite, kitchenette and living space including a viewing deck. Be sure to bring a good book for the lakeside hammock – you'll not be wanting to waste a minute of this tranquillity.
The Olio Bello café sits right next door, so you'll be able to enjoy olive oil tastings, a long lunch and a glass of wine without the worry of getting in the car to journey home. Or for the ultimate pamper packed glamping trip, book a massage or stock up on their organic beauty products from the Farm Shop. You'll soon be settling down for a night under the stars after you've nurtured and nourished yourself into a blissful state.
Boogaloo Surf & Yoga
Tucked down the southern end of the cape, you might have guessed from their name that Boogaloo Surf & Yoga is a top pick for active glampers. The Augusta campsite is full of gorgeous bell tents, all ready and set up for you on arrival. All you need to do is unpack, roll out your yoga mat and get your zen on.
The campsite is unpowered, so this is one for nature lovers who really want to slow things down and have a peaceful stay. All linen is included for up to four people, along with an esky with refreshments. You'll be able to enjoy hot showers and toilets in a rustic sea container, and if you'd prefer to pitch your own tent that's fine too.
With a yoga and massage yurt nestled amongst the accommodation, you'll be able to roll from your mattress to your mat in record time. If you find tranquillity amongst the froth, then grab a surfboard and hit the waves just down the road. No board? No problem. Part of what make this place so unique is the fact that you can actually build your own board during your stay. Take a workshop and learn to shape your own board and you'll leave with more than just memories form this camping trip.
Luxe bell tents, yoga classes, world class surf and fab food and wine. Who needs Bali when there's Boogaloo on your doorstep?
Wild Goose Camping
Want to enjoy your choice of campsite, but you'd prefer someone else to sort the actual tent out? The team at Wild Goose Camping encourage everyone to disconnect from everyday life and get out into the great outdoors. Whether you are a camping pro or a first-timer, they will make camp life easy with a luxury canvas bell tent fully furnished at your choice of location.
Simply pack your bags and get on the road. Once you arrive at your destination, all that you will need to do is focus on chilling out and pouring a cold drink. Each tent is lavishly spread with rugs, throw cushions, comfy foam mattresses, linen, lighting and even bedside tables. You'll even have an outdoor area set up complete with chairs and tables so that you can make the most of the starlit skies and cool morning breeze.
With the set up taken care of, you'll be left to enjoy the best bits of a camping trip: relaxing, reviving and rejuvenating amongst mother nature.
The Options are Endless
Three other great Glamping options in the region are Margaret River Retreat, Cape to Cape Explorer Tours and Surfpoint Resort, and Fair Harvest.
Margaret River Retreat is eco-tourism at its finest. Offering 5m canvas bell tents on a powered site, the tents are fitted out with hotel quality queen beds with luxury linen, seasonal doonas and woollen blankets so even in the middle of winter you will be cosy and warm – protected from the elements. Margaret River Retreat has designed a little eco village, offering privacy but also close to amenities such as bathrooms, bbqs, and yoga and wellness facilities. They seem to have thought of everything and you can even get fresh coffee in the morning or order a 'Glampers Hamper' for all your supplies.
If its adventure you're chasing. Book a 3-day guided tour with Cape to Cape Explorer Tours, spending each night in a glamping tent for that well-earned R&R. The tour company have teamed up with SurfPoint Resort and offer a full weekend including accommodation, gourmet food, and guided Cape to Cape track hikes. The bell tents are furnished with rugs, blankets and seating and are set up at the coastal hamlet Gnarabup with access to kitchen facilities and a swimming pool. You'll be fed a daily continental breaky with loads of options, as well as great salads and bbq dinners. This option will cleanse the soul and leave you feeling happy and healthy.
Fair Harvest is another excellent glamping choice for the eco warrior. You'll be positioned in a luxurious teepee on a permaculture farm 5km from Margaret River town centre. The farm features organic veggie gardens, fruit orchards, roaming chooks, a farm café and yoga barn, and walking tracks through bushland.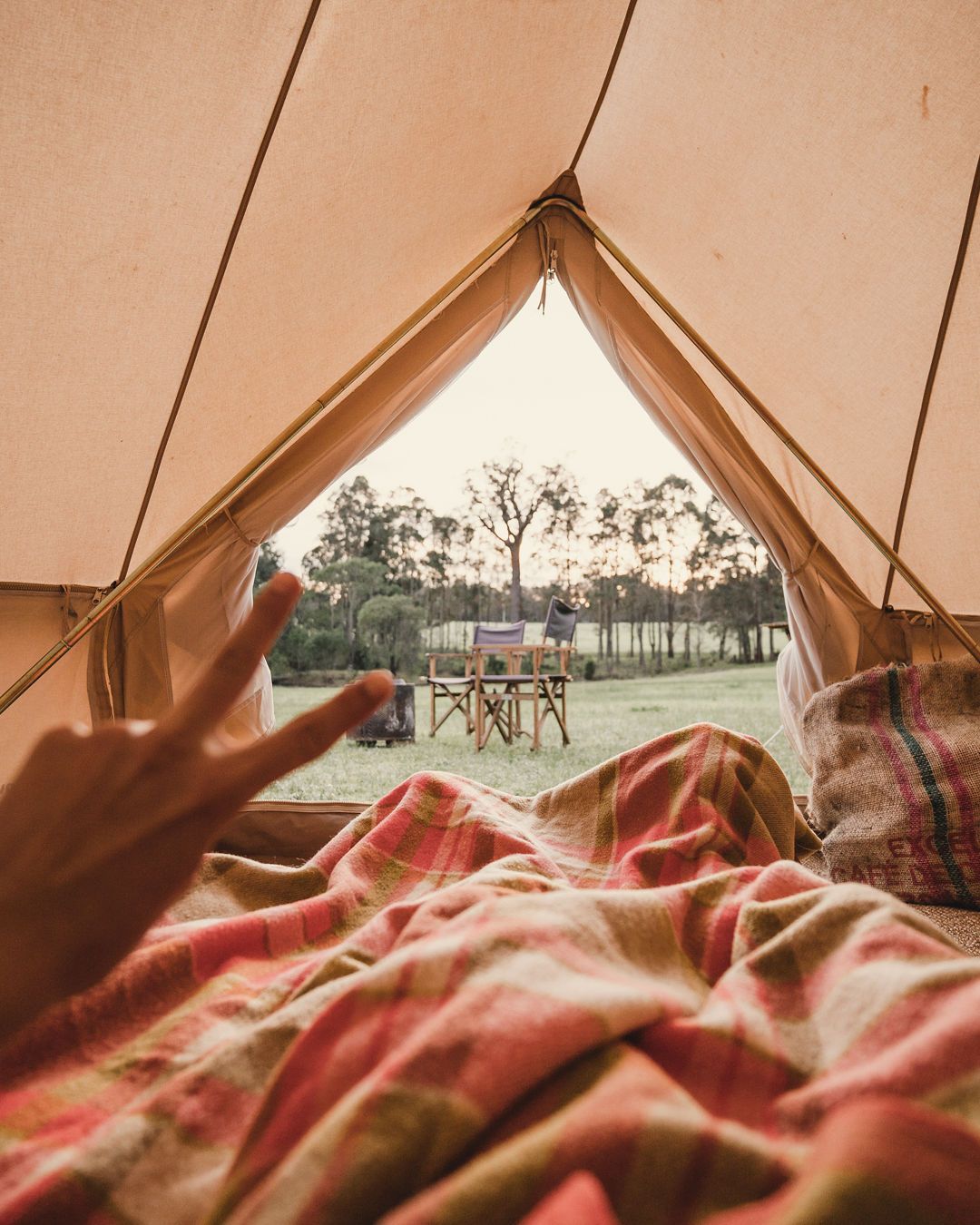 Tempted? Book with one of our local experts now.