Bettenays Lakeside Spa Apartment & Vineyard Villas
Monday - Sunday: 9:30 AM until 5:00 PM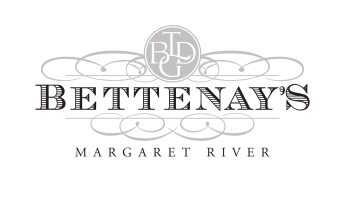 248 Tom Cullity Dr, Cowaramup WA 6284
248 Tom Cullity Drive Cowaramup WA 6284
Bettenay's Lakeside Spa Apartment & Vineyard Villas are located in the heart of the Margaret River Wine region. Perfect for family getaways or a romantic special occasion.
Situated on a 132 acre farm vineyard with 25 acres of vines, the Bettenay family invite you to take a relaxing and peaceful stay at one of their chalets or their romantic spa apartment.

The chalets are perfect for a family getaway, where the kids can run around playing in the groves or create their own adventures. Alternatively, the chalets are a perfect home away from home for the avid reader or mother-daughter getaway. Within a few minutes drive there are amazing restaurants, beaches, breweries, olive oil and chocolate. Without even getting in the car though you can enjoy a tasting of Bettenay's nougat, wine and liqueurs (all made on site) and have a picnic or barbecue by the lake.

Above the cellar door, there is the well-appointed King Spa Apartment. Chosen by many for their special occasions such as honeymoons, anniversaries birthdays and wedding night. It boasts a stunning view from above overlooking the lake and vineyard.
Google Reviews
Happy and welcoming vibe to the venue. Wide range of nougat choice!! Look forward to trying what we purchased. Didn't taste the wine so can't comment on that. Ath T
Great place... Connie Bove
A cup of tea by the lake relaxing in gorgeous Adirondack chairs and complimentary picnic rugs. Such a quiet, relaxing spot with some beautiful sweets and wines. Briony Sinclair (Gidyeagirl)
Fantastic place to visit, stay for a night or even a week! We did 5 nights with the family and loved every minute. Great location in the Margaret River region to base yourself for day trips. Chalets are clean, well maintained and have all the essentials for a comfortable stay with friends and/or family. Jason Pearce
You simply must stop here for a visit. If it isn't the picturesque views it will be for the delicious array of nougat! There's so many to choose from, and for those that like an adult drink from time to time look for the nougat liquor...soooo good!! Bill Murphy