Bettenays Lakeside Spa Apartment & Vineyard Villas
As part of Government guidelines to halt the spread of COVID-19, there is limited business activity taking place in the region at this time. Please see our Essential Services page for details of businesses which are continuing to operate. You can also contact the business directly or get in touch with a local expert via

[email protected]

/ (08) 9780 5911.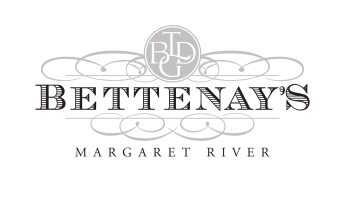 248 Tom Cullity Dr, Cowaramup WA 6284
248 Tom Cullity Drive Cowaramup WA 6284
Bettenay's Lakeside Spa Apartment & Vineyard Villas are located in the heart of the Margaret River Wine region. Perfect for family getaways or a romantic special occasion.
Situated on a 132 acre farm vineyard with 25 acres of vines, the Bettenay family invite you to take a relaxing and peaceful stay at one of their chalets or their romantic spa apartment.

The chalets are perfect for a family getaway, where the kids can run around playing in the groves or create their own adventures. Alternatively, the chalets are a perfect home away from home for the avid reader or mother-daughter getaway. Within a few minutes drive there are amazing restaurants, beaches, breweries, olive oil and chocolate. Without even getting in the car though you can enjoy a tasting of Bettenay's nougat, wine and liqueurs (all made on site) and have a picnic or barbecue by the lake.

Above the cellar door, there is the well-appointed King Spa Apartment. Chosen by many for their special occasions such as honeymoons, anniversaries birthdays and wedding night. It boasts a stunning view from above overlooking the lake and vineyard.
Featured stories
6 nights' accommodation in two stunning locations with Bettenay's and Redgate Forest Retreat
Didgeridoo performance deep inside the remarkable Ngilgi Cave
A fun and fascinating personalised tour with All About Margaret River
A visit to Eagles Heritage to witness these amazing creatures in flight
48 Hours: Cowaramup & Gracetown There are two little spots just north of the townsite of Margaret River chock full of hidden gems. Next time you whizz down Bussell Highway, slow down and explore the magic of Cowaramup. There is much to be discovered both in the town itself and surrounds: from gourmet stores and artisan cella...
Google Reviews
Beautiful place. Owners very friendly and helpful. Nougat is delicious with lots of flavors to choose from. A must to visit. Anzel Welman
By far my most favourite place in all of Margaret River. Bettenay's is a must if you want to taste amazing wines, nougat (so many flavours to choose from) tastes like your in heaven and the nougat liqueur is something else. Surronded by gorgeous lawns, gardens and a small lake, Bettenay's is the ultimate place to visit and stay. Greg and Terri Bettenay are so charming, full of wit and funny antidotes whilst still being true professionals. Make sure you visit Bettenay's if your in Margaret River, you will not be disappointed. Julie Rey
Lovely friendly owners who were knowledgeable and friendly. Worth a trip for sure. The vanilla liqueur was delicious! Toshan Mohabeer
A lovely place that makes superb nougat and delicious. The owner, who I met, is clearly very passionate about the products he makes. Evan Goodman
Stunning views! Amazing Nougat of every possible flavour and amazing wines. This is a must visit venue and I'd recommend not only visiting but staying here too. We fell in love with the place. Lovely staff and lots of free samples too! David PerthWA