Bina Maya Yallingup Escape
As part of Government guidelines to halt the spread of COVID-19, there is limited business activity taking place in the region at this time. Please see our Essential Services page for details of businesses which are continuing to operate. You can also contact the business directly or get in touch with a local expert via

[email protected]

/ (08) 9780 5911.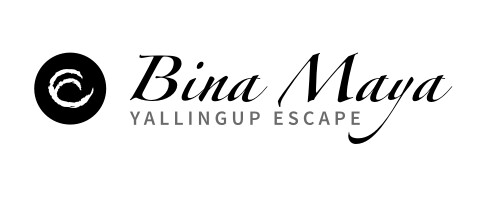 51 Bina Pl, Quedjinup WA 6281
Bina Maya is ideally located centrally (7 mins) to Dunsborough and (7 mins) to Yallingup. Coming from Dunsborough town, drive along Caves road towards Yallingup, turning left on to Biddle Road, then turning left on to Quedjinup Drive. Turn right on to Bina Place and find Bina Maya at the end of the road on the left, where you see the sign.
AAA Star Ratings
BBQ area
Babysitting service
Fireplace (wood or gas)
Free WiFi
Linen included
Non-smoking rooms
Parking
Rainwater Harvesting - Fully
Room Service
Self-contained
Solar Powered - Partial
Bina Maya Yallingup Escape is the Margaret River Region's 5-star self-contained retreat. Award-winning, set amongst 7.5 acres of beautiful native Australian bushland, the architecturally-designed Villas (1 to 2-bed and 4-bed) are modern with a Scandinavian influence.

Ideally located minutes from Yallingup and Dunsborough, Bina Maya was designed for couples, families and friends. Both luxury villas feature gourmet kitchens, bespoke furnishings; wood fires, spacious bedrooms and lavish bathrooms. Private, peaceful with a hotel-service feel. With in-house services such as a meal on arrival, breakfast delivered, private chef dining, massage and yoga, guests leave feeling relaxed, restored and rejuvenated.
Bina Maya Yallingup Escape offers a beautifully designed self-contained Luxury Villa which sleeps 2-4 guests; for couples, friends, small families. The self-contained Residence sleeps 8 guests and is ideal for families, friends and groups travelling together.

Featured stories
12 Essential Summer StaysFrom beachside abodes to cosy forest retreats. Close your eyes and imagine an ideal summer scene. Smell the sunscreen, feel the sand between your toes and the warmth of the sun on the back of your neck. The salty water is lapping a few metres away, surfers are out on the break and the sound of chil...
Google Reviews
What a gorgeous place, it's even more stunning in person. I stayed recently with a group of girlfriends, I was surprised at how affordable it is for a group booking. The view, the whole atmosphere, the gorgeous location and stunning features made our weekend away one to remember. It's by far the best accommodation I've stayed in and I've been to many in the area. no wonder it's rated 5 star. The bed and the bed sheets were amazing. I felt like I was sleeping in one of the best hotels in the world. Seriously such an amazing feeling sleeping in such a comfy bed with all the attention to detail, Bina Maya truly goes above and beyond. I can't wait to go back again, Bina Maya is definitely one of my favourite which I'll be going to frequently, nothing compares. I couldn't recommend this place any more, it's perfect for any occasion. Amy Giacomel
We spent 2 nights here for our anniversary & WOW. It was perfect. The location is tucked away, surrounded by nature. Even a family of roo's came to visit. It's also a short drive into the town & beaches if you do decide to leave (which you probably won't). The owner welcomed us & made us feel really special. She was able to help with every detail to make our stay perfect. We even had massages in the villa one evening — highly recommend that! The villa is equipped with everything you would need, from the kitchen to toiletries, which are all natural & organic products. The bed is super comfy & you can even choose your pillow. Plus you get to wake up to the most amazing view outside the window. Our favourite feature was the wood burner, it made us feel really cosy & was the perfect way to relax over a glass of wine. This place is faultless. I'm sure everyone feels at home here & we are so grateful for our stay at Bina Maya. Roisin Cox
My husband and I stayed in the Villa and were amazed the moment we drove into the driveway. Bina Maya is exceptionally presented, from the cleanliness to the high quality build and furniture within Bina Maya. It is of the highest standard and this is evident upon arrival. Sara and Tim are truly amazing hosts, their commitment to their guests is refreshing. Upon entering the Villa we were welcomed with a local hamper, touches like this make you want to go back again and again to experience this level of hospitality that Bina Maya provide. Anna Evans
A luxury resort in the middle of the forest. I will return again and again. Great location, amazing rooms and facilities, and close to all the action. You'll definitely see a bunch of roos as well. Ron Holmes
Absolute perfection. We had such an incredible stay at the residence in Bina Maya. Every single thing about this place is amazing. Such a great location just out of Dunsborough. You feel close enough to everything but in a totally private setting that allows you to switch off. We fell in love with the house. It is so thoughtfully stocked with everything you could possibly need. The quality is what stood out to us. Especially the kitchen! Such an easy place to go and stay with everything provided to cook anything you like. The presentation of this home is incredible. We will definitely be visiting again. Thank you for having us and providing such a perfect family holiday!! Kerby Dichiera