Latest News
Bina Maya Yallingup Escape is open for business and continuing their extremely high standards in hygiene in addition to COVID safe practices.
Bina Maya Yallingup Escape
Monday - Friday: 9:00 AM until 5:00 PM
Saturday - Sunday: Closed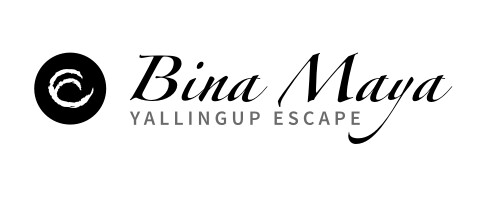 51 Bina Pl, Quedjinup WA 6281
Bina Maya is ideally located centrally (7 mins) to Dunsborough and (7 mins) to Yallingup. Coming from Dunsborough town, drive along Caves road towards Yallingup, turning left on to Biddle Road, then turning left on to Quedjinup Drive. Turn right on to Bina Place and find Bina Maya at the end of the road on the left, where you see the sign.
AAA Star Ratings
BBQ area
Babysitting service
Fireplace (wood or gas)
Free WiFi
Linen included
Non-smoking rooms
Parking
Rainwater Harvesting - Fully
Room Service
Self-contained
Solar Powered - Partial
Bina Maya Yallingup Escape is the Margaret River Region's 5-star self-contained retreat. Award-winning, set amongst 7.5 acres of beautiful native Australian bushland, the architecturally-designed Villas (1 to 2-bed and 4-bed) are modern with a Scandinavian influence.

Ideally located minutes from Yallingup and Dunsborough, Bina Maya was designed for couples, families and friends. Both luxury villas feature gourmet kitchens, bespoke furnishings; wood fires, spacious bedrooms and lavish bathrooms. Private, peaceful with a hotel-service feel. With in-house services such as a meal on arrival, breakfast delivered, private chef dining, massage and yoga, guests leave feeling relaxed, restored and rejuvenated.
Bina Maya Yallingup Escape offers a beautifully designed self-contained Luxury Villa which sleeps 2-4 guests; for couples, friends, small families. The self-contained Residence sleeps 8 guests and is ideal for families, friends and groups travelling together.

Featured stories
Bina Maya: our house in the light of the morningIt's time to reenergise in this pocket of Yallingup paradise The last few months have been tumultuous for us all. Whether you've been home schooling, working on the front line or pivoting your business, you're definitely due a break. Bina Maya, which means 'our house in...
12 Essential Summer StaysFrom beachside abodes to cosy forest retreats. Close your eyes and imagine an ideal summer scene. Smell the sunscreen, feel the sand between your toes and the warmth of the sun on the back of your neck. The salty water is lapping a few metres away, surfers are out on the break and the sound of chil...
Google Reviews
Sara is an incredible host and the accommodation and facilities were top notch! I had a wonderful weekend there with girlfriends and would highly recommend Bina Maya for a getaway down south for a few days. Belinda T
We decided to stay at Bina Maya due to our honeymoon being canceled because of COVID. I managed to find this hidden gem while browsing the internet in an attempt to rescue our honeymoon celebrations. I was literally stunned when I walked into the "Residence" I have never seen something so beautiful it looked even better then the photos how is that possible? The view there is absolutely breathtaking and the wild life is an added bonus to the whole experience. Not only is this place amazingly beautiful the whole process of self check-in and check-out is a breeze. Sara was so helpful on many occasions, one morning our car battery went flat I was super stressed about this as we had a reservation booked at a restaurant and I didn't know how on earth we would get there or how the rest of the trip would go on. Sara called us a taxi so we wouldn't miss our breakfast and while we were out sent someone to take a look at our car. By the time we were finished eating our breakfast and cheeky mimosa after a stressful morning I received a call from Sara to tell us our car is now working. To say I was impressed is an understatement Bina Maya went above and beyond to make our experience the best it possibly could and I thank them so much. I have told all my family and friends and already talking about visiting again soon! Kristina and Daniel Kristina Di Mento
Five star accommodation, in a five star location! Sara is an owner operator and has thought of every detail to make the stay the perfect retreat. The location is spectacular with the backdrop of the forest and surrounded by wildlife. This was our second stay and we shall most certainly be back! Kellie McGivern
My husband and I with 5 other couples took the residence and the villa for a 4 night stay in June. Everybody had exceptional accommodation and wanted for nothing. The beautiful kitchen meant we could self cater in style. The weather was fabulous and the firepit enjoyed on two evenings. A wonderful retreat for a group of old friends to spend time together. Friends of Cancer Council Committee
We had such a relaxing stay at Bina Maya Escape. We booked the Villa for our wedding weekend and it gave us a peaceful space to get ready in and also provided some beautiful photos. Its easy to see the amount of effort the owners have gone to, to ensure this place exceeds all your expectations and is pure luxury. I cant wait to rebook for our wedding anniversary Jennifer Ridge