COVID-19 Update for Cheers Winery & Scenic Tours
Please consider the work that the team at Cheers has gone into helping to safeguard your tour experience. Extra cleaning on buses both during tours and at the end of each days operation. A Covid Safe contact sheet of all guests on tour is prepared prior to tour departure. This sheet is handed to all venues visited and is available for tour guests. Hand sanitiser and wipes will be supplied throughout your tour. Personal bottled water (name written on). All staff have completed the AHA Hospitality & Tourism Covid-19 Hygiene Course and Covid-19 Tourism Clean as accredited by ATIC (Australian Tourism Industry Council). Most importantly Cheers has a long-standing commercial relationship with its venues. Both Cheers and its venues will collaboratively work together to get you through your post-Covid tour experience.
Cheers Winery & Scenic Tours
Monday - Sunday: 10:00am until 5:00pm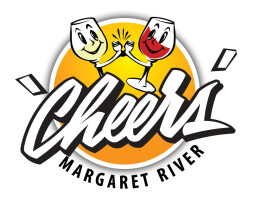 32 Hudsbeth Way, Margaret River WA 6285
Both Cheers tours offer pick up and drop off from accommodation within the Margaret River Region. YES, they will come and get you! If in doubt regarding your pickup location being within the region, please contact the Cheers team on the number provided above. Please note, that departure and drop off times are dependent on customer location within the Margaret River Region.
Door to door pick up
Private or custom tours
The team at Cheers have been exploring and sharing the Margaret River region for over 16 years. Cheers Tours are Margaret River's best-valued tour experience with tours starting from as low as $75.00.

Cheers offer a unique regional overview experience that includes expert commentary and venues that will provide you with a better understanding of what makes the Margaret River Region tick.

The team has worked hard so you get the most from your day with Cheers Winery & Scenic Tours. Cheers welcomes people from all walks of life with a thirst to explore and understand.
Cheers Winery & Scenic Tours provide you with the freedom to indulge in wines, local handcrafted brews, liqueurs and spirits whilst enjoying many other local gourmet delights - without worrying about driving or stressing about planning and finding your way. Enjoy the assurance of travelling with local touring experts in Cheers' safe and comfortable air-conditioned busses. Cheers is a local company who have proudly provided tours of Margaret River's finest wineries and food spots for nearly 20 years.

A full-day or half-day winery tour is the best way to experience Margaret River's wineries. But Cheers wine tours offer even more than tasting some of the region's most celebrated wines. Those with a thirsty palate will also enjoy local craft beers, cocktails and liqueurs while delicious cheeses, chocolates, nougat and small goods will delight the hungriest of gourmets. The team behind Cheers are a local family who has proudly provided authentic, fun and educational Margaret River tours for many years. And with pickups and drop-offs throughout the region, it couldn't be easier. Sit back and relax - let them take you on a delicious discovery of Margaret River.

Google Reviews
Our tour guide was lovely and the venues where great. Rexy Ruin
What a wonderful time we had on this tour. Terry, our tour guide, ensured that we came away with a true appreciation of wine and the Margaret River area, and had us all laughing with his great sense of humour. He had a great local knowledge of the region and it's superb products. The tour was well rounded and planned, from the beautiful wines, beers, cheeses, chocolates, venison, homemade goodies such as nougat, relishes to enjoying the spectacular drive through the area. Thank you for the best tour ever. Kathy McGinty
Top notch day. So much done in one day with THE MOST KNOWLEDGE I've ever had on a tour. I know so much about Margaret river wines and the region itself and had a lot of laughs. Me and my Wellington boots salute Chris for his humour and passion. Bang for your buck - we visited wineries, distilleries, cheese factories, chocolate factories, Venison farm and brewery! Honestly, don't mess about - book the tour thru their website - I can't even see how the company makes a profit with the hours, effort and stops made. Thanks so much for the great day! (Tom) we will remember you guys and the day we had together! 👍💖 Melissa Oxford
Great day out, we had a 7 person private tour with Juliette. She took us to some great places and was very accommodating to change the route to what our group wanted on the fly. She also was kind enough to offer a pick up service from our a wedding we were attending a few days later! Highly recommended. Mikel Watkins
Great tours better if it's a small group. Unfortunately you can't sample all the chocolate at the chocolate factory. Plenty of great wine, highly recommend. Alexander Southern