EcoAdventures Margaret River
Monday - Sunday: 7:00 AM until 8:30 PM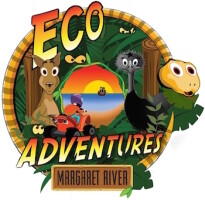 Vlam Rd, Boranup WA 6286
The tour departs from the corner of Vlam Road and Caves Road, Boranup, a 20 minute drive south of Margaret River. Please arrive 15 minutes before departure time for gearing up as tour leaves promptly on time.
Nature & Wildlife Spotting
The worlds first electric quad bike tour of the stunning Boranup Forest!

Magnificent forests of towering trees, incredible views of two oceans, megafauna and shipwrecks on iPads, drive your own electric 4WD quad bike: sound like fun?

For everyone from 4-94 years, this unique, fun and safe tour will showcase 18kms of the very best forest trails within the Leeuwin Naturaliste National Park in 90 minutes. Eco-friendly with no heat, noise, or emissions, but above all virtually silent; you can hear the birds and talk to your passenger!

5 star on TripAdvisor! Highly recommended for families. What an experience!
EcoAdventures electric quad bikes are an innovative tourism experience. An exciting and adventurous way to explore the forest of the Margaret River Region.

Departure is a 20-minute drive south of Margaret River, at the corner of Vlam Road and Caves Road, Boranup, where your electric quad bike and guide will be waiting to take you on your tour. See the forest as never before on the all-terrain electric quad bikes where you hear the forest but the forest doesn't hear you. Your fun adventure awaits you to explore the amazing Boranup Forest!
Featured stories
Family-Friendly Margaret RiverThe best things to do in Margaret River with toddlers, teens and tweens. Only two and a half hours in the car from Perth – it's easy to justify a trip to Margaret River with the family. And a trip to 'Margies' is a rite of passage for most kids from WA's state capit...
5 Adventure Tours Worth Braving The ElementsElectric quad bikes, horse riding, four-wheel driving and more. 'Tis the season of hidden adventures.  The maddening holiday crowds are gone, the landscape is a lush and verdant green, and brooks, creeks, rivers, and waterfalls are running high.  Winter is a time when you can...
Google Reviews
Great experience! Sean is very personable and has great knowledge of the winery business and history of the land including aboriginal culture. Great fun and delicious lunch! Brendan Bonetti
The best tour I've been on. Great way to explore the beauty of Boranup Forrest and a great adventure. Gary was great, would join again, and highly recommend anyone touring WA south west. Juliet Chen
It was an amazing time with beautiful scenery and loads of fun. We had my 9 year old son with us and he loved it. Fun for young and old great experience would 100% do again. Lou Lou
A great tour, very friendly and passionate but also relaxed. We went with our 7 year old son which was also not an issue. Perfect surrounding and we loved that the quads were battery powered. Axel Grossmann