Forest Rise
The Office is open from 9am to 4:30pm Monday to Fridays. Onsite Manager is available after hours with contact details provided to guests upon check in.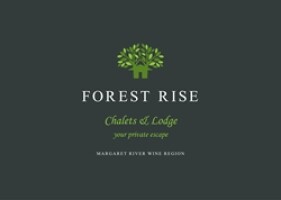 231 Yelverton Rd, Yelverton WA 6280
A 3.5 hour drive from Perth. Forest Rise turnoff is 13 km along the Bussell Hwy driving south from the Busselton bypass turnoff, towards Margaret River. They are signposted on the highway, with a big blue sign. Turn right at Yelverton Road. Central to Margaret River Wine Region.
AAA Star Ratings
BBQ area
Dryer
Fireplace (wood or gas)
Free WiFi
Kitchen
Laundry facilities
Linen included
Non-smoking rooms
Parking
Self-contained
Spa
Washing machine
Escape to the multi-award winning Forest Rise. Private and Tranquil, self contained luxury chalets secluded in forest. 240 acres of walk and bike trails with a beautiful lake, teeming with bird life. Your private escape close to world class restaurants and wineries awaits you. Isolation at it's best!
Forest Rise is centrally located in the world-class wine region of Margaret River. They are conveniently located between Margaret River and Busselton, and surrounded by many wineries, restaurants, breweries, and other local attractions.


Their Chalets and The Lodge offer the following:
**King beds
**Spas
**Full kitchen facilities
**Wood fires
**Bikes
**A personal chef experience
**Gourmet hampers
**Massage
Forest Rise Chalets Margaret River is at the forefront of eco-accredited South West accommodation. Since opening in 1998, the Retreat has earned its place as an award-winning escape for customers seeking the very best in luxury accommodation in Margaret River. Forest Rise is an eco-accredited tourism operation which is committed to the ethos, and principles of sustainable, eco-tourism. Their focus is on responsible travel, conservation of their local environment, providing interpretation and education material for their guests.
Featured stories
Your Ultimate Margaret River Wedding Venue GuideBeachfront altars, secluded forest ceremonies and lavish winery weddings. The Margaret River region is one of Western Australia's most popular options for a destination wedding. It's easy to see why: whether you're after sweeping views, a cosy and quaint farmhouse or ...
Plan Your Trip: Featured Itineraries
4 nights accommodation as selected
This itinerary can be tailored specifically to your travel dates and interests. Please contact Central Reservations on +61 8 9780 5911 or enquire below.
Design your own stay here
2 nights accommodation at Cape Lodge; home to a vineyard and one of Australia's most coveted restaurants
2 nights accommodation at Forest Rise Chalets and Lodge nestled amongst the native forest
Google Reviews
What a weekend! We booked the lodge with some friends and once we arrived we couldn't believe the place. Amazing secluded lodge in the forest, we had nobody around, such a great place to just wind down and relax. Starting with the booking, everything was so easy and Benson was such a darling accomodating to everything we wanted (organising yoga and massages for our 8 people group). We were welcomed with a pack of delicious local food and drinks, relaxing music, you could see the kangaroos jumping around the property through the window, just a dream to be honest. 110% recommended! Tania Cabanillas León
This place was a dream. The chalets were so private and peaceful and had everything we could have needed and more. An experience like no other with private bush walks, bikes provided and the most amazing bath tub. Thank you, we can't wait to come back. Larissa Fairlie
Amazing accommodation option for the region. We had 3 nights there and it was beautiful. The accommodation provides a beautiful setting, great amenities including bikes and wood for the wood fire. I couldn't recommend this place highly enough and can't wait to stay there again! Steven Richards
This place is out of this world, they have thought of everything I could of cried when I had to leave. Can't wait to come back!!!! Thank you Deb for all your help X Molly Stuart
My husband and I treated ourselves and our bridal party to the Forest Rise Chalets and Lodge for the weekend of our wedding in Yallingup Siding in October 2020. We booked the lodge and a few chalets. The lodge is beautiful. It was the perfect base for our family/friends and us to gather, get ready for the wedding and relax. The kitchen and inside and outside dinning areas are spacious and have all the cooking and serving utensils needed. The pool, spa and ensuite bathroom for every bedroom are welcome luxuries. The firepit at the lodge was a perfect spot to watch the sun go down and enjoy a glass of wine. There are loan bikes and picnic backpacks at each chalet which makes enjoying the grounds and getting between chalets easy. The staff were all very friendly and helpful. This place is magic. meagan ouwendyk