Latest News
Re-opening in October
Margaret River Stand Up Paddle
Monday - Sunday: 9:00 AM until 6:00 PM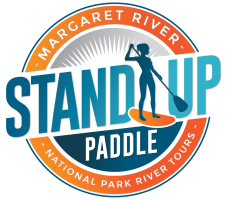 100 Bussell Hwy, Margaret River WA 6285
Nature & Wildlife Spotting

Stand Up Paddling & Canoeing
This adventurous trip will have you learning to Stand Up Paddle in the wilderness of the Blackwood River National Park. No experience necessary – it's easy! Whether it's your first time or you have paddled before, this tour is great for getting you out on the water in a safe river environment.
Tour Highlights:

• Learn to Stand Up Paddle
• Highly Experienced Guides
• Scenic Sheltered Location
• Best Quality Paddle Boards

What you'll learn:
After meeting in the Blackwood River National Park, you'll get set up with a board & paddle and an experienced guide will deliver a full safety briefing and coaching info session on the beach at picturesque Chapman Pool. You'll have the opportunity to ask any questions you might have.

Start on your knees:
Then you will set off along Chapman Brook on your knees while learning to steer or if you're already experienced you can Stand Up at this point.

Stand Up!
It's time to Stand Up and learn the basics of Stand Up Paddle technique as you reach the open stretch of the Blackwood River.

Twists & Turns:
Travel through the twists and turns of the Blackwood River as you work on your paddling skills. It truly feels like the wilderness, without a house to be seen, and there is often wildlife such as eagles, waterbirds and occasionally a kangaroo. There's a chance for a fun SUP Race for anyone who is up to it, and some fun and games along the way.

Tropical Fruit Picnic:
You've earned a chance to rest and reflect on the paddling session as you enjoy a delicious and healthy tropical fruit picnic on the beach at Chapman Pool. Then it's time to load up the boards on a custom-built trailer.

Enjoy the National Park:
Now that the tour has finished, you may want to consider some other options for activities while you are still in the national park, such as a bbq on the gas bbq's in the picnic area, or perhaps a bushwalk along the banks of the Chapman Brook. Please note that this is not part of the tour, so bring your own bbq and picnic supplies if you want to.
Featured stories
Your Ultimate Spring Bucket List30 Days and 30 Ways. Our top 30 spring bucket list experiences in the Margaret River Region There's never been a better time to tick something off your Margaret River Region bucket list. See a side of WA you've never seen and support tourism operators who are doing it tough with a Wand...
Google Reviews
We loved to learn to Stand Up Paddle in the forest. So peaceful and easy to learn because low wind and no waves. Simon was great and patient at teaching us. Nice picnic at the end and time to relax with a view over the river. Awesome! Rachmat Junaedi
Loved it! My girlfriends and I had a great time and the location is amazing. Paddling around the bends of the river and it feels like more of an adventure than other beach that I tried with SUP. Vivienne Collins
Such a great day paddle boarding and wine tasting. A must do!! Laura Morrissey
Very knowledgeable staff Thanks You