Latest News
Margaret River Tours management team has completed the COVID Safe AHA Supervisor online training course. Daily cleaning and sanitising of buses is undertaken. Onboard platter is now served in individual portions.
Margaret River Tours
Monday - Sunday: 8:00 AM until 7:30 PM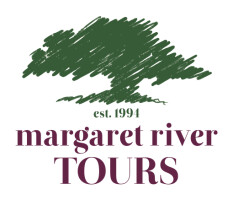 5 Carignane Ct, Margaret River WA 6285
Door to door pick up
Private or custom tours
The original and best wine tour in Margaret River, this company has more than 25 years experience and partners with some of the region's most reputable wineries to offer memorable Margaret River wine tours.

Featuring a regular itinerary that visits outstanding boutique and larger scale cellar doors, Margaret River Tours offers iconic Margaret River winery tours to their customers daily.

The tour has a limited pickup and drop off range which means you won't be stuck on the bus for hours before and after the tour.
The team at Margaret River Tours offers informative, timely and professional wine tours of distinction, every time. Each cellar door visited is ready to offer a choice selection of wines on arrival. Siit down tastings at Brown Hill, McHenry Hohnen and Voyager Estate are just part of the VIP Margaret River Tours service.
The Full Day Gourmet Wine & Dine Tour visits six wineries (Brown Hill, Leeuwin Estate, Xanadu, Voyager Estate, McHenry Hohnen and Cape Grace) and includes lunch with a glass of wine at Xanadu and the Half Day Gourmet Wine Tour visits four exceptional cellar doors and more. All regular tours include tastings of smallgoods at The Farm House, chocolate at either Margaret River Chocolate Co or Temper Temper as well as a cheese platter served onboard the bus in between destinations.

Let your friendly local guide take care of the driving while you sit back and relax into a luxurious Margaret River food and wine discovery experience.
Featured stories
Your Ultimate Spring Bucket List30 Days and 30 Ways. Our top 30 spring bucket list experiences in the Margaret River Region There's never been a better time to tick something off your Margaret River Region bucket list. See a side of WA you've never seen and support tourism operators who are doing it tough with a Wand...
Google Reviews
Julie was our driver and she was not only a friendly and informative guide, but a really lovely person! The trips to each winery were great. We went to some of the more popular ones as well as some smaller boutique wineries - which we found were even better. And a fantastic lunch at Xanadu was also included. Def worth it! Narelle Harrison
The best wine tour I have ever been on! Thank you so much Margaret River Tours. Julie (our tour guide) was incredible. Not only was she beautifully spoken and welcoming but extremely knowledgeable about the whole wine process and Margaret River region. Right from the beginning of the tour, Julie made us feel comfortable and at ease. This continued throughout the whole day, we never felt rushed, and were always looked after. It was a pleasure having her as our guide. Another of the many perks of this particular tour was the accommodation pick up and drop off. Not having to drive allowed our whole group to relax and enjoy the many delicious tastings. The selection of wineries could not have been better, and the setting for lunch was perfect. I highly recommend Margaret River Tours. Rating: Five Stars! Sam Roberts-Smith
Highly reccomend this tour they went beyond my expectations. We had a beautiful day with lifelong memories made. Special thanks to.our guide Julie who was such a fab host and full of insights. Andrew Cooper
The half day tours are perfect! You start at midday so you can have an easy morning. The guide Mark was fantastic and the wineries all had a slightly different look and feel to them which I enjoyed. Would highly recommend :) Lily North
Friendly tour guide who was very knowledgeable on the vineyards we visited. Overall great experience, would definitely go again! Tarnia Nicholls