Latest News
Wine for Dudes are fully back up and running both their daily group tours and private charters! They've introduced a bunch of new hygiene practices to provide peace of mind for their dudes on tour! Items such as frequently spraying soft furnishings (ie: seats, carpets etc) with a natural disinfecting spray, and wiping down high touch surfaces with disinfecting wipes. Although tour vehicles are exempt from social distancing practices, where possible, they are trying to limit the number of passengers in a vehicle (private charters are an exception as everyone knows each other), or using a larger vehicle than required where available, just to give ya'll a bit more space!! We can't wait to have you out cruising the vines, and sipping on delicious wines! :)
Wine For Dudes
Monday - Sunday: 10:30 AM until 5:00 PM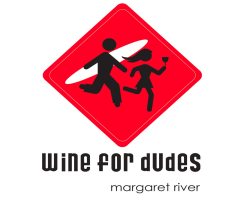 100 Bussell Hwy, Margaret River WA 6285
Wine for Dudes offer a complimentary pick up and return service from your accommodation.
Door to door pick up
Private or custom tours
Fun, Relaxed + Informative Margaret River Wine Tours!

The Wine for Dudes philosophy is simple... to remove the intimidation that often surrounds wine, making it approachable and fun for everyone!

Their daily Margaret River Wine Tour includes:
- 4 Award-Winning Boutique Wineries
- 2 Gourmet Food Producers
- 1 Local Micro-Brewery
- Exclusive Wine Blending Experience!
- Delicious Lunch at renowned Rustico at Hayshed Hill winery!
- Legendary wine experts behind the wheel!

Wine for Dudes are boutique winery specialists focusing on providing a more personalised local story, with incredible drops of wine!

"2019 Margaret River Business of the Year!"
Wine for Dudes Wine Tours Margaret River have been cruising the vines of the spectacular Margaret River Wine Region since early 2003! Not just for dudes... they love their dudettes too! Wine for Dudes offer a more relaxed experience in comparison to some of the more pretentious Margaret River wine tour services; with a goal to ensure guests have loads of fun, visiting some of the best and most exclusive wineries, tasting quality wine, while still learning loads about wine and the stunning Margaret River Wine Region!

The Margaret River wine region is home to over 150 wineries, from boutique family owned and operated wineries, right through to wineries who dominate as world class wine producers. When you travel with Wine for Dudes you will often get the opportunity to meet the winemaker and their family, and discover some of the hidden gems in the Margaret River Wine Region!

Established in 2003, Wine for Dudes have made some fantastic contacts (and friends) in the local Margaret River wineries, breweries and food producers, meaning Wine for Dudes passengers get a more exclusive and unique wine tour experience, and often a better deal when it comes to purchasing some of the tasty goodies from the Cellar Doors and retail outlets.

Wine for Dudes is a highly awarded tour operator, and have been acknowledged as leaders in their field, taking out a number of local, regional and state industry awards. Wine for Dudes continues to strive to provide the best wine tour experience for the awesome dudes and dudettes they have onboard every day, by mixing it up with fresh ideas, different venues and unique opportunities for their guests which can include barrel tasting, wine blending and gourmet lunches!

The idea of Wine for Dudes wine tours initiated in Europe, when the previous owner was working in Italy. In Italy... wine is for everybody! Go down to a local restaurant around lunch time and you'll see that it is booked out with tradesmen having a two course lunch and sloshing it down with wine – everyday! It is a beautiful way to live, yet it is something that often only business people enjoy on a Friday afternoon here in Australia.

The team at Wine For Dudes believe wine should be simple, fun, approachable, and a part of everyday life! Having a good time with wine, rather than using it for status! It's not just for special occasions, it should be incorporated into how we live. Basically speaking, Wine for Dudes endeavour to keep it honest. Wine for Dudes was created to break-down the intimidating barriers, often influenced by a higher society, that prevent people from really enjoying wine on a day-to-day basis.

Regardless of if you're a wine-buff or someone who sees wine as "wine comes from grapes, and grapes are healthy...right!" - when you jump on-board a Wine for Dudes Wine Tour and journey through the spectacular Margaret River wine region, not only will you enjoy the relaxed and fun atmosphere, but you will also have a quality and informative experience that is catered to everyone!
Featured stories
Your Ultimate Spring Bucket List30 Days and 30 Ways. Our top 30 spring bucket list experiences in the Margaret River Region There's never been a better time to tick something off your Margaret River Region bucket list. See a side of WA you've never seen and support tourism operators who are doing it tough with a Wand...
Google Reviews
Really enjoyed our tour! From the moment we enquired about the tour, the company replied and came up with a great itinerary. Our guide Aidan, was incredibly knowledgeable and fun! Great day out. Thanks Nicola Heyes
We were a large group that was taken care of fantastically by the Wine for Dudes team. They were so helpful though the booking to make sure that we had a bus and also another car to bring us around. I was on the bus with our guide Matt, who made sure that we had a great time. And kudos to him for not only allowing us to play our music but also singing along with us all. I cannot thank Wine for Dudes and especially Matt enough for helping to create a day to remember! Ronnie Walker
We had a fantastic day touring the Margaret River region on our little wine tour. The boutique wineries we visited were perfect for our group &we loved every one of them. Nothing was too much trouble right from our first dealings with Kerrie & Kim through to Aiden (our tour guide) who was fantastic - knowledgeable, fun & accommodating. Would definitely recommend this company for a great day out. Raelene Ekert
First time reviewer, first time on the wines, local Legend Jon brought the journey to life. I thought I was in for just a good time but I left with knowledge, a new found love and appreciation for wine. Jordan Goodfellow-Mcmanus
Highly recommend a tour with Wine For Dudes! We had an epic day with our tour guide Johno who took us to some incredible wineries and breweries. We will definitely be back :) Madde Osborne