Bettenay Wines
Monday - Sunday: 9:30 AM until 5:00 PM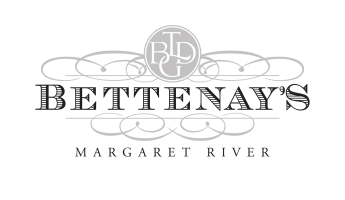 248 Tom Cullity Dr, Cowaramup WA 6284
BBQ
Bar
Brunch
Buses Welcome
Coffee/Tea
Free Tastings
Free WiFi
Gluten Free
Group Bookings
Licensed
Outdoor seating (beer garden, alfresco)
Private function or dining room(s)
Rainwater Harvesting - Fully
Seated Tastings
Solar Powered - Partial
Cellar Sales

Brewery & Winery that offers Cellar Sales.
Bettenay Wines is a family vineyard established in 1989. Producing premium wines onsite using traditional winemaking methods. Their range includes Chardonnay, Cabernet Sauvignon, Shiraz, Merlot, Sauvignon Blanc Semillon and many more.
Bettenay Wines is part of the Bettenay's Margaret River experience. Located in the heart of the Margaret River wine region and surrounded by some of the best beaches and wineries in the world.

Bettenay's Margaret River offers wine, nougat and liqueur tastings. As well as an opportunity to brunch with the owner as part of their nougat + wine matching experience.

The site was planted in 1989 with Cabernet Sauvignon, Merlot, Semillon, Sauvignon Blanc and Chardonnay. Later plantings of Shiraz and Cabernet Sauvignon were established in 1997. The property now boasts 25 acres under vine with the excess grapes being highly sought after by neighbouring wineries.

The Bettenay's look forward to welcoming you to their family vineyard.
Google Reviews
Great shop, it was my second time here. Amazing range of nougat. Liquors were nice too. They are expanding outside so I look forwards to that space being ready. Great view over the lake. Markus
Such a fantastic place. Wonderful friendly service. Great view, wine, nougat 🤤 Nicci Italiano
Delightful host with delicious nougat and lovely wines. Managing the tastings well. Thank you Rachel Sheffield
French nougat that is expensive but definitely worth it. There are many flavours to discover as well! Greg is a friendly host who is prepared to have a laugh or conversation with the guests. cy ka
Great coffee, great service, beautiful nougat. Thanks. Will be back next time. Jodie Douglas