Mandalay Holiday Resort
Monday - Sunday: 8:00 AM until 8:00 PM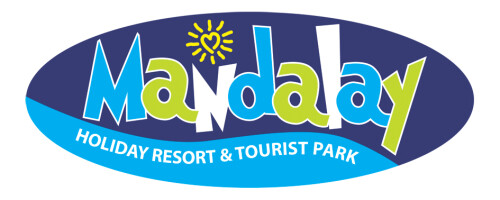 652 Geographe Bay Rd, Broadwater WA 6280
Four kilometres from the Busselton town centre traffic lights, along Bussell Highway, turn right into Lockhart Street, then left onto Geographe Bay Road.
BBQ area
Camp kitchen
Dryer
Dump Point
Free WiFi
Game room
Fireplace (wood or gas)
Laundry facilities
Linen included
Non-smoking rooms
Playground
Pool - indoor
Pool - outdoor
Washing machine
Seaside holidays for families to suit every taste.

Beach cottages and villas overlooking the water with access to heated swimming pools (one indoors), waterslide, playgrounds, giant jumping pillow, games room, shop, indoor barbecues, camp kitchen, wifi and adult bike hire.

Self-contained 2 and 3 bedroom chalets are available (some with spas), or choose from the studio cabins and luxury glamping tents.

Shady, grassed, powered sites and ensuite sites are provided for caravans, camping and motorhomes.
Mandalay is situated four kilometres west of Busselton, off Bussell Highway, right opposite the beach. Geographe Bay is a 70-kilometre long, sandy beach with a northerly aspect which means the water is mostly calm. It is ideal for swimming, snorkelling, paddle boarding, fishing, crabbing and beachcombing throughout the year.
Mandalay is connected to town by cycle-ways which run along the beach. Enjoy a variety of local retailers, restaurants, museums, art and craft shops. Visit the beautiful foreshore precinct and walk the iconic two-kilometre long Busselton Jetty, or catch the jetty train to the Underwater Observatory. The vineyards of the Margaret River Region, surf beaches and rugged coastlines, such as Yallingup and Cowaramup Bay, are all within an easy drive from Mandalay.
Mandalay Holiday Resort Busselton proudly caters for all the family. They know that to make your holiday perfect you want everything you need to hand and have an incredible range of facilities to ensure all your needs are satisfied. Mandalay Holiday Resort is perfect for everyone, whether you just want to relax at the resort or use it as a base for your adventures. They look forward to welcoming you!

Mandalay has an RV Dump point open to the public for $5.
Featured stories
How To: Discover the Sapphire Blues of Geographe BayWhere to stay, eat and play along this most picturesque bay There is nowhere else I'd rather be, nothing else I would prefer to be doing. I am at the beach looking west with the continent behind me as the sun tracks down to the sea. I have my bearings. – Tim Winton ...
Plan Your Trip: Featured Itineraries
6 nights accommodation for two adults & two children
1 x whale watching tour for the whole family
1 x wine tasting experience
Lake Cave and Jewel Cave passes
Google Reviews
We stayed in a a chalet and it was clean, tidy and welcoming. The facilities are spotless, the staff are friendly and there's so much for the kids to do. Loved the food vans as well it meant we didn't have to leave the park if we didn't want to! Fantastic family holiday spot and we will be back :) Kathleen Gianoli
We love coming to the Mandalay Fantastic resort family friendly and staff are more than happy to help and assist in whatever you need. Check in was very easy, they have a great mini shop. Great pools, facilities extremely clean Chalets are fantastic, everything fully supplied. Air conditioning/heating This chalet was great for my daughter as she at times needs a wheelchair. Has ramps and huge shower and plenty of room inside. pink lady
First time at Mandalay with friends. Staff grouped us together. Staff communication from booking to checking out was excellent service. Children had a blast with pool and park facilities. Ensuite bathroom is new and clean. Highly recommended for family getaways. Edwin Ho
Fabulous, fun, well-equipped resort! We had a ball. The location was great and the accommodation and facilities super clean. Added bonus of food trucks and small shop at reception. Lovely staff and beautiful grounds. Thank you for a fantastic holiday:) Sophie
Very clean, well equipped chalet. Grounds well maintained. Staff friendly and helpful. Good location near the beach and close to town. Third stay didn't disappoint. Will be back. Gabrielle McCulloch