Caves House Hotel & Apartments
7 days a week. Reception available 7am - 5pm.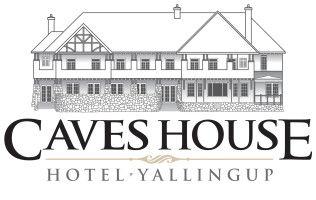 18 Yallingup Beach Rd, Yallingup WA 6282
BBQ area
Bar
Breakfast included
Conferencing & Meeting Rooms
Fireplace (wood or gas)
Free WiFi
Parking
Restaurant
Water
The heritage-listed Caves House Hotel and Apartments offers a choice of accommodation from budget rooms to luxury suites and self-contained apartments (formerly Sea Shell Apartments).
Each room features a small refrigerator, flat-screen TV and tea/coffee making facilities. All include an ensuite bathroom with a shower. Some selected rooms include a fireplace and some suites feature a spa.
The property boasts free WiFi, bar and restaurant offering 3 different dining areas including al fresco dining and fireplaces. There is free live music at the hotel, 7 nights a week.

Originally built in 1903 by the Government of Western Australia, it provided accommodation for visitors to the newly opened caves nearby.
Caves House Hotel is also the ideal wedding & functions venue with beautiful heritage-listed gardens, glorious art deco styling all just a stone's throw away from pristine beaches, the famous Nigili Cave and award-winning vineyards.

Google Reviews
It's a nice spot with attentive service. We shared a fish n chips but frankly wouldn't order it again. It was too oily and the oil wasn't a good one. Rose was nice. Perhaps try a different dish. 😗 Sharka H.
Just a beautiful old pub with a modern interior. Great food! I highly recommend this hotel for a get away, party or wedding Ross Vaughan
Beautiful grounds, historic hotel that's well kept. Staff friendly and accommodating. food was great. Friendly relaxed atmosphere with plenty of outdoor activities. Would stay again. Power Plex
Certainly the Icon of Yallingup as described by national tourism reviews. Neil and Libby who own the property will bend over backwards to service their customers and guests. Fantastic food, great service in pristine and glorious surrounds. Do yourself a favour and get down to Caves House in Yallingup. Josh Hyde
It caters to a variety of people. There is a causal atmosphere and then there is a area inside and towards the garden section where it is situated in front of a beautiful cascade of trees and plants. You can through stroll the path all the way or even stand still and take many deep breaths with all of the trees, flowers and small wildlife animals. Especially when they all flower. It really can take your breath away with her beauty. Emma Bennett