COVID-19 Update for The Horse Resort
For the safety of our staff and clients and in keeping with the current social guidelines, for now we are leaving our horses in their paddocks, but we will be open again as soon as it is deemed safe for us to do so.
The Horse Resort
Open every day by appointment only. Feel free to ring or email us to make a booking.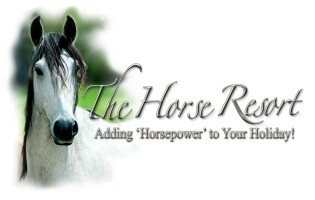 If you wish to visit The Horse Resort, please contact the team to arrange an appointment. Directions will be given with your booking.
The Horse Resort is all about the horses - and helping to add "horsepower" to your holiday!

Operating on a 300-acre sheep and horse farm located in the pristine Margaret River region, The Horse Resort is a great opportunity to experience the outdoors. So whether you are young or old, a beginner or an experienced rider, their rides can be enjoyed by all the family.
Located in the beautiful Margaret River wine region, The Horse Resort offers a unique trail riding experience with accredited guides and well-trained horses in a beautiful part of Western Australia. Each ride is escorted and includes coaching on how the horses operate allowing you to 'take the reins' and move about more freely during the ride (as opposed to the more traditional nose-to-tail).

Their clients say it best: "The whole experience was super. Your horses are divine, in such beautiful condition and everything about your business is so professional and thorough. I've ridden at many trail ride businesses across Australia and The Horse Resort is well ahead of the rest." Mel

Featured stories
5 Adventure Tours Worth Braving The ElementsElectric quad bikes, horse riding, four-wheel driving and more. 'Tis the season of hidden adventures.  The maddening holiday crowds are gone, the landscape is a lush and verdant green, and brooks, creeks, rivers, and waterfalls are running high.  Winter is a time when you can...
Google Reviews
loved this place. I went with my dad who hasn't ridden for a few years and we both loved it. Horses were lovely and well looked after. Bailey and Murri were great horses who looked after us. We even had a race through a field. One of the best trail rides I have ever been on. Tanayah Reynolds
This was truly the most perfect and organic trail riding experience I have ever had. The horses are healthy, happy, bitless and shoeless, they socialise together beautifully and live out in the beautiful Margaret River surrounds. Camille and Celeste were knowledgable, encouraging and created a really positive environment for the different levels of rider. Everyone was accommodated for and I got the opportunity to have a real canter across the open land which felt amazing! (Along with scenery of their baby lambs and alpacas!). The training here speaks volumes in the way the horses behave and interact with each other and the rider. I can't wait to return one day! Charlotte Acreman
Fantastic two hours ride with two kids, the set up is very safe and the warm up very useful to get some confidence, the tour is very nice also, the ranch is beautiful! The staff is genuinely lovely and qualified. Totally recommended! Raphael Couble
Great experience! Will definitely be back again. Adele Potgieter
The best trail ride operator in WA (although their expertise lies in training horses at liberty and teaching horse owners the art of horsemanship with kindness & understanding). The trail ride horses are beautifully well treated and well trained. Every rider, regardless of experience, receives a safety and basic riding instruction session before taking a guided ride through the lovely paddocks & bush trails of the property. It's a very safe and well controlled environment but also a ton of fun with the freedom to ride at your capability level. No bits, no kicking, just beautifully trained responsive horses. It's an absolute joy to ride at this lovely location. Karen Walsh