COVID-19 Update for Busselton Visitor Centre
The Busselton Visitor Centre will re-open Monday 18th May to welcome visitors. Local experts will be available 7 days a week from 10.15am - 2.45pm. All staff have undertaken specialist Covid-19 hygiene training and will be cleaning and santising high contact areas on a regular basis. Please respect social distancing guidelines for staff and other visitors.
Busselton Visitor Centre
Monday to Sunday 10.15am - 2.45pm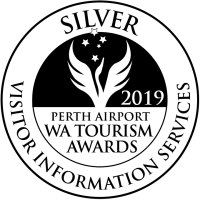 17 Foreshore Parade, Busselton WA 6280
The Busselton Visitor Centre is located on the Busselton foreshore near the Busselton Jetty. Access and ample parking is available at the beach end of Queen Street or via the Goose Cafe carpark accessed from Geographe Bay Rd. Alternative route for Caravan/camper Access: We suggest that caravan or large vehicles access the foreshore via West Street or Brown Street.
Busselton Visitor Centre is located on the beautiful Busselton Foreshore next to the famous Busselton Jetty. It is a must stop as Busselton is the entry point to Your Margaret River Region and our consultants can assist you to plan your itinerary through the region. Drop in to pick up your FREE Regional Magazine and Map.
We offer a free, real-time booking service for all the best accommodation and touring options throughout the region.

Whether you are a regular to the region or a first time visitor, no trip is complete without a stop by the award-winning Busselton Visitor Centre.

For all the great things to see and do in the region, plan your itinerary or book Accommodation or a Tour, speak to the local experts! Our staff are passionate about their town and the fantastic region they live in.

Busselton Visitor Centre offers a comprehensive accommodation, tour and transport booking service, friendly local advice on the best things to see and do in the region, and a great range of local gifts and souvenirs.

Arriving and not wanting to travel too far?
A local wanting to stock up on the regions delicious essentials?
Sending a package to loved ones?
We have it covered!

A large range of the best gourmet and local products. From cheese, jam, fudge, chocolate, olive oil, pottery, relish, soaps and SO much more.

Drop in to pick up your FREE Regional Magazine and Map.

Travelling further afield? Did you know we can book you anywhere in Australia specialising in the South West Corner?

Are you planning a trip to the region for a conference, sporting event or special occasion?

Take advantage of our FREE booking service and leave the hard work to us. The expert staff at the Margaret River Busselton Tourism Association have a detailed knowledge of more than 260 accommodation properties with a diverse range of conference and function facilities and can secure great rates for groups of 10 or more. We also offer tailored touring options to suit your needs and budget. Contact our dedicated groups expert today.
Google Reviews
Very impressive.I have rarely seen a better local visitor centre anywhere ( Australia or overseas ). It's big enough for its purpose, beautifully maintained ( and curated - it's like a mini museum ). The steam locomotive is a work of art! The whole Busselton waterfront surrounding the jetty is simply magnificent - there is nothing in Perth to compare. Greg Marusic
Well arranged with a small but fascinating museum showing the history of railways in the area. The extensive network was put in place to support the local timber industry which exported through Busselton Jetty. The staff were pleasant and there is lots of information about local attractions. Certainly worth a look if you are in the area. Gregory J Smith
Good range of merchandise and some nicely different items to the jetty shop. Staff were very pleasant and helpful. Russell Willans
Great source of information, very helpful staff Kerrie Lane
Very helpful lady ,she put her self out to help me with all my inquiries very helpful and lovely lady Kev Deveney