Latest News
Until school holidays we will only be open weekends from 10am to 3:30pm. Please check our web page for updated opening hours. Book now to avoid disappointment!
Next Level Monkey Business
Monday: 10:00am until 4:00pm
Tuesday: Closed
Wednesday: Closed
Thursday - Sunday: 10:00am until 4:00pm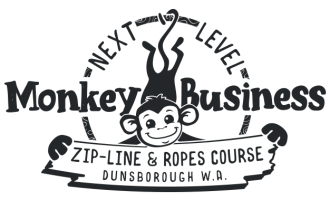 1710 Caves Rd, Dunsborough WA 6281
Travel west from Dunsborough to Yallingup on Caves Road. Find them next door to Country Life Farm and in through the same entry as Clancy's Fish Pub.
High Ropes & Rock Climbing & Zip Lining
Next Level Monkey Business is a brand NEW zipline and ropes course in between Dunsborough and Yallingup. Situated in an idyllic setting amongst the beautiful trees in a valley at Clancy's Fish Pub.

Monkeys of all ages can choose their level of excitement, whether it's the Mega Zip 100 meters across the lake, the Tree Huggers zipline course, the Mini zipline course or the entire monkey business experience. Fun for all ages. GIFT Vouchers available!
Next Level Monkey Business is a high ropes and zipline course created for the enjoyment of all age groups. It helps push personal boundaries, tests the skills of each unique individual and pushes them to the 'Next Level' as the name suggests. Outdoor entertainment that not only enhances hand-eye and gross motor physical coordination but allows the spectators following you to cheer you on.

The zipline, ropes and obstacle courses challenge even the most confident little monkeys. There are swinging bridges and balancing obstacles, twisty ladders and tiny tunnels, hanging poles, climbing walls, ziplines and a gigantic climbing wall. The unique 100+metre long Mega Zipline across the lake and the zipline course through the treetops are a must for all Great Gorillas craving that extra adrenaline rush and amazing sense of achievement.

The perfect venue for birthdays, school excursions, corporate groups & Christmas parties
Featured stories
How To: Keeping Teenagers BusyIt's an opportunity for a different kind of Margaret River region escape. When a proposal of wining and dining is met by whining and declining from your resident adolescent, consider this an opportunity for a different kind of Margaret River region escape. A geography that makes for exceptiona...
Google Reviews
Took my 6yr old girl and we had a very memorable experience. The staff were very friendly and helpful from start to finish. The courses started easy but soon became very challenging. The staff were encouraging but not pushy. It can be considered expensive if you only have a short while to stay.. we lasted about a half day and it was absolutely worth it. Lucas Matacz
Family had so much fun here and definitely worth a stop off if In the area or staying nearby. They have something for everyone, so young kids can do right up to adults on the more difficult course. The play forms are really high but it didn't deter the kids who had an awesome time. The staff are really helpful and friendly and assist if your struggling with anything. Very safe with all the safety gear and cables that you attach too as you move around the course. They have a little cafe to get food and drinks which is nice, but you can also get into Clancy Fish Pub from the venue. Next time I'll get a cheeky beer and watch from the back veranda whilst the kids are having fun tipping along on the Zip Lines! Robbie Graham
A thrillingly fun rope course with levels of difficulty ranging from the relatively easy (for young children and less able adults) to the spine tingling. Fun zip lines, a lovely scenery, and top notch safety measures. What's more the staff is welcoming, engaging and genuinely friendly. A great find. Tom Collin
Fantastic! Visited on on a Saturday afternoon, We were met by a fantastic staff member who was so helpful,Nothing was too much trouble. Staff were always watching what was happening with the visitors, watching the kids ect. Facilities were beautifully maintained ,and the climbing ,zip lines ect,were all well maintained and modern. We will be back again shortly. Value for money and have no bother recommending it to anyone. Brilliant!. Great work!!.Thanks again for a fantastic visit. josh davis
Great fun for whole family. Kids and adults all had an absolute ball! Thoroughly recommend Trace B