COVID-19 Update for Vasse Felix
The Vasse Felix Estate has now reopened with amended opening hours for the Cellar Door and Restaurant. The Cellar Door is open daily 10am - 5pm for tasting experiences. The Restaurant is open Thursday - Monday 12pm - 3pm. Restaurant bookings are highly recommended.
Vasse Felix
Monday - Sunday: 10:00am until 5:00pm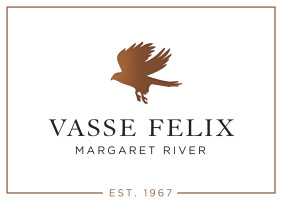 Caves Rd & Tom Cullity Drive, Margaret River WA 6284
Vasse Felix - Margaret River's founding wine Estate.
Established in 1967 by regional pioneer Dr Tom Cullity, Vasse Felix is Margaret River's founding wine estate. Unrivalled experience as a vigneron in Margaret River, with its pristine isolation, ancient lands and twin oceans has led Vasse Felix to adopt organic principles across its four vineyards. This builds upon the Estate's reputation for minimal intervention and 'small batch' winemaking, as an intuitive progression to achieve Dr Tom Cullity's original aim, 'to make the best possible wine'.
Everyone is welcome to visit the Vasse Felix Estate. Curate your experience with options such as tastings at the Cellar Door, wine by the glass in the Wine Lounge or a long lunch in the acclaimed Vasse Felix Restaurant.
Wine Experiences - Cellar Door
Open daily 10am - 5pm, the contemporary Cellar Door offers Hosted Tastings at the bar, private tasting experiences and more. Wines by the glass and a menu of gourmet grazing items are available in the Wine Lounge Thursday - Monday.
Restaurant
Open for lunch service 12pm - 3pm, Thursday - Monday, the Vasse Felix Restaurant is one of Australia's most awarded destinations and has been noted as a benchmark of its kind by leading critics. The modern menu showcases superb regional produce in a contemporary, wine-focussed style. Lunch reservations are recommended.

The Estate also features a wine museum and art gallery where a seasonal program of exhibitions from the celebrated Janet Holmes à Court Collection is shown.
Bookings are highly recommended.
Google Reviews
Always a great place to visit and enjoy professional service and delicious modern thoughtful food. Go for a tasting for sure but also book a table because it's great. Even though it's a bit posh, still kid friendly. Can't fault the food, every time. Last visit I especially enjoyed the black pudding bun. Matthew Richards
Very nice winery! Clean & well-maintained location! The wine tasting was $10 at the time of our visit and extra $ for some of their best wines. The staff was very friendly! Tastings were well portioned and the worker that served us was quite knowledgeable and she made our visit more enjoyable. Joseph
Had a wonderful visit this morning. The lady who helped us was extremely friendly and knowledgeable. A credit to herself and Vasse Felix. The grounds are beautiful and the vault and museum are very interesting. We will be back and recommend this place for a friendly, relaxing and enjoyable experience! Liam Birch
Booked in for a tour and tasting for my parents who were visiting West Australia and travelling around the Margaret River region. The whole experience received at Vasse Felix was incredible and they really put a huge amount of effort into everything they do. We were looked after by Evan and he was extremely knowledgeable about the wine, the production, the history and the area itself. He was very thorough in explaining everything and made the day very special. I would highly highly recommend a visit to Vasse Felix and doing a tasting/tour as I can't imagine receiving the same level of treatment at another vineyard. We also ate upstairs and the food was top class...try it for yourself! Special mentions to Tim and Chef Brendan for their time too 🙏🙏 stephen dervin
From the moment we walked into the Cellar Door we were treated like Royalty. For the entire day, we were escorted by the amazing Evie who was a consummate professional through the whole experience. My Wife and I did the Epicurean Tour, we were first taken to the Cellar Door and saw the private collection and given a brief history of the winery. We then walked through the vines learning the finer points of Viticulture followed by a tour of the bottling/barrel facility. We were able to chat to the White Wine maker, the "sous chef" to the chief wine maker. She was knowledgeable and able to share her vast experience with some wine "newbies". We were then taken on a guided tasting through the Red and White selection which incorporated wines from their Fillius and Tom Cullity range. Lunch was beyond delicious, the wines matched each of the five courses. We met the head Head Chef who talked us through much of the local produce. Overall the price may seem steep but when you consider that you are guided through food and wine at one of the founding wineries in the region over an entire day its a deal, its a steal, its sale of the century. Thank you again to Evie and the team for making our first day in WA unforgettable. Nick Conner