COVID-19 Update for Vasse Felix
As a precautionary measure here at Vasse Felix, we have reduced our tourism exposure over the coming weeks. Temporary closure of the Restaurant and Art Gallery, and amendment to our Cellar Door offering are in effect as of Saturday 21st March 2020. You are welcome to visit us with a prior appointment for a private tasting, by phoning (08) 9756 5000.
Vasse Felix
As part of Government guidelines to halt the spread of COVID-19, there is limited business activity taking place in the region at this time. Please see our Essential Services page for details of businesses which are continuing to operate. You can also contact the business directly or get in touch with a local expert via

[email protected]

/ (08) 9780 5911.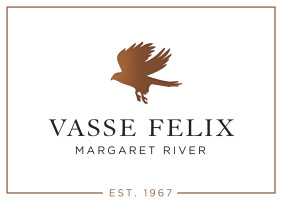 Caves Rd & Tom Cullity Drive, Margaret River WA 6284
Cnr Tom Cullity Drive & Caves Road, Cowaramup, Western Australia 6284
Vasse Felix is Margaret River's founding wine Estate. The contemporary Vasse Felix Wine Lounge offers the chance to relax by the fire overlooking the Margaret River's pristine landscape and the region's oldest vines.
Vasse Felix was established in 1967 and is Margaret River's founding wine Estate.

The Vasse Felix Cellar Door, Restaurant and Art Gallery take in sweeping views of the Margaret River's pristine landscape and the region's oldest vines. Everyone is welcome to indulge their senses with the internationally acclaimed wine and cuisine at Vasse Felix or partake in behind-the-scenes tours.

Vasse Felix focuses on Margaret River's strengths of Cabernet Sauvignon and Chardonnay, along with Semillon Sauvignon Blanc blends and Shiraz. All current vintage wines are available to taste from 10am to 5pm daily. Or enjoy a glass of wine or wine flight in the contemporary Vasse Felix Wine Lounge. Design your own wine flight or taste through a selection of deli-inspired gourmet morsels.

The Vasse Felix Restaurant is one of Australia's most esteemed dining experiences and offers a beautiful setting to indulge in regional flavours, textures and creative cuisine. Dishes are created from local, seasonal produce, to compliment Vasse Felix wines. The menu is modern Australian and draws inspiration from international preparation techniques, fused in a unique Vasse Felix / Margaret River style.

Featured stories
6 nights' accommodation in two stunning locations with Bettenay's and Redgate Forest Retreat
Didgeridoo performance deep inside the remarkable Ngilgi Cave
A fun and fascinating personalised tour with All About Margaret River
A visit to Eagles Heritage to witness these amazing creatures in flight
2 nights accommodation at Cape Lodge; home to a vineyard and one of Australia's most coveted restaurants
2 nights accommodation at Forest Rise Chalets and Lodge nestled amongst the native forest
Google Reviews
Booked in for a tour and tasting for my parents who were visiting West Australia and travelling around the Margaret River region. The whole experience received at Vasse Felix was incredible and they really put a huge amount of effort into everything they do. We were looked after by Evan and he was extremely knowledgeable about the wine, the production, the history and the area itself. He was very thorough in explaining everything and made the day very special. I would highly highly recommend a visit to Vasse Felix and doing a tasting/tour as I can't imagine receiving the same level of treatment at another vineyard. We also ate upstairs and the food was top class...try it for yourself! Special mentions to Tim and Chef Brendan for their time too 🙏🙏 stephen dervin
From the moment we walked into the Cellar Door we were treated like Royalty. For the entire day, we were escorted by the amazing Evie who was a consummate professional through the whole experience. My Wife and I did the Epicurean Tour, we were first taken to the Cellar Door and saw the private collection and given a brief history of the winery. We then walked through the vines learning the finer points of Viticulture followed by a tour of the bottling/barrel facility. We were able to chat to the White Wine maker, the "sous chef" to the chief wine maker. She was knowledgeable and able to share her vast experience with some wine "newbies". We were then taken on a guided tasting through the Red and White selection which incorporated wines from their Fillius and Tom Cullity range. Lunch was beyond delicious, the wines matched each of the five courses. We met the head Head Chef who talked us through much of the local produce. Overall the price may seem steep but when you consider that you are guided through food and wine at one of the founding wineries in the region over an entire day its a deal, its a steal, its sale of the century. Thank you again to Evie and the team for making our first day in WA unforgettable. Nick Conner
Very nice winery! Clean & well-maintained location! The wine tasting was $10 at the time of our visit and extra $ for some of their best wines. The staff was very friendly! Tastings were well portioned and the worker that served us was quite knowledgeable and she made our visit more enjoyable. Joseph
Exceptional experience. Fantastic service and a the highest quality wines. Our visit was the highlight of our trip to the Margaret river. A comfortable and elegant tasting room with plenty of friendly and knowledgeable staff. We ended up leaving with great advice on local places, substantially more wine than we planned to buy and smiles on our faces. Jeremy B
Brilliant! The venue is amazing and the staff are very friendly. The tastings are 11 wines long, from reds to whites, rose to desert wine so make sure you have a DD. The vault is fun to walk into underground and have a read of the history of the building and Dr Tom himself. Food options are amazing and the view is worth pulling up a blanket under the sun for. Worth a stop Michael Milligan