Close your eyes and imagine an ideal summer scene. Smell the sunscreen, feel the sand between your toes and the warmth of the sun on the back of your neck. The salty water is lapping a few metres away, surfers are out on the break and the sound of children playing drifts by on the sea breeze. Maybe you've even got a cheeky glass of chardonnay in hand.
There's no need to travel far to turn this vision into reality – just jump behind the wheel and in 3 hours from Perth you'll hit your spot.
The Margaret River region is an iconic destination for summer holidays with good reason: it's all here. Crystal clear beaches, untouched kilometres of white sand, cool walking trails through national forests and countless wineries await with a crisp glass of white.
Here are twelve accommodation picks to suit you, from beachside escapes to cosy farmhouse stays.
The view of Gnarabup Bay from Kilifi Beach House.
Sea Breezes
Kilifi Beach House
Fall asleep to the sounds of the ocean at Kilifi Beach House, and wake up with a panoramic view of the waves crashing. Gnarabup is a haven for locals and visitors alike – once settled in here you'll never want to leave. The solution for eco-conscious travellers, Kilifi ticks plenty of boxes for sustainable travel. Thanks to a solar and battery system, the electricity supply now operates at net zero carbon emissions. Electric car? No problem, here you've got an electric charger for it. You'll be able to enjoy your holiday knowing the environment is being cared for.
Out of the Blue
Nothing says summer like a trip to the beach. Just a stone's throw from the lapping waves, the classic beach house Out of the Blue is one of the stunners in the Private Properties portfolio of holiday homes. Turn off the alarm clock and let days drift into evenings, breakfast merge into lunch and sunset drinks roll into nightcaps. A two storey home with ocean view from almost every room, the sandy shores are literally only a stroll over the lawn away. You can't get closer to a seaside holiday than this.
Roozen Residence
If summer equals surf then the Roozen Residence is the ultimate abode to scope out the swell from. With 180 degree views of the ocean, you won't even need to leave your bed to see how the action looks at Prevelly's famous breaks. This really is a property that shouts "luxury" from every corner. Three king size bedrooms mean there is plenty of space to share with other beach-loving holiday makers. Of course, it's perfectly acceptable to indulge in all of these delights on a romantic escape for two – the toughest decision will be how to take it all in without falling asleep to the gentle sound of crashing waves on a lazy afternoon.
A stretch of coastline to yourself at Abbey Beach Resort.
Resort Relaxing
Abbey Beach Resort
Smack bang between Dunsborough and Busselton sits the luxe Abbey Beach Resort. Select from one of their fully serviced studios or apartments, kick your shoes off and pour an ice cold drink. You'll have all the amenities that you could wish for including a restaurant, café, indoor and outdoor pools, tennis and squash courts, a sauna and gymnasium. Though who needs to run on a treadmill when out the door you have endless kilometres of soft white sand to sink your toes into?
The Break
Want to stroll to the beach, dip in the pool on your doorstep and pop around the corner to the local for a beer and a bite for dinner? Then The Break from Margaret River Beach Houses is your best bet this summer. Each house is fully self-contained and self-catering so you'll feel right at home whether it's a girls retreat, a kid friendly holiday or a couple getaway. You can even book them all out and have a holiday to remember with the entire extended family. Situated among some of Margaret River's best surf breaks, it's easy to duck out for a paddle and be back before the morning brew.
Martin Fields Beach Retreat
If you like to be looked after when you're on holiday, Martin Fields Beach Retreat combines beach views with a personal touch. A lovingly looked after bed and breakfast, you'll have ocean, river and garden views to wake up with alongside a full cooked breakfast. Based in the historic area of Wonnerup, just ten minutes from Busselton and a world away from the bustling town centre, you can fill up at the breakfast table, grab a coffee and head out for a day at the beach. Sounds like a perfect summer break, doesn't it?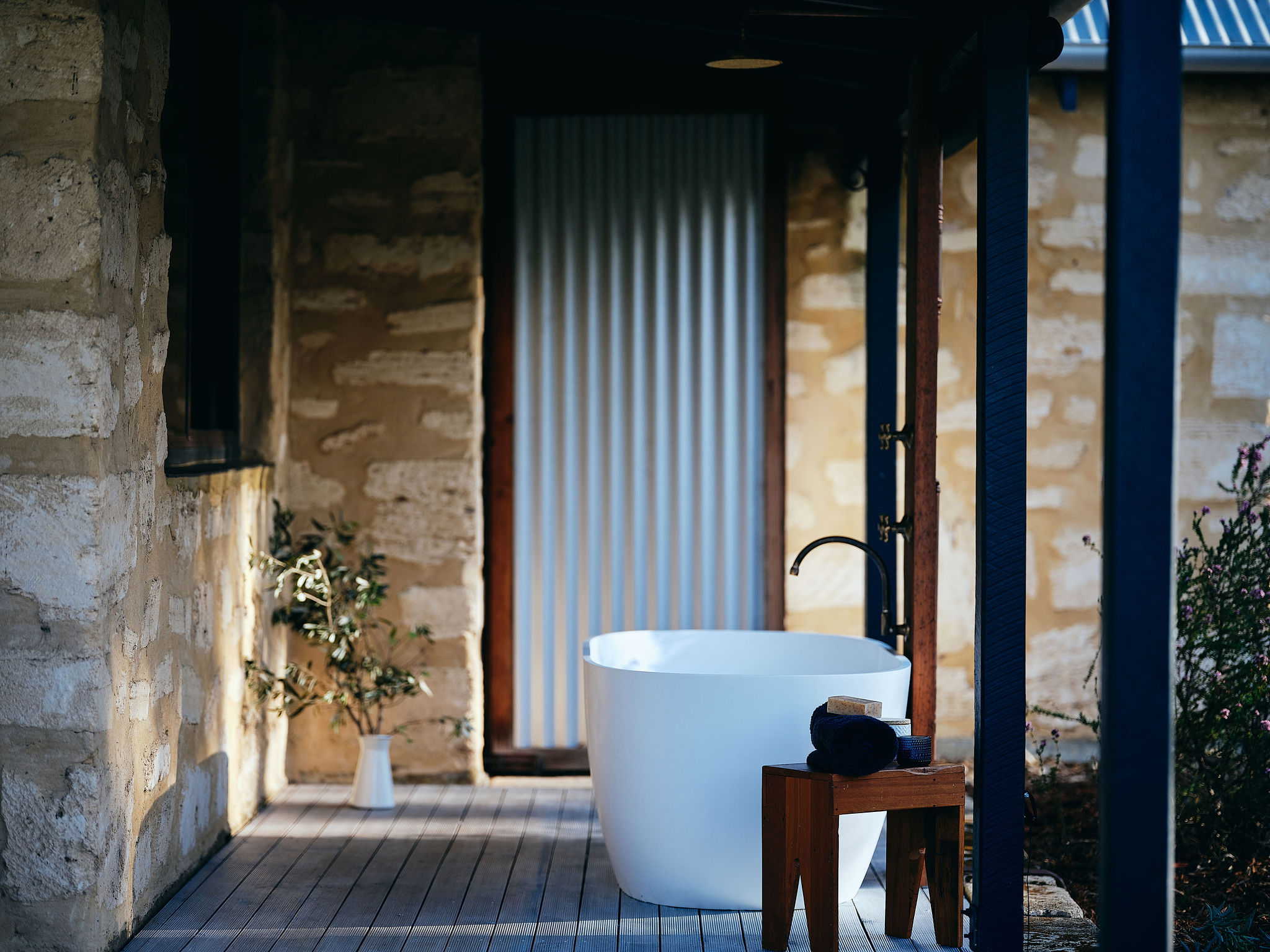 Soak in summer life on the farm at Margaret River Hideaway & Farmstay or Burnside Organic.
Farm Life
Margaret River Hideaway & Farmstay
Animal lovers won't want to go past a summer stay at Margaret River Hideaway & Farmstay. With a number of three and two bedroom cottages on the farm, there are plenty of furry (and feathered) friends to go around – emus, sheep, geese, chickens, peacocks, alpacas, guinea fowl, and Scottish Highland cattle to name a few. Kids big and small are welcome to help with feeding time; when did you last return from summer holidays with bragging rights to feeding the peacocks breakfast? Just five kilometres from Margaret River, it's a short drive into town and the chalets are all dog friendly for families that include four-legged friends.
Burnside Organic Farm
Learn what farm life is like from the sidelines with a stay at Burnside Organic Farm, one of only five certified organic farms in the Margaret River region. Whether you are down for a cosy cabin for two with a spa, or a family experience in the larger bungalow; you'll relax and rewind with views over vineyards, olive groves and paddocks. Kick the trip off with a complimentary private guided wine tasting and a farm tour. After you taste how amazing the produce is with a bespoke breakfast hamper, you might even be inspired to start your own veggie patch back home!
The Villa Margaret River is a light-filled escape right in the heart of town.
Hustle and Bustle
The Villa Margaret River
You can hardly claim that Margaret River's main street is close to the pace of city life, but a stay at The Villa Margaret River is right at the heart of the action in the town centre. A beautiful light and airy house, The Villa is fully self-contained and with enough space for all the family (or a few sets of friends) thanks to three bedrooms and two bathrooms. You've got all the creature comforts of home from Netflix to Wi-Fi, in addition to a few added luxuries for green-fingered holiday goers. Guests are welcome to make full use of the herb garden, and the passion fruit vine and peach tree when in season. Located in the centre of town, there are plenty of cafes and restaurants just out the door as the solution to rumbling tummies.
Tree Chalets is home to an outdoor claw-foot bathtub, which fills with rainwater for ultimate eco-friendly relaxation.
Forest Hideaways
Tree Chalets
After a romantic summer getaway? Prefer to doze off to the sound of wind rustling in the leaves instead of the crash of ocean waves? Well, Tree Chalets is the perfect spot. Nothing says relax like a claw foot bath, and here things are taken to the max: the beautiful bath is outdoors on the back deck, so you can stargaze while you soap up. Powered by the sun, water supplied by rain water tanks and with tesla chargers at each of the two chalets, you'll get some seriously eco-friendly romance here.
Bina Maya Yallingup Escape
There are few places left that you can feel completely removed from everyday life, but Bina Maya in Yallingup is one of those few spots. Secluded in 7.5 acres of native bushland, the two architecturally designed buildings – the villa and the residence – are newly built with a calming, Scandinavian aesthetic. Marri and jarrah forests surround both properties, with valley views to the north and glimpses of Geographe Bay to the east. Run a bath, stretch out on the deck in the sunshine or lounge in bed for the morning. It's what a holiday is all about.
Hilltop Studios
Can't decide between beach, forest or town? Hilltop Studios is a short drive from all three and set on a picturesque 150 hectare farm. Choose from two options: a panorama studio or a panorama studio deluxe, which includes an indoor spa that opens directly onto the deck. With nature as a neighbour, you'll be watching the sun go down with paddocks full of kangaroos and listening to the morning chorus of birdsong as the sun comes up. After a summer holiday here, you'll be returning home refreshed, rejuvenated and raving about the benefits of switching off from the buzz of modern life.
Ready to book? Talk to one of our local experts now.