Latest News
Re-opening for adventures from Spring 2020!
Surf N' Dirt Adventure Tours
Monday - Sunday: 9:00am until 6:00pm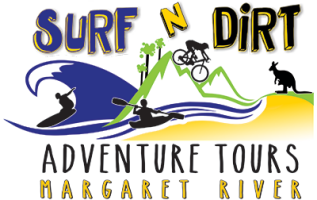 22 River Heights Rd, Margaret River WA 6285
Pick up is available from around Margaret River town and Prevelly. If you are staying further afield then the meeting point is at Rotary Park which is located at the very beginning of Margaret River town (in between the Brewhouse and the Hairy Marron Café) and has all day free parking.
Mountain Biking & Road Cycling

Stand Up Paddling & Canoeing
Surf N' Dirt Adventure Tours offer Eco Certified and award-winning wine and adventure tours with kayaking, mountain biking and surfing on offer to showcase the best experiences possible in the South West.

Surf N' Dirt's Margaret River wine and adventure tours are unmatched when it comes to personal service, flexibility and the variety of activities that you can experience in the one day. They've designed experiences with one thing in mind - to ensure you the most authentic and memorable adventure in the incredible Margaret River region.
A Surf N' Dirt Adventure tour is all about getting off the beaten track and providing you with amazing experiences to ensure that your time in Margaret River is as exciting, fun and memorable as possible. Whether it is kayaking a remote stretch of the Blackwood River, mountain biking through the hidden trails of Boranup Forest, learning to surf at a 4WD access-only beach or enjoying the wineries, breweries and gourmet food producers of the Margaret River region, they have got it all covered!
Local guide Paul Berry will be with you, imparting his knowledge throughout every activity and will provide a fun, relaxed and truly memorable day.
Surf N' Dirt is different from a lot of other tour companies for a variety of reasons:
Tours are run in small groups (maximum 7 people) so they are more personalised and the team can get to know you.
The team avoid crowded, touristic places more so than they do their own dentist.
Each tour on offer has a high degree of flexibility so that it can be tailored to your individual needs and requirements.
Dusty, 4WD tracks are preferred over sealed roads. They'd rather have a sit down lunch under the Karri trees whilst listening to the local wildlife than in a fancy restaurant. They prefer running into pods of dolphins or mobs of Emus rather than other tour groups.



At Surf N' Dirt Adventure Tours a healthy and adventurous lifestyle means everything and the team would love nothing more than to show you around one of the most pristine and beautiful regions on the planet. A Surf N' Dirt Adventure Tour will fulfil your adventure needs, inform you about the Margaret River Region and have you departing with a full memory bank of amazing experiences and a new bunch of friends. Join in one of their tours today to discover what it is all about!
Google Reviews
My husband, parents in law and I went on the lifestyle tour: mountain bike riding, kayaking and a winery tour of Arlewood estate and we just had the best time. Paul got us all thoroughly excited and passionate to explore more of the local area going above and beyond in his stories, knowledge and explanations. Paul was an amazing guide full of fabulous stories that had us all feeling like we'd known him forever. I felt very safe with him and we didn't want the day to end. I would highly recommend this tour. Look no further!! Jacqueline Shergold
Great day out, I had an awesome time kayaking, and I was lucky to have Mojo join us on the kayak, he is a lovely dog!! The guide Paul was knowledgeable, fun, relaxed and friendly. The tour was packed full of beautiful scenery and winery visits. I would definitely recommend this tour, I am glad I booked it, being a solo traveller I made some cool friends while discovering the beauty of he region. Laura Blackman
Went on tour with my bestie and had an awesome time! Highly recommend the Lifestyle Tour - a great mix of adventure and sampling the local produce. The mountain biking and kayaking were amazing! 😍 Paul is a great guide, knows the area well and shares his passion ❤️ Happy to recommend! David Ryall
I had been searching for the best outdoors tour in the Margaret River region and I am very glad I chose Surf N Dirt. I went on the Lifestyle tour and my tour guide Paul was fantastic. This tour is very personal. From the moment I met Paul he was very friendly and throughout the day he would often ask questions to gain an idea of my abilities and interests so he could tailor the day to suit me. Considering I was in the region during the busy Christmas period, I was surprised that on this tour we hardly saw another person all day. Paul's local knowledge takes you to two different national parks that only the 'locals' know about. We started the day with mountain biking which got the adrenaline pumping and then moved to kayaking after a well earned morning tea break. Magical is the word that comes to mind to describe our kayaking adventure and we followed this with a delicious lunch all prepared by Paul whilst we enjoyed a quick swim. After two adventure activities, it was time to taste some wine! Paul took us to a beautiful family run winery and I was so impressed I left with a few bottles. Thank you Paul for an amazing day. I have been on plenty of tours whilst travelling the world and this was one of my favourites. Megan Luchetta
Had an awesome time on our adventure tour with Paul from Surf N Dirt Adventure Tours. Would highly recommend to anyone looking for adventure in the Margaret River area. We spent the day mountain biking, kayaking, and finished with wine tasting. It was a great set up as everything is included in your day (water, sunscreen, morning tea, lunch, great gear set up). Paul was an incredible guide, very friendly, very professional, and very knowledgable or the area as well. His tour was very flexible and built to fit our needs as a group of six. If you're looking for an all inclusive adventure tour in the area I would definitely look for Surf N Dirt. Debora Lloyd